"My true release is fishing — nothing else can put me in a relaxed state of mind," says Josh Mills, an avid fisherman who now takes his three-year-old son spin-fishing.
Klink's Resort at Williams Lake, south of Cheney, Wash., hosts its 11th Annual Shriner's Fishing Derby on Saturday, May 18. Proceeds benefit Spokane's Shriners Hospital for Children.
"We usually have — if the weather is good — up to 275 attendees. We've raised over $45,000 for the local Shriners Hospital, by our estimate," says Mills, who has been organizing this event along with the Klink family since its inception. "It's such a family-friendly activity. It's not a sport that you have to buy a lot of gear. All you need is a simple rod-reel combo and a little bait."
The derby is 6 a.m.-1 p.m., followed by an awards ceremony and raffle. Registration is $10 per angler and is open to all ages. There is also a barbecue lunch available to purchase.
Klink's Resort has a large fishing dock and also offers boat rentals. Anglers can launch their own boats at the resort, with the fee going to Shriners.
Children age 14 and younger don't need a fishing license, according to the Washington State Department of Fish and Wildlife (wdfw.wa.gov/fishing/youth.html).
After the derby, prizes are awarded for both the children (12 and younger) and adult divisions. "Winners are determined by single biggest fish by weight, and ties are broken by length," Mills says.
"Williams Lake is one of the top-producing trout fisheries in the entire state. The Department of Fish and Wildlife stocks it really well with standard rainbow trout, cutthroat trout and some larger sizes of rainbow trout. It's managed so that anybody can go out there with a little bit of knowledge. The real star of the show is Kamloops triploid rainbow trout, which are stocked by Klink's and purchased from a regional hatchery…. Usually these are the ones that end up winning the derby. There's nothing better than seeing a kid come in with a big fish."
Mills says derby day weather has traditionally been good. "Williams Lake is in this weird 'banana belt' area because it sits between the Pullman and Spokane weather patterns. So weather can be a little rainy in Spokane but clear at Williams Lake," he says. "If you wake up on derby day and decide last-minute to come, just show up. You can literally come out in your shorts and flip flops — and with your wallet — and go fishing." The resort's gear shop sells fishing licenses, poles and tackle.
"There's a warm, comfortable, small-townish feel at Klink's. Not a lot of technology works out there," he says, so families can enjoy unplugged time together.
"I grew up fishing with my father. We hunted and fished throughout the year," says Mills, who grew up in Spokane. "The reason why I have such a great friendship with my father is that we spent so much time fishing together when I was younger. This is what drives me to do this type of activity for other families."
Mill's offered some excellent advice for parents introducing their children to fishing: "Don't force it. If you get out there and your kid is totally into it, take your time. Maybe spend an hour fishing and then spend an hour looking for tadpoles. Tailor the experience to the child. Don't spend all day out there if your child doesn't want to be. Leave your child wanting more. Start slow. Do it in small doses. Make it a big deal when they succeed. Don't make it a big deal when they lose a fish."
For more event details and to download registration forms, visit www.klinksresort.com. //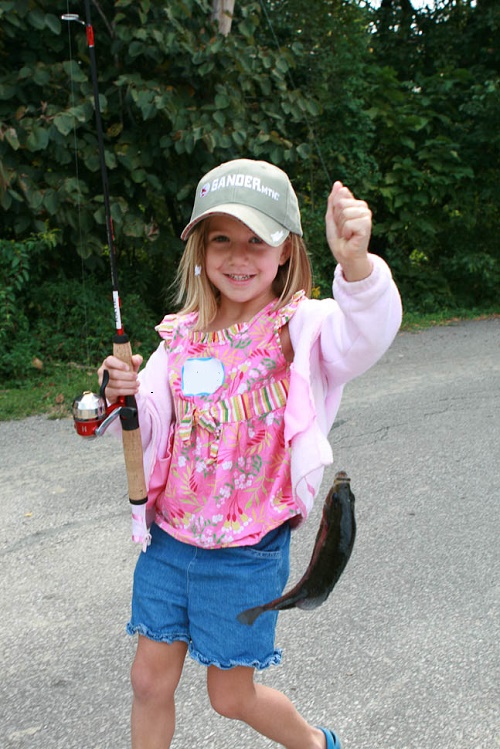 Family Fishing Resources
More resources and fishing tips for children:
takemefishing.org/fishing/family/fish-with-your-kids
greenfishmovement.com/learn-with-greenfish/teaching-kids-to-fish.
More info on youth fishing events:
www.wdfw.wa.gov/fishing/kids/events
Washington's "Free Fishing Weekend" this year is June 7-8.
Idaho's "Free Fishing Day" is June 14, 2014.
[Feature photo by Kallie Mills]