Over the past decade of skiing, I've noticed my attention being drawn to the poof balls of puffy jackets, oversized helmets, and comically-tiny gear that adorns little kids on the slopes. Watching them shuffle to the magic carpet or bunny hill lift and scoot on, with parents doting to keep them from falling, is adorable entertainment. It's captivating to watch the next generation of skiers and snowboarders make their way down the mountain, turning back and forth in slow, pulsing arcs: pizza, French fries, pizza, French fries. Watching other people's cute kids skiing might have even inspired me a bit to take the leap into parenthood myself. For the first season ever, I'm looking forward to delighting in guiding my own overly-insulated, shuffling kiddo up and down the mountain.
Learning to ski as a gangly teenager, following my same-aged cousin down the mountain at area resorts was tough. Her parents had her on skis when she was four and her dad was a ski instructor. The early start and lessons gave her a considerable advantage, meaning I often watched her take off down the slope effortlessly while I struggled. As soon as we had drivers licenses, season passes were in the works for Christmas, and every weekend was spent exploring new parts of the closest resort to our house, Silver Mountain. The added expense of passes and gear was a wise investment for our parents; there's little time for getting into trouble when winters are filled with long days playing in the snowy mountains.
By the time we were adults, the familiar good times on skis still called, but life's to-do list was longer than ever. Weekends that were once dedicated ski days were filled up with other things until over the last few years I could count the number of ski days I'd had on one hand. A testament to just how busy adult life can become, I hadn't thought about how much fun I was missing until our son was born. Soon day dreams of teaching my own little one to ski had me once again looking forward to winter on skis.
Given our son's intense, energetic personality, we assumed he would be ready, like my cousin, to hit the slopes at an early age. Last spring, two months shy of his 2nd birthday, we figured we would give it a try and see how he liked it. Not wanting him to get cold or leave something we might need behind, we loaded up a vast pile of gear: his tiny skis and boots leased from Spokane Alpine Haus; a puffy snow suit; two pairs of gloves; two hats; extra pants and sweatshirts; snacks and drinks; hand warmers and extra socks; a harness and rein set-up for teaching little kids to ski that we had no idea how to use; a giant orange ski helmet that barely fit; and other random things we thought we might need.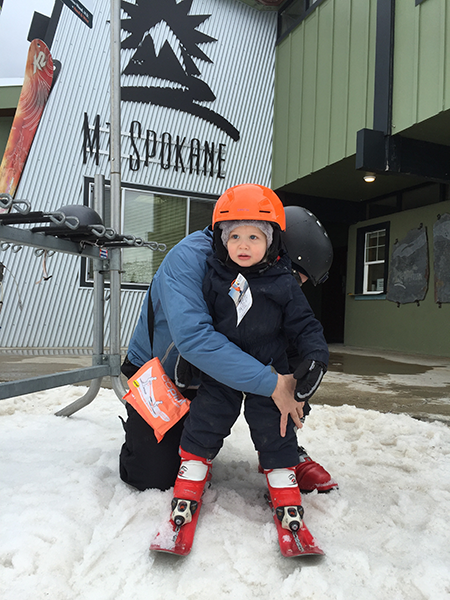 Off we drove to Mt. Spokane, well before naptime, to see what he could do. At the top of the bunny hill, we struggled to figure out how to hold him up while still letting him test out his legs that were strapped to slippery skis for the first time. Then we started sliding down the mountain slowly to show him how it was supposed to work. (We had watched a few videos of little kids skiing together, so we think he had a pretty good grasp on what was happening.) Several seasoned parents stopped to offer encouragement and give us welcome advice, and we finally settled on hooking our poles under his arms and snowplowing him down the hill. It was the best thigh workout I've had in years, and my face hurt from laughing. At the bottom of his first run, we checked in to make sure he was still smiling and then awkwardly lumbered onto the chairlift for round two. Then round three and four. On what turned out to be the last run of the day, he took off on his own after asking for a push. And the nervous yet proud parents of an almost two year old tucked himself down a good 15 yards before gently falling over. At the bottom of the hill, after we told him it was time to go home, there were tears for the first time that day. He wanted another ride on the chairlift.
It may be a few years before we venture off the bunny hill, but I am already looking forward to racking up more ski days than I have in years teaching my son to ski. //
Ski Programs for Kids and Families
5th Graders Ski or Snowboard for Free
The Ski the Northwest Rockies association offers a "5th Grade Ski or Ride Free Passport" at the four association resorts (49 Degrees North, Lookout Pass, Mt. Spokane, and Silver Mountain) that allows 5th graders to ski or snowboard three days free at each participating ski area. Some ski areas even offer specials for parents or siblings. Head up with your 5th grader and learn and play together as a family. Details at skinwrockies.com.
Learn to Ski as a Family
The four Ski the Northwest Rockies resorts (49 Degrees North, Lookout Pass, Mt. Spokane, and Silver Mountain) have a 3-visit "learn to" ski or snowboard package at an incredible price called EZ Ski/Ride 1-2-3. The package includes three lift tickets, three rentals (all equipment included), and three lessons for adults and kids 7 and older. Details at Skinwrockies.com.
 Free Ski School at Lookout Pass
In its 77th year, the famous Free Ski School at Lookout Pass has introduced 75,000 kids to skiing and snowboarding. The lessons run every Saturday morning between January 6 and March 10 from 10 a.m. for kids age 6-17. Lessons are free, but a lift ticket or season pass is required for kids to keep skiing or riding after the lesson, and gear rental is not included. Load up the family ski-mobile and enjoy learning to ski with your kids. Register at Skilookout.com.
Build Skiing and Racing Skills Together
The Spokane Ski Racing Association is a non-profit ski team operating out of Mt. Spokane Ski & Snowboard Park with programs for kids (ages 5 and up) and adults who want to become expert, all-mountain skiers and learn to compete in the Olympic disciplines of alpine ski racing. Learn more about getting into ski racing as a family at Gossra.org. // (OTM)