Out There's first B.C. Ski & Winter Travel Guide pulls together info on southeast British Columbia's incredible collection of ski and snowboard resorts, Nordic and fat bike trails, hot springs, backcountry touring areas, and creative events within a half day's drive of Spokane and North Idaho. With all of these amazing outdoor recreation opportunities so close, it's shocking that more of us from the States don't spend more time north of the border.
The U.S./Canada border presents a psychological obstacle that keeps many Spokanites and North Idahoans from enjoying B.C.'s winter wonderland of world-class mountains and outdoor activities. For some, stepping beyond the familiar into the unknown is a major challenge (something this guide can help you out with). For others, there's a perceived difficulty of needing proper ID to get in and out of Canada, dread over driving winter mountain roads, or hesitation over supposed border crossing hassles. Here are some tips to help break down barriers that keep too many of us from having a blast getting to know our beautiful and downright magical next-door neighbor.
No passport? No problem. Washington residents can cross the B.C. border with an enhanced drivers' license (EDL) or, if you don't drive, an enhanced ID (info at Dol.wa.gov). Another easy option, especially if you're an Idaho resident where an Idaho state EDL isn't available, is a federally-issued passport card; it's basically a limited-use, wallet-sized passport good for land and sea crossings into Canada and Mexico (info at Travel.state.gov). Both a Washington EDL and passport card are cheaper and easier to get than a standard passport. If you already have a passport, make sure it hasn't expired before you're ready to split town!
Winter Driving? B.C.'s highways are often better than the roads at home. If you or a friend or loved one worries about white-knuckle winter road trips, it's worth noting that B.C. highways are religiously maintained after storms and are often in way better driving shape than their connecting thoroughfares south of the border. As a quick example, on a late-night drive to Kimberley in the middle of a blizzard last winter, my companion and I made highway first tracks in whiteout conditions until we crossed from Idaho into Canada for the last leg of the drive on recently plowed and relatively clear B.C. highway.
Easy-peasy Border Crossings. Crossing the border in either direction as a tourist visiting for a few days or weeks shouldn't take more than a few minutes. That is as long as you have the appropriate ID and don't have past run-ins with the law that could hang you up at the border (yes, that may include DUIs).
To speed things up a bit, try these time-saving tips. Save yourself the irritation and time of having your favorite fresh food items potentially tossed by agents at the border; buy what you need when you get where you're going. Other items that are best to leave at home: guns, knives and other weapons; drugs; commercial goods; firewood debris, hay/straw, or other agricultural items; and large quantities of cash, booze, or tobacco. It also helps to have a relatively clean vehicle with your gear somewhat organized. When interacting with border agents, turn off your vehicle, take off sunglasses and hats, have your IDs ready, be friendly and helpful, and refrain from chit-chat or providing unsolicited information or snarky replies while explaining the non-business nature of your epic vacation.
Tips to Get the Most Out of Your B.C. Trip. For Americans, travel to Canada requires little transition. Canadians speak English, drive on the same side of the road, eat similar foods, and enjoy the same modern amenities as most Americans. However, a little planning will make that transition even easier. Add an inexpensive phone plan that covers text and calls in Canada if you don't already have one (make sure you don't get charged extra for data roaming). Also, report your travel plans to the banks behind any of the cards you'll be using so they work when you need them. While many businesses take U.S. dollars, it's best to have some Canadian money in your wallet and use your card when you can to make sure you're getting the best exchange rate. And finally, give the tips for fitting in as an American on page 30 of this guide a read! //
Choosing the Best Border Crossing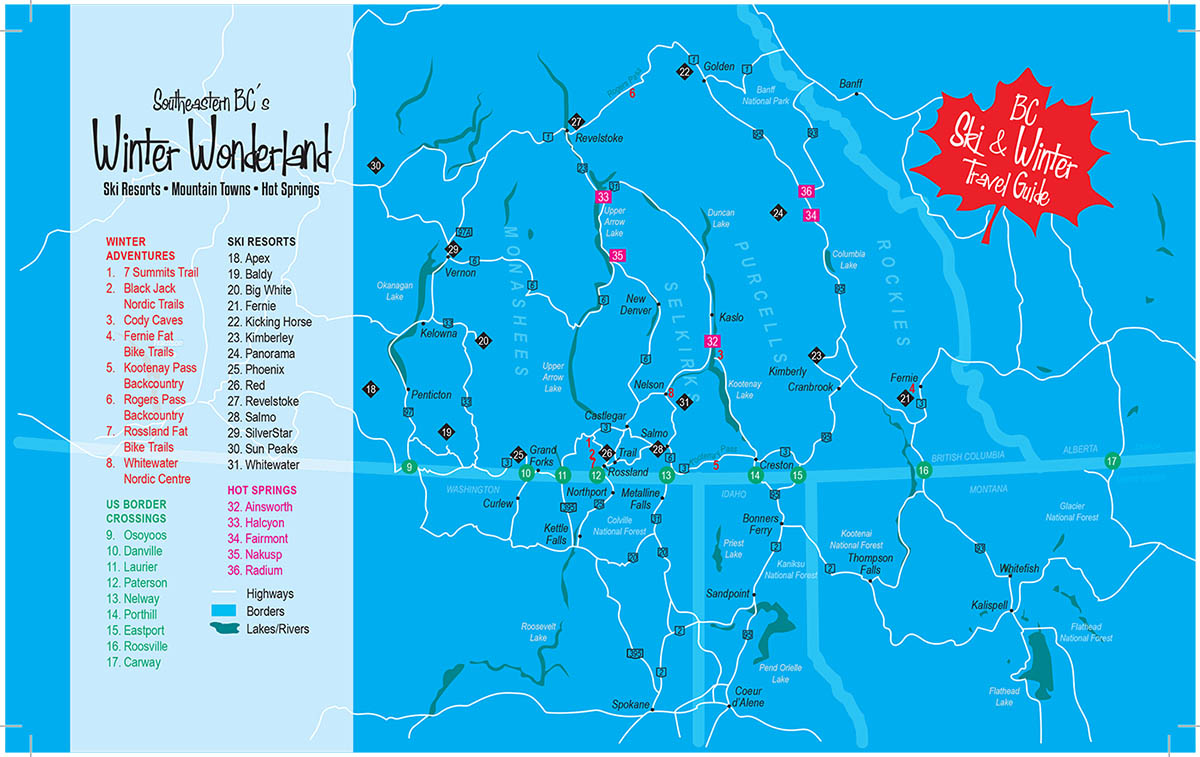 Use this border crossing info and the above map to make sure you don't get stuck at a closed crossing or waste time taking the wrong one.
Osoyoos/Oroville: 24 hours
Use for some Okanagan resorts.
Midway/Ferry: 9 a.m.-5 p.m.
Use for Big White/SilverStar shortcut when roads are good.
Cascade/Laurier: 8 a.m.-midnight
Use for Big White, SilverStar & Phoenix.
Paterson/Frontier: 24 hours
Use for RED Mountain & Rossland
Nelway/Metaline Falls: 8 a.m.-8 p.m. U.S. / 8 a.m.-midnight Canada
Use for Whitewater, Nelson, Ainsworth, Kootenay Pass, Salmo, Nakusp, Revelstoke, Halcyon & Rogers Pass.
Rykerts/Porthill: 7 a.m.-11 p.m. U.S. / 8 a.m.-midnight Canada
Use for Creston/Kootenay Pass.
Kingsgate/Eastport: 24 hours
Use for Kimberley, Fernie, Panorama, Fairmont, Radium, Golden, & Kicking Horse.