Deep in the Canadian Rockies sits Chatter Creek, a cat skiing and heliskiing lodge with such an impressive landscape and remoteness that arriving is like stepping into another world. About 20 years ago, childhood friends Danny Joseph and Dale McKnight, who grew up in this area, opened the doors to Chatter Creek. The huge undertaking involved clearing the land, milling the logs, and marketing to potential guests. "We're real fortunate setting up our ski operation here in the Canadian Rockies," says Joseph. "You have such a dramatic look. It's big rock and big peaks, and when you couple that with our normal snow pack of some of the deepest, driest powder snow around, it makes for the perfect cat skiing experience."
Chatter Creek is 70 kilometers away from Golden, B.C., and because of its remote location, you and your gear are flown in by helicopter to this handbuilt, 20,000-square-foot rustic log lodge. This iconic Canadian lodge hosts comfortable guest bedrooms, a large dining area where you enjoy first-rate mountain cuisine prepared by professional chefs, a cool bar for après, a large drying room for all your gear, and a massage room that is a hit after the first day.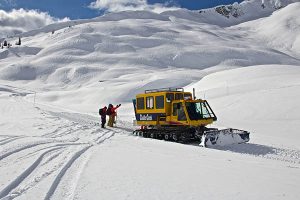 You go to Chatter Creek to slay epic powder, and with a tenure of 58,000 acres you're in for a life-changing treat. The professional guides at Chatter Creek are all certified by the Association of Canadian Mountain Guides. This highly trained team will guide guests through terrain from wide open glacier skiing to endless tree skiing. The tree skiing is top notch as you ride through mature, moss-covered spruce forest or the dramatic burn area. Both make for good visibility on many of Chatter Creek's days of big dumpage.
There's terrain for all abilities: mellow slopes for intermediates and lots of steeps if you like to charge hard. Now if you really feel like testing your game, there's Chatter Creek's signature pillow field. This steep, heavily bumped run can be one of the most rewarding runs you'll ever do – and one of the most humbling.
"It's like a roller coaster ride, where you're kinda controlling where you go," says Sandpoint's Matt Gillis. "There's snow flying off as you hit each pillow. That's the beauty of it. By the time you can get your bearings, you're already back in the white room, leaving the ground again with snow flying around you the whole time." No matter the outcome, you're going to have a good time popping pillows at Chatter Creek.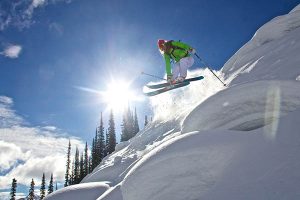 Each day the cats depart the lodge at 8:30 a.m. in search of untracked awesomeness. Twenty minutes later, you're clicking in on a mountaintop with views of endless mountains and fields of powder. The crew of cat drivers has built an extensive network of roads spanning more than 80 kilometers that take you in every direction from the lodge, getting you to the goods, run after run. By 4 p.m., your legs are pretty shot from a full day of pounding the powder, and you'll head back to the lodge for some appies and après and maybe a ride or two on the shotski.
Chatter Creek has several packages available, including 2-day trips in December and 3- to 4-day trips right after Christmas through the first week of April. The experience at Chatter Creek is magical and one that you will remember for years, especially if you hit the infamous pillow field. Chattercreek.ca/cat-skiing. // (Bob Legasa)