1,000 feet. 1,100. 1,200. Applying botanical knowledge and directional abilities more novice than my mountain biking, I was crudely estimating elevation gain on a knee-creaking climb to the Kettle Crest by observing the changing patterns of lupine lining the trail. There were lush clusters at first, proud stands of purple parade goers gustily waving riders upward. As my legs and lungs flagged, they dispersed and faded, their delicate summer flowers stuck in early spring. We had to be near the top.
Thirty riders, including many familiar faces from Spokane, converged on the Jungle Hill Trail for the inaugural Get Out Fest mountain bike ride outside Republic. Get Out Fest was organized by outdoor enthusiasts and Ferry County promoters to showcase the region's recreation opportunities, in which cycling plays a healthy part. The event also featured a road ride around picturesque Curlew Lake, with an option to take the recently resurfaced southern section of the Ferry County Rail Trail. Along with hikes, water sports on Curlew Lake, a portable climbing wall, and outdoor activities for kids, organizers hoped to bring diverse groups with compatible passions together.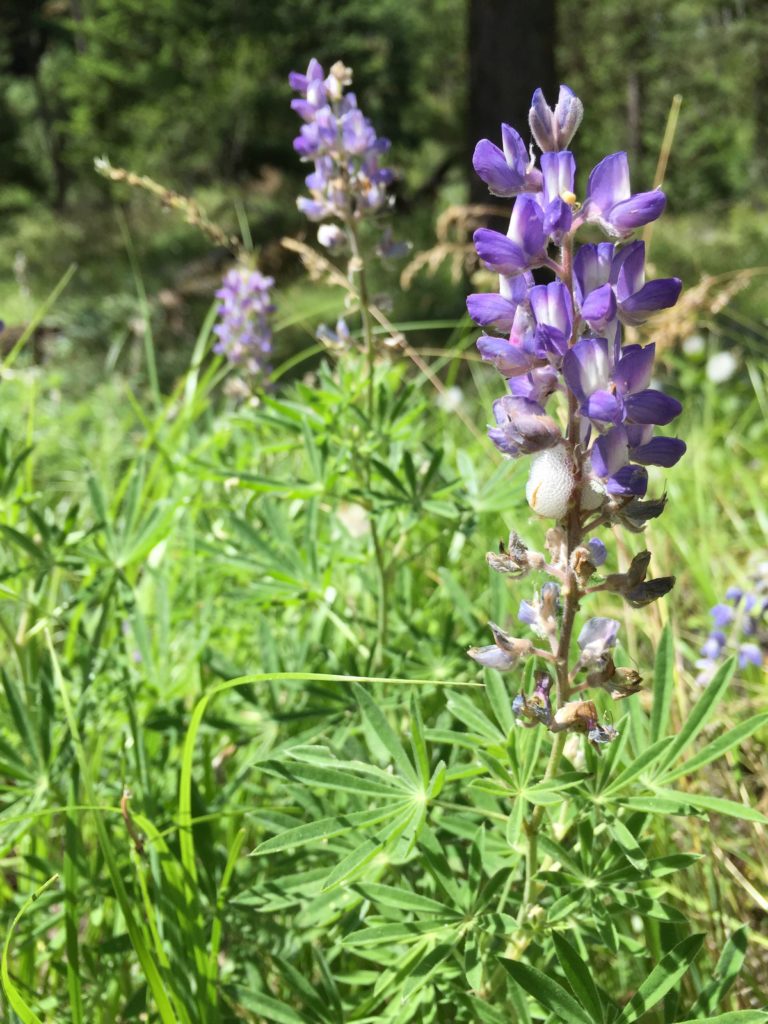 "We had Evergreen here, and we also had backcountry horsemen here, two totally different groups of people, but they do the same work, and they're passionate about the same stuff," contends festival organizer Emily Burt, who returned home to Republic from Missoula and helped start the festival to inspire her fellow Ferry County admirers to share their adoration with people from farther afield.
"If you love a place, you love it how it is, not what it might change into," admits Burt, who wants to share her love of Ferry County with outsiders while keeping the rural, "laid back, totally chill" atmosphere of the place intact. 
Cyclists don't want to ride through fresh horse excrement, and no equestrian wants her horse to be terrified into bolting by a bike, but the trails best suited to both share many attributes, and the riders share a love of being outdoors in beautiful places.
"I'd like to see less division about what we love here," Burt says. With that goal in mind, she considers the first Get Out Fest "a huge success."
Riding the mellow southern section of the Ferry County Rail Trail slowly, sun-dappled wetlands shared by otters, osprey, and egrets welcomed us as heartily as fellow cyclists, all species appreciating the breezy, warm day. Being ill-equipped, we stopped where the trail reverts to railroad ballast at the northern end of Curlew Lake and meandered back to base camp at Ferry County fairgrounds, barely beating a summer squall. Meatier tires are needed north of here for now.
Thankfully though, the rail trail's foundation has been awarded a grant from the state Recreation and Conservation Office that will enable backers to surface an additional 9 miles of the trail north of Curlew Lake with the same crushed, compacted rock as the section to the south, affording the skinny-tire set more opportunities to see the exceptional beauty and boundless wildlife along the route, and connecting the improved ends of the trail, touted by locals as the most scenic.
As for the climb up the Kettle Crest, it continues on. Must be well over 2,000 now. That's easily three. This must bethe top. The lupines here were as enfeebled as my rubbery legs and as scattered as my increasingly desperate thoughts about how little water I had, why I failed to bring a rain jacket, and that ominous creak in my bottom bracket. I was abandoning botany and hope even as I approached several Evergreen members, whose trail-building instincts led them to place bold stick-arrows at the actual high point of the route, at a turn I would have otherwise missed. After a brief break, the thrilling descent of Jungle Hill through ponderosa stands and side-hill meadows, over meandering creeks and down deep switchbacks, had me grinning wildly while watching the thick carpet of lupines return in a blur.
The following day, on advice from some locals, I decided to ride Sherman Peak loop. Clockwise was better, they'd suggested. Rocky switchbacks climbing fast from the trailhead toward the Kettle Crest Trail brought me to an area burned thirty years ago, whose sparse vegetation afforded expansive views of surrounding granite spires reaching for the sky, shedding their ponderosa drapes. A side trip to Snow Peak cabin, tucked into a stand of pines but affording big views, had me thinking of a winter trip. The descent proved even more fun than dropping down Jungle Hill the day before. It was faster and smoother, with rhythmic side switches that forced big bug-eating smiles to my face. Wending my way down the serpentine turns on perfectly packed dirt, I realized I needed much more time to explore the myriad trails of Ferry County, and I noticed not even a single lupine.
Written by Dan Wilson