The 8th annual Fatty Flurry Fat Bike Festival, an annual gathering of packed-snow riders, is set for January 15, 2022, 10 a.m.-2 p.m. Organizers are giving a new event location a try this year: the Section 16 Trail system near Bonners Ferry, north of Sandpoint, Idaho. (Trailhead is located at 1099 Kootenai Trail Road.)
The groomed trail system will provide rides for all abilities at this social gathering of the Inland NW fat biking community. Group rides start at 10 a.m., and limited fat bike rentals are available (reservations required).
If you don't have a bike with tires at least 3.8″ wide, please leave it at home so as not to leave ruts on the groomed trails.
Find more event details at the festival's event page on Facebook. Call the Fatty Flurry Festival organizers at Greasy Fingers Bikes N Repair in Sandpoint, Idaho, to reserve a rental bike (208.255.4496).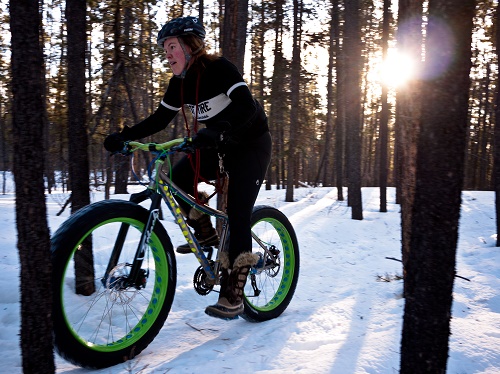 Find more stories about winter fat biking in the OTO archives.