Skiing and snowboarding with your family is a fun and healthy way to spend the winter months, and it can still be plenty affordable if you put a little effort into saving on the cost of outfitting yourself and the kids. There are many ways to find deals on new and used ski and snowboard equipment, from hitting the ski swaps to taking advantage of ski shop lease programs and resort rentals. These resources will help you get the family out skiing without breaking the bank this year.
Lease Ski & Snowboard Gear from a Local Shop 
Kids grow fast, and unfortunately, new ski and snowboard gear doesn't grow on trees each season. Taking advantage of shop lease programs can be a huge savings over having to buy new equipment every time your kids grow out of boots, skis and boards.
Wintersport on the Division Street hill near downtown Spokane offers new, used, and performance ski and board lease packages for kids and adults, and while the shop has a lot of gear in stock, shop manager Eli Coski warns that they run out every year. Kid's packages range from $129-229 with adult packages ranging from ski only packages starting at around $100, to standard and performance packages from $179 and up. Gear can be picked up now and returned in May, with sizing adjustments and tuning included throughout the season and a buy option in the spring. "Season leasing gear is the simplest, most cost effective, hassle free way to get the whole family on the slopes for the entire season," Coski says. More info: 509-328-2030 or Nwsportx.com.
The Alpine Haus on Spokane's South Hill offers used ski and snowboard lease packages starting at $119 for the season. The packages include everything (including a mid-season tune). Pick gear up now and return equipment by May 1 with the option to buy at the end of the season. Details: 509-534-4554 or Facebook.com/SpokaneAlpineHaus.
In North Idaho, Ski Shack in Hayden is offering a limited number of kids ski lease packages, ranging from $100-$130 for used gear and $150-$170 for new equipment. Packages include everything to get your little ripper in training up on the mountain. More info: 208-772-3112 or Haydenskishack.com. For Sandpoint families, Alpine Shop also has a lease program for kids that includes used skis, boots and bindings in the $150 range. More info at 208-263-5157 or Alpineshopsandpoint.com.
While Sports Creel out on Sprague in Spokane Valley doesn't have a season lease program, the shop does offer a popular "trade-up" program. Anyone (adults or kids) can bring in a package that they have purchased at the Creel in recent years and get a value back on trading it in towards a new package. There's generally a good used selection to choose from, and the Creel's fitters try to size kids for two years so you're generally not investing in a new binding set up each year. More info: 509-924-2330 or Facebook.com/pages/The-Sports-Creel/312711075603.
Save Big Time on Ski/Snowboard Gear for the Whole Family at These Ski Swaps 
For many skiers and snowboarders, the start of the ski season usually kicks off well before the first snowflakes in town with the region's annual ski swaps. Nothing beats a ski swap if you're looking to save money on outfitting a family with quality, used or new ski and snowboard equipment and clothing. The ski swap atmosphere is a fun way to get your kids excited about winter and the coming ski season, and swaps typically have experienced volunteers on hand to help you pick out the best gear for kids and adults and assist with boot and other equipment fitting to make sure that awesome deal you find is the right one for you. Mark these swaps on your calendar and plan to hit as many as necessary until everyone in your family has what they need to get up on the slopes this winter.
Mt. Spokane Ski Patrol Ski Swap (October 30-November 1)
This is the 51st year for the largest ski swap in the region. Benefitting the Mt. Spokane Ski Patrol, this swap at the Spokane Fair & Expo Center is a fun, high-energy event that includes great deals on new and used ski and snowboard gear, the premiere showing of Matchstick Productions new film "Fade to Winter," ski shop and other outdoor recreation booths with discounts on new gear, and a Mt. Spokane learn-to-ski ramp where kids can take their first-ever turns. Organizers expect up to 23,000 new and used ski gear items to be up for grabs this year. Passes to the swap are $5 (tickets for the Friday night showing of "Fade to Winter" are another $6). While the lines form early on Saturday morning, many people also show up on Sunday to hunt for some of the best deals, with 25% off on marked items. Skipatrolskiswap.com.
Winter Swap (November 7-8): Each year for nearly two decades, Coeur d'Alene has played host to the combined ski swap efforts of the Lookout Pass and Silver Mountain volunteer ski patrols. The largest swap in North Idaho, and a great option for Spokane area skiers and snowboarders who missed the Mt. Spokane swap or didn't find what they were looking for. Winter Swap is an excellent place to pick up new and used ski gear and clothing for the coming season with serious savings. Admission is $5 and children under 12 accompanied by an adult get in free. Hours are 9 a.m. to 3 p.m. on Saturday and Sunday from 9 a.m. to noon, and the swap takes place at the Kootenai County Fairgrounds in Coeur d'Alene (4056 N. Government Way). Winterswap.org.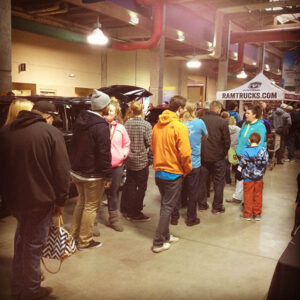 Fitness Fanatics Nordic Ski Sale & Swap (November 7-8): This annual cross-country ski gear sale and swap is the place to outfit kids and adults with everything you need to enjoy the fresh air, exercise and quiet nature that draws many families to take up Nordic skiing. Find new and used classic and skate skis, boots, bindings, poles and clothing, with new gear available in the shop and the used gear up for grabs in a heated tent in the parking lot. With so many deals on hand, it's possible to get a little skier set up for under $50. Hours are 9 a.m. to 6 p.m. on Saturday and 11 a.m. to 5 p.m. on Sunday at Fitness Fanatics in Spokane Valley (12425 E. Trent Ave.). Fitfanatics.com.
Schweitzer Alpine Racing School (SARS) Ski Swap (November 14): Sandpoint's annual ski swap at the Bonner County Fairgrounds features thousands of new and used winter sports items being sold by individuals and regional vendors. The annual event benefits the SARS ski racing and freeride programs for over 150 local and regional athletes ages 5 and up. Hours are 9 a.m. to 2 p.m. More info: Sars.net. // (OTM)