Photo: Jesse Harding, courtesy of the Ferry County Rail Trail
Hikes, Rides, Scenic Drives, and Mountain Town Exploring in Northeast Washington
The cool little town of Republic, Wash., near the Canadian border in northeast Washington is a well-rounded, old-West outpost. The community has weathered various mining and logging booms and busts over the years and has diversified its natural resource and agriculture economy successfully with just enough outdoor recreation and tourism to support local businesses without sacrificing its authentic charm.
Did we mention Republic has an awesome brewery that brings in some incredible music too? And a bakery, various eateries and bars, natural food co-op, and hundreds of thousands of acres of public lands and trails, and a beautiful river and several lakes nearby. Republic pretty much makes the perfect fall weekend road trip for people who love uncrowded outdoors. Here are a few favorite things to see and do on your next warm-weather visit to Ferry County.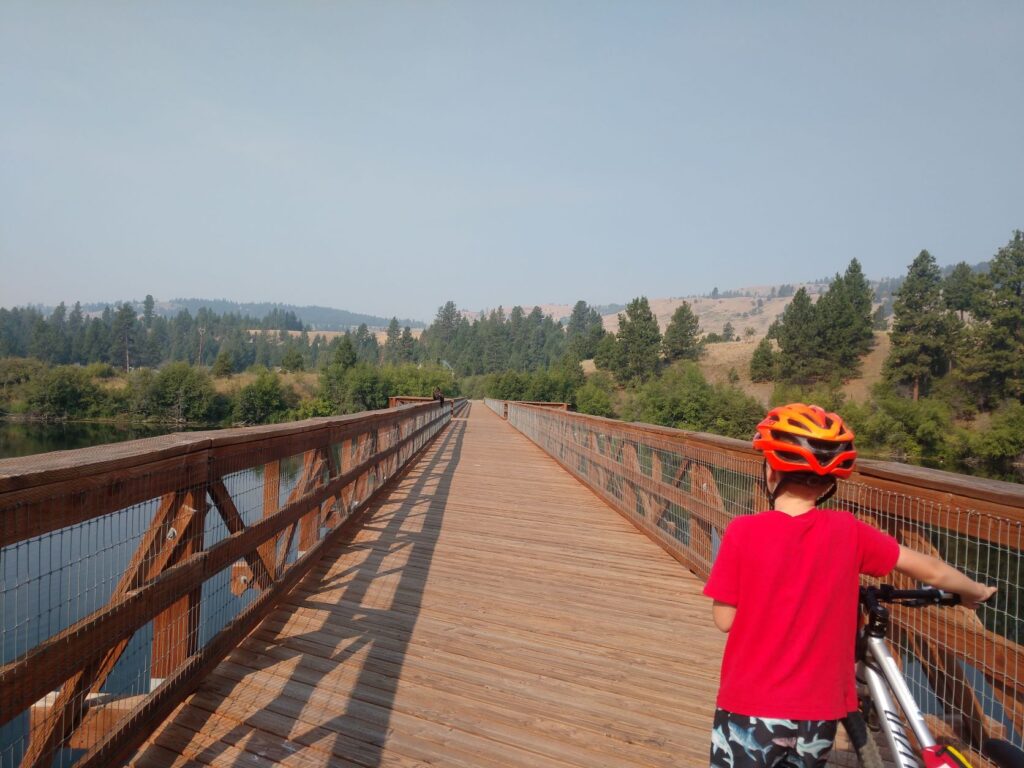 Ride or Hike the Ferry County Rail Trail
The 25-mile non-motorized trail, a once-upon-a-time railroad line, is an awesome trail to check out on foot or bicycle before the snow starts piling up, and then come back with the skinny skis or fat bike in the winter. There are several places to start your outing, but we recommend making sure you get to experience the stretch along beautiful Curlew Lake. The compacted, crushed rock surface is perfect for a mellow mountain bike ride that includes a 770-foot trestle over the north end of Curlew Lake, a pedal or walk along the lakeshore, and some excellent wetlands and bird watching on the south end of the lake. Start this ride or hike from the Kiwanis or Herron Creek trailheads and follow the lake for an out-and-back adventure. Learn more about the trail and the amazing community effort that has made it a reality.
Stroll or Roll Republic's In-Town Trail
The 5.5-mile Golden Tiger Pathway starts in town and eventually connects with the Ferry County Rail Trail. The path is a mix of asphalt and gravel and is open to both motorized vehicles and human-powered travel, although the trail doesn't see a lot of use and makes for a great leg-stretching outing when visiting Republic. Take a walk or ride and earn your beer or meal back in town afterwards.
Hike Thirteen Mile Canyon
Thirteen miles south of Republic on Route 21 lies a great fall hike called the Thirteen Mile Trail. This wild, arid canyon sports some beautiful groves of old-growth ponderosa pine, scenic rock outcropings, and is a great place to watch for a wide range of wildlife, from mule deer, moose, and black bear in the higher reaches of the canyon to various species of birds and the occasional rattlesnake in the lower reaches. The trail climbs up and up for miles, becoming less maintained the farther you go, making it best as an out-and-back hike of 2-8 miles roundtrip.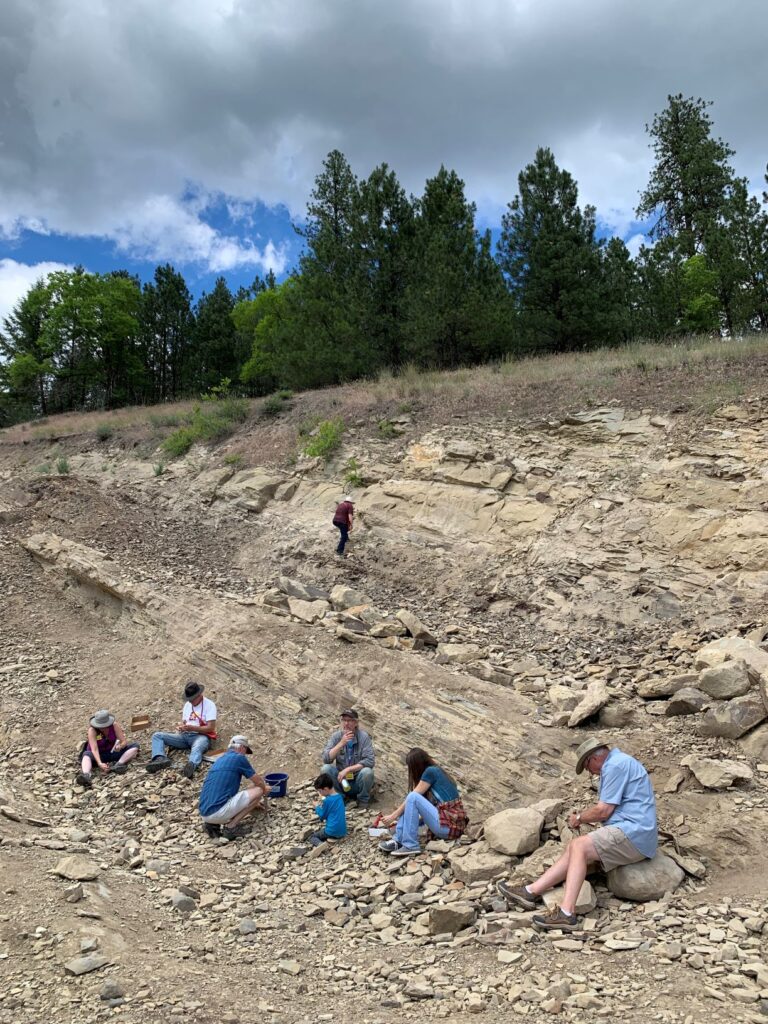 Hunt for Fossils at Stonerose
Any trip to Republic warrants a stop for some fossil hunting at the Stonerose Interpretive Center and Eocene Fossil Site. Trapped in the sediment layers at the fossil site on the north end of town, visitors with rented rock splitting gear from Stonerose get to sort through piles of rock and can uncover signs from the past, including leaves, twigs, and other fossils upon splitting them open. Some of the fossils found at the site include some of the earliest-known species of roses. Don't miss the cool displays at the interpretive center as part of your visit too. Check their schedule and pricing before you go here.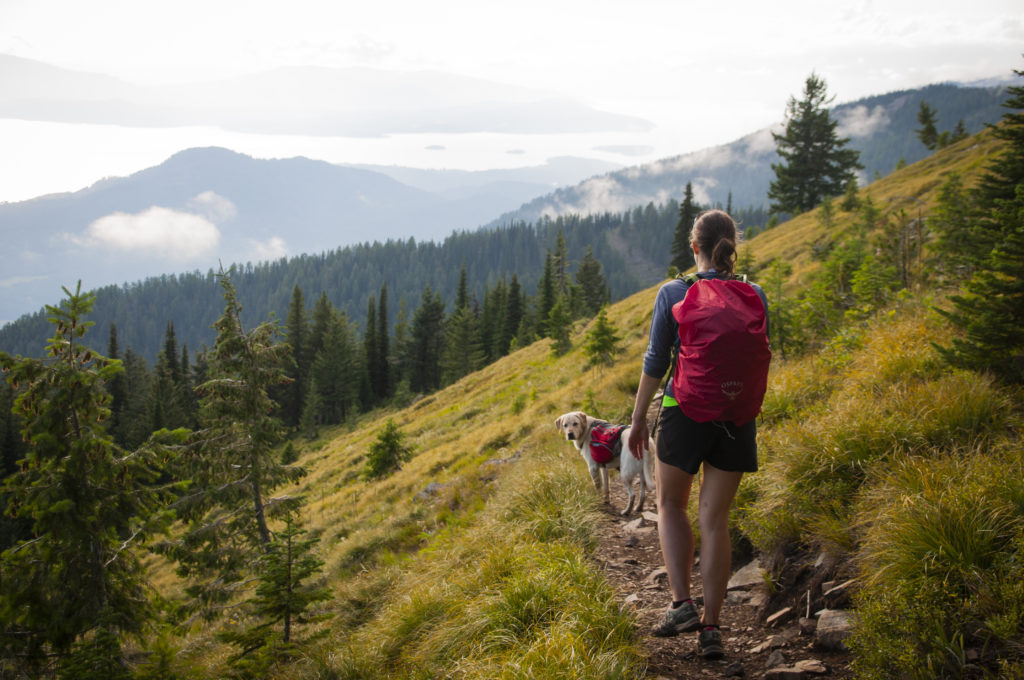 Take a Scenic Drive Over Two Mountain Passes & Hike
A great way to explore the region's diverse landscapes and, if you time it right, the fall color display if the larch trees are turning, is to drive over the two mountain passes east of Republic. The 90+ mile drive includes Sherman Pass (Highway 20) and Boulder Pass (Boulder Creek Road). Both passes feature trails that make for a great short hike. Try the 5+ mile roundtrip hike up Columbia Mountain to a restored fire lookout, accessed from the top of Sherman Pass. Or take on an out-and-back hike of the length of your choosing on the Kettle Crest Trail from Boulder Pass. Connect these two passes from Republic using Highway 21 north to the town of Curlew, then over Boulder Pass, south on Highway 395, and back west over Sherman Pass on Highway 20. Watch for wildlife and enjoy the lightly traveled roads through some of the wildest and most scenic stretches of the 1.1 million-acre Colville National Forest. Take the time to stop at the various viewpoints and historic landmarks along the way.
Explore the Town of Republic
In between Republic-area adventures, wander the streets of this historic town and check out the unique shops, eateries, bars, and other businesses. Grab a to-go or picnic lunch and relax at Patterson Park. If you're lucky, your trip will line up with live music, trivia, or a Silent Book Club Sunday gathering at Republic Brewing Company, which serves craft beer, handmade soda, and wine. Find lodging info and more trip ideas at the Republic Regional Visitors and Convention Bureau website.
(Sponsored Article)