Say good-bye to summer tourists and embrace a peaceful autumn in northwest Montana. Post-Labor Day travel in the Flathead Valley area is an extension of summer, minus the crowds. Sport a bikini by day and a beanie by dusk; pack warm clothes as autumn evenings are refreshing after playing in the sun. Both luxury and budget explorers can expect the biggest bang for their buck as fall lodging prices drop and campsites open up.
Camping
Pack a sleeping bag and a smile, and take your weekend to Flathead Valley for under $100 after travel. Public land acreage is abundant in Montana, lending opportunities for recreating and camping. More than 30 Forest Service campgrounds exist within the Flathead National Forest alone. Several Forest Service campgrounds are open through the end of September (and some later); check closure dates before travel. And if you're backpacking, the sky is the limit.
Glacier National Park
Autumn in Glacier National Park is a treat, though you have to be prepared as West Glacier amenities close down at the end of September. Count on only a few essentials to be open through October. Kick back at the charming, historic Belton Chalet Hotel Tap Room for post-hike fare and drinks. Live music fills the room here, exclusive to shoulder seasons. The Crown of the Continent Discovery Center's one-stop shop is open through the end of October. There you can grab last-minute outdoor gear, local Montana libations at the bar, lunches to go, and Mexican food at La Casita restaurant.
Want to stay overnight in the park? Campsites drop reservation status after Labor Day and become first-come first -serve, making an overnight most achievable. Also check out the stunning hikes on the East side of the park. Stay at Two Medicine, Cut Bank or St. Mary campgrounds. Hiking, kayaking, and horseback trail rides are still available in the park after Labor Day, and are great family-friendly activities.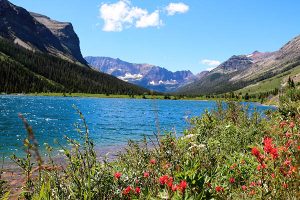 Recreating in Bear Country
Though it is an amazing experience to see a bear, the risk of bear encounters may increase during autumn months as the animals actively prepare for winter. If you are recreating in bear country, you should be aware of your surroundings, do not go alone if possible, and be sure to talk and make noise. Don't just carry bear spray; know how to use it. Check in with the local public land agencies for wildlife details.
Flathead Local Favorites
Whitefish: Mountain bike Spencer Mountain trails; hike or bike the Big Mountain; explore Whitefish Lake State Park; discover the Tuesday Farmers Market through September; enjoy the views from the Skybar at Casey's; hear live music at the Great Northern Bar; fill your growler at Bonsai Brewing Project; taste pizza at Jersey Boy's Pizzeria and sushi at Wasabi; save money at Kalispell grocery stores.
Kalispell: Bike the Great Northern Historic Trail; shoot archery at Lone Pine State Parks outdoor archery course; cool off in Foyes Lake; mountain bike and trail run Herron Park; race and revel at the Montana Dragon Boat Festival; test your knowledge on trivia night at Kalispell Brewing Company; taste strawberry lemonade at Desoto Grille; view the sunrise from the top at Herron Park.
Bigfork Area: Trail run Alpine Trail #7 in the Jewel Basin; fish alpine lakes in Jewel Basin; breakfast at Echo Lake Café; explore Flathead Lake State Parks; taste outdoor drinks at The Raven in Woods Bay.
Columbia Falls: Hike Columbia Mountain; Fly fish the Flathead River; discover the Columbia Falls Community Market; float tube the Middle Fork Flathead River between West Glacier and Columbia Falls; eat and drink at Backslope Brewing. //
Katie LeBlanc wrote about biking in Northwest Montana in the June issue.