Do you like hiking and exploring recreation areas and trails you've never visited before? Do you like treasure hunts for cool prizes? Play Out There Monthly's free Backcountry Booty contest and you get to explore different trails around the region and possibly win gift certificates for cool outdoor gear and other prizes. Here's how it works:
1. We hide a booty certificate that's good for whatever prizes are up for grabs – like a backpack from Mountain Gear or a Season Pass from 49 Degrees North Mountain Resort – along a trail somewhere in a park or recreation area in the greater Spokane region.
2. We name the general location and offer up a few clues and photos on Out There Monthly's Facebook page and the Out There Monthly website contest page.
3. We keep giving out clues on Facebook and OTM's website until someone finds the booty and wins!
4. Winners post a victory photo on OTM's Facebook page to confirm that it's been found, and then we let them know where to pick up the prize(s).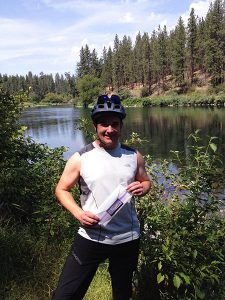 The contest has been around for almost two years and has been getting more popular with each new booty prize announcement. People out hunting for the booty often report meeting other players out on the trail, and the contest has been a fun thing for many families to do together outside. The booty bags have been found hanging in trees and in other more obscure locations along, but not necessarily within sight, of trails in several local recreation areas, including Palisades Park, the Dishman Hills Natural Area, Riverside State Park, Mt. Spokane State Park and other areas.
The prizes just keep getting better too. Some of the most popular prizes so far have been a $400 value Nelson, B.C., getaway package courtesy of Nelson Kootenay Lake Tourism; an Eno Double Nest Hammock and suspension system ($100 value); and a pair of Black Diamond Trekking Poles and a Black Diamond Ion Headlamp courtesy of Mountain Gear and a K9 Sky-Trak portable, packable dog run kit sponsored by K9 Sky-Trak ($175 total value). Sure to be one of the most popular Backcountry Booty prizes ever, in the month of April, a voucher for an $800 value 49 Degrees North Mountain Resort adult season pass for the 2016/2017 season will be hidden somewhere out there.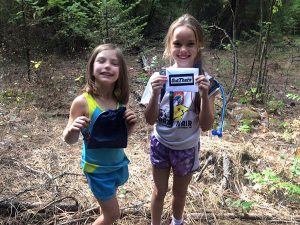 How do you keep from missing the opportunity to hunt for a Backcountry Booty prize? Make sure you have "liked" Out There Monthly's Facebook page (Facebook.com/OutThereMonthly) and be sure to check it often to keep up on new booty packages and clues, especially since posts from pages you like don't always show up in your Facebook newsfeed. You can also check the contest page at www.Outtheremonthly.com/category/backcountry-booty to review all the clues for whatever booty is still out there and learn more about the prizes and sponsors.
Out There Monthly created the contest to encourage more people to get outside and enjoy our region's amazing trails and recreation and conservation areas and appreciate nature. Look for some amazing prizes up for grabs this year and share the love of hiking and trails with someone new this summer! //