Located in North Idaho along the Bitterroot Mountains, the Silver Valley has an extensive Western history and has converted from the mining boom that defined it to a modern-day outdoor recreation mecca. Along with that growth has come a craft brewery scene that will make it easy to plan a beer tasting trip with a few of your favorite friends this fall. And, it's a beautiful place to explore: ride or hike Silver Valley's mountain trails, rollerblade on the Trail of the Coeur d'Alenes, fish in an alpine lake, and then cap off your adventure in town with a cold craft brew for local flavor.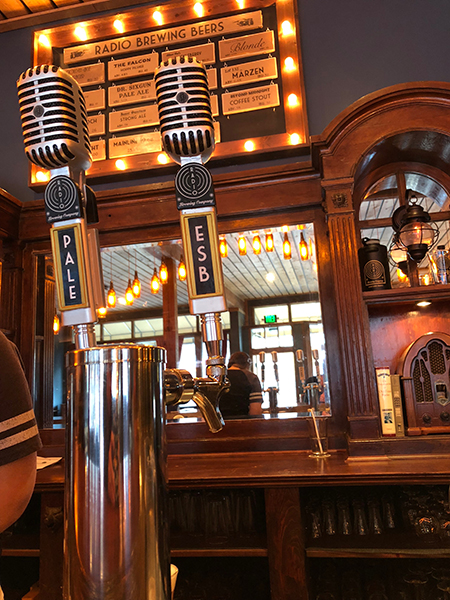 Radio Brewing Company, based in Kellogg, Idaho, was named after the golden age of radio. They craft brews that take inspiration from the region, like the Idaho River Session, Wildcat Wire Wheat, and Golden Age Lager. They're open Thursday-Monday, 11:00 a.m. to 9:00 p.m. Located at 319 Main Street, Kellogg, Idaho, 83837.
Wallace Brewing Company pays homage to the local mining history, creating quality craft beers like the Center of the Universe Scotch Ale. The brewery is also home to historic photos from Wallace's wild bordello and mining history. "We like to tell stories about Wallace here," says Chase Sanborn, owner of Wallace Brewing. Located 80 steps from "The Center of the Universe" (Wallace, Idaho), Wallace Brewing is surrounded by a rich mining and wild west history. They're open Sunday-Wednesday 1-6 p.m., Thursday 1-7 p.m., and Friday-Saturday 1-8 p.m. Located at 610 Bank Street, Wallace, Idaho, 83873.
North Idaho Mountain Brew (housed in City Limits Brew Pub, a full service restaurant in Wallace) creates microbrews including the Baldy Blonde, the Pulaski Porter (tipping its hat to the local historic Pulaski Tunnel Trail), and Mountain Top Amber. Pair your tasting with a tour of the local history for a full Silver Valley experience. They're open 11:00 a.m. -9:00 p.m. every day of the week aside from Monday. Located at 108 Nine Mile Road, Wallace, ID 83873.
(Sponsored Content)