Most years there are plenty of places to find snow-free singletrack in the Spokane area come March, and sometimes even all winter long, but this year you may need to travel a bit to find ridable early-season dirt. Or maybe you're bored with your go-to late-winter riding routes and want to get out of town and explore a new trail that will throw it all at you in a 26-mile out-and-back adventure ride, from smooth singletrack and meandering jeep roads to basalt rock gardens, sagebrush bushwhacking, and a few steep climbs.
Looking out at the sage and bunchgrass benches and coulees that dominate the 12,000 plus acres of Lake Creek Ranch/Pacific Lake BLM land near Odessa, Wash. (an hour and a half west of Spokane), it's hard to imagine the volume of ice-age flood waters it took to carve this cratered canyon country out of ancient basalt flows. Especially given the stark, largely waterless desert landscape that greets visitors today. In fact, several lakes that appear on public land maps of the area have gone largely dry in recent years, apparently the outcome of increased irrigation pressure on the aquifer. Yet given the deluge of precipitation we've seen in the Inland Northwest this winter, don't be surprised to find more water (and mud in places) than in recent years.
One of the longest trails through the basalt scablands of the Columbia Plateau, the 13-mile Odessa-Lake Creek Trail traverses Bureau of Land Management that was acquired from a former working ranch in the 1990s to be preserved for public use and wildlife habitat. Enjoy the wide-open views, early spring wildflowers, and watch for wildlife, including mule deer, jackrabbits, badgers, birds, and, once it warms up a bit, rattlesnakes.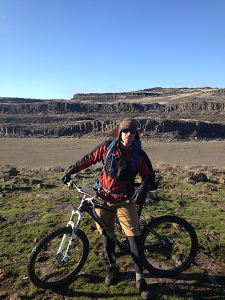 From the southern trailhead near the town of Odessa, follow the signed singletrack as it twists and turns through sage-dotted, basalt-rock scablands. Since it's been two years since our crew first explored this trail on bikes and I didn't take good notes, I'll borrow heavily from the trail description on the Washington Trails Association website for directions for the first section of single and double track jeep road down to the coulee: At .4 mile, turn left on a powerline right-of-way. Pass through a gate at 1.2 miles, and at 2.2 miles you will intersect a second fenceline. Turn right to parallel the fence uphill. The track gently rolls onward, passing through more gates at 2.9 and 4.2 miles.
After the gauntlet of gates and undulating jeep road, you'll soon be looking down into the Lake Creek Coulee, a wide, grassy canyon carved by ice-age floods that until recent times held several lakes. The sagebrush reaches old-growth heights in this fast and somewhat technical singletrack descent to the lakebed below. You will have ridden approximately 6 miles to reach the bottom of Lake Creek Coulee. Stop to ponder how different the scene here would have looked thousands of years ago as epic floods bore down on what was then a less scarred and channeled arid landscape, carving and scouring million-year-old basalt flows and grasslands that were once home to bison thousands of years ago.
From the bottom of the canyon, ride south across the lakebed to a bridge, a superfluous structure when we crossed the dry mudflat, and follow the trail up the more dramatic other side of the coulee. The climb to the top is rocky and somewhat technical in places on top of being a good leg and lung burner. Remember as you're climbing (and possibly cursing your winter IPA obsession) that the return descent will replace that low-gear-grind grimace on your face with a smile as wide as the coulee bottom below.
Once you've rimmed out, follow the two-track dirt road north, eventually passing through a gate to a field filled with old farm equipment that looks out over the dramatic landscape you just pedaled. We paused here to lounge over lunch in the late-winter sun among carcasses of rusting implements of a bygone agrarian era and somehow lost our motivation to keep riding the last six miles to Lakeview Ranch. If you're in it for the exercise and adventure, skip the afternoon nap and continue the full 13 miles to Lakeview Ranch and return the way you came to make it a hearty 26-mile scablands epic.
Find excellent descriptions of the full route as well as driving directions to the southern trailhead on the Washington Trails Association website at wta.org. The area is also described in Bauer & Nelsons' guidebook "Best Desert Hikes: Washington."
The Making of the Channeled Scablands
During the last Ice Age (18,000 to 12,000 years ago), cataclysmic floods inundated portions of the Pacific Northwest, including the Odessa area of Eastern Washington, forming the unique flood-carved landscapes of the channeled scablands west of Spokane. Here are a few highlights of that flood history summarized and condensed from the Ice Age Floods Institute. Learn more at Iafi.org:
Between 18,000 and 13,000 years ago, a piece of the Cordilleran ice sheet advanced into what is now North Idaho, blocking the Clark Fork River drainage and forming Glacial Lake Missoula.
At one point the lake was over 2,000 feet deep and held as much water as Lake Erie and Lake Ontario combined.
The ice dam that held back the waters of Lake Missoula failed repeatedly, sending water and ice sweeping across parts of Idaho, Washington and Oregon on its way to the Pacific Ocean, empting the lake in as little as a couple of days.
The peak rate of flood flow was likely ten times the combined flow of all the rivers of the world.
Along the floodwaters' path, more than 50 cubic miles of earth and rock were removed and deposited downstream, including boulders weighing many tons. //