With 13 weeks from June through August, it's time to create your summer bucket list. These one-day adventures will help you explore our region's recreational bounty. They don't require extensive gear or technical skills and will provide great story-telling memories.
1. Hike, Mountain Bike, and Pick Huckleberries at Mt. Spokane State Park: Encompassing nearly 14,000 acres in the Selkirk Mountains, Mt. Spokane State Park is the largest one in Washington state, providing lots of trails for hiking or mountain biking and opportunities to find the park's stashes of huckleberry bushes. If you're new to this mountain, start at the summit's Vista House and hike down under chairlift #2 cables and along the trails to find the iconic Inland Northwest berries. Enjoy the majestic views from the 5,883-foot summit, where on clear days you can see all the way to Montana and Canada. When you have time on another day, use a trail map to visit the park's other peaks, including Mt. Kit Carson (5,282 feet) and Quartz Mountain (5,129 feet). Discover Pass required. Note that the park access road will be under construction this summer, with public access to much of the park limited, meaning you will need to park near the park entrance and hike or bike up. parks.state.wa.us/549/Mount-Spokane
2. Zipline in Wallace, Idaho: If you seek adrenaline-fueled adventure, a Silver Streak Zipline Tour is what you need. Wearing a harness and helmet, you'll zoom over mountainous terrain along cables up to 1,800 feet long and at speeds up to 60 mph. Several zipline courses and packages are available, and some weight restrictions apply. Silver Streak also has a new, football-field-sized Outdoor Laser Tag Arena, located near the zip courses, for some live-action fun (ages 7+). Silver Streak's downtown Wallace headquarters (516 Pine Street) is only a 10-minute drive from its mountain property. Reserve your zipline or laser tag session by calling (208) 556-1690. Walk-ins also welcome. silverstreakziplinetours.com
3. Raft, Float, or Tube the Spokane River: One of the best ways to enjoy the Spokane River is from the water itself with one of the region's trusted outfitters. FLOW Adventures provides guided rafting and kayaking excursions as well as unguided river tubing. Tubing season begins around mid-June, and FLOW provides everything you need – a tube, PFD, and shuttle service (for ages 5+). Call (509) 242-8699 or visit flowadventures.com for reservations. ROW Adventure Center offers half-day guided whitewater rafting (through July 2) and river float trips (after June 20) based out of its downtown Spokane location. Reserve your trip by calling (866) 836-9340 or visit rowadventurecenter.com.
4. Bike the Route of the Hiawatha: Ride 15 miles downhill through 10 tunnels and over seven trestles along the historic Hiawatha Trail. Then get a shuttle back to the top, which is at the East Portal trailhead. The trail is open daily from 8:30 a.m. to 5 p.m. and permits are required, available online or from the Lookout Pass Ski and Recreation Area. Ridethehiawatha.com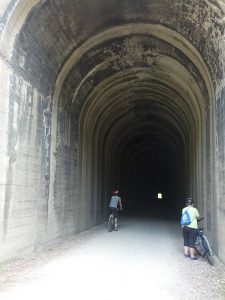 5. Tube the North Fork of the Coeur d'Alene River: Do-it-yourself tubing on this rustic river, accessible off I-90's Kingston exit, takes three to five hours, depending on where you start. If you don't know an experienced local willing to share secrets, visit boatingtheinlandnw.blogspot.com for information and advice. Be aware of parking restrictions and obey all posted signage and Leave No Trace principles. Don't trespass on private land, which is much of the riverbank other than the National Forest Service campgrounds upriver. For a culinary adventure, visit the historic Snake Pit – likely the only Inland Northwest restaurant serving Rocky Mountain Oysters.
6. Cross Bridges Through Riverfront Park: How many bridges can you walk or bike across in one day? Find out through a do-it-yourself walking or biking tour through Riverfront Park, including Canada Island, and along the Centennial Trail. Between Monroe Street Bridge and upriver to the Don Kardong Bridge near the Gonzaga University campus, you'll cross back and forth across the Spokane River, enjoying different vantage points along the way. Afterward, cool off at the Rotary Fountain or rest your legs while watching an adventure-themed IMAX film at Riverfront Park. My.spokanecity.org/riverfrontpark
7. Complete a DIY Urban Duathlon – Bike-Swim-Bike-Swim-Bike: Daily admission provides access to all City of Spokane swimming pools, for a choose-your-own adventure type of swim day. Here's what you do: Bike from home to a city pool of your choice for afternoon open swim and then bike to a different pool for the evening session before biking home. To super-size this bike-swim combo, add a morning lap swim at a third pool. My.spokanecity.org/recreation/aquatics
8. Paddle on Fish Lake or Medical Lake: These two small lakes in east Spokane County are great for kayaking, canoeing, or stand up paddleboarding, especially for novice paddlers (motorized boats are prohibited). Both Fish Lake Regional County Park in Cheney and Medical Lake's Waterfront Park have kid-friendly beaches, bathrooms, and playgrounds. If renting gear, often a 24-hour rental agreement will allow you to not only paddle the day of pick-up, but also to enjoy a morning paddle before returning to the rental shop.
9. Bike the Trail of the Coeur d'Alenes: Numerous trailheads provide access to this 72-mile paved trail that connects the towns of Mullan and Plummer, Idaho. Plan either a long and challenging or a short and leisurely out-and-back route. Trail highlights include the Silver Valley towns of Wallace and Kellogg, the trail's stretch along Lake Coeur d'Alene's eastern shoreline, the town of Harrison and its Creamery and Fudge Factory, and the Chatcolet Bridge at the southern end of Lake Coeur d'Alene near Heyburn State Park. Be aware that I-90 roadwork this summer near Mullan will impact access to the trail; shuttle service is provided around the construction zone (reservations required). Friendsofcdatrails.org
10. Hike at Pend Oreille County Park: Old-growth forest, views of Mt. Spokane, and seven miles of trails are highlights of this 440-acre park off Highway 2 just north of the Spokane County line. Stop at The Ram Drive-Inn, less than nine miles south of the park off Highway 2. The Ram's generous servings of soft ice cream – even the "kid" version is huge – are legendary, especially their homemade Huckleberry ice cream. Trail map recommended and available at pendoreilleco.org. //