If you're dreading the cooler temps and first sign of snow—and live in the Inland Northwest—it's high time for you to take up a new winter hobby. Luckily, January is Learn to Ski and Snowboard month, and some of our local ski areas have made it insanely easy (and fun!) to get in on that winter magic that your ski and snowboard friends are always so hyped about. Both kids and adults can rent gear, sign up for a learning package, and be well on their way to mastering that snow-and-gravity mix that winter sports enthusiasts live for. Find your footing on beginner terrain, and soon you'll be gliding around, happy about seeing snow in the forecast. As the Learn to Ski program puts it, "humans were never meant to hibernate." Get out there!
49 Degrees North Mountain Resort
Location: Chewelah, Wash.
Rookie Terrain: Hobbit Handle Tow, "Payday" Chair 3, Treasure Hill
Learn to Ski/Ride Deals: Learn to Ski/Snowboard lesson package, EZ Ski/Snowboard 1-2-3 program, and private lesson programs for all ages and abilities.
"As the great film maker Warren Miller was so fond of saying, 'If you don't do it this year, you'll just be another year older when you do,'" says 49 Degrees North director of skiing and snowboarding, Rick Brown. To encourage those new to the sport to make this year the year, 49 serves up some great beginner terrain.
"Easy Slide, Gold Chute, Fool's Gold, Trolley Car, and Hans' Highway make for great adventures on wide, gentle slopes that flow through a beautiful forested area," says Brown. "Users of all ages get to really engage in the mountain environment, enjoy nature, and spot a variety of painted animals that are mounted to trees as landmarks along the trails." These beginner routes at 49 are for all ages, and Chair 3 will provide a slower run to make for easier loading and unloading.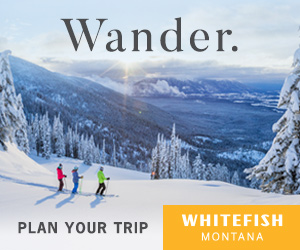 49's ski school is also constantly working on new techniques to provide a great experience, whether they use hula hoops, balloons, stuffed animals, Right Reels, or just continue to train their team with the newest, proven approaches to teaching. "The mountains provide so many possibilities," Brown says. "It's so sad to think about being cooped up inside for months and months when there is so much fun to be had."
Mt. Spokane Ski & Snowboard Park
Location: Mead, Wash.
Rookie Terrain: "Beginner's Luck" and new surface lift
Learn to Ski/Ride Month Deals: EZ Ski 1-2-3: Three 2-hour group lessons, three rentals, and three lift tickets for $159 ($149 during the month of January). Available every Saturday & Sunday.
"This season we are totally changing up our learning area," says Brenda McQuarrie, guest services director and marketing coordinator for Mt. Spokane. "We've expanded it to make room for a 100' surface lift for beginners."
The new surface lift will provide a much-welcome ride up the flats while standing, which is helpful when the beginner is learning the basic skills and still getting comfortable with their equipment. It will also lessen the energy used in the lesson to gain a little altitude to slide back down.
Once the novice rider is ready for a chair lift, Beginner's Luck will fit the bill. This chair is lower and slower than the other chairs on the mountain and services the "bunny hill" and other green runs that a beginner will feel comfortable on. The lift operators on Beginner's Luck are trained to give an extra hand to newcomers who may struggle. "We build confidence here before we move to more challenging slopes, depending on the needs and desires of the student," McQuarrie says.
The learning area at Mt. Spokane is also fenced and separated at the bottom of Beginner's Luck to keep other guests distant and let newbies feel safe while learning their new favorite sport. Additionally, Mt. Spokane is installing a new lift that will serve intermediate (blue square) terrain at the top of the mountain that will add a new area to explore and learn on.
"Mt. Spokane welcomes families and we do a good job in accommodating them," says McQuarrie. "We can offer a more personal experience with each person getting their needs met individually by our experienced staff. This is Spokane's home mountain and we do our best to make it feel like that home away from home in the snow."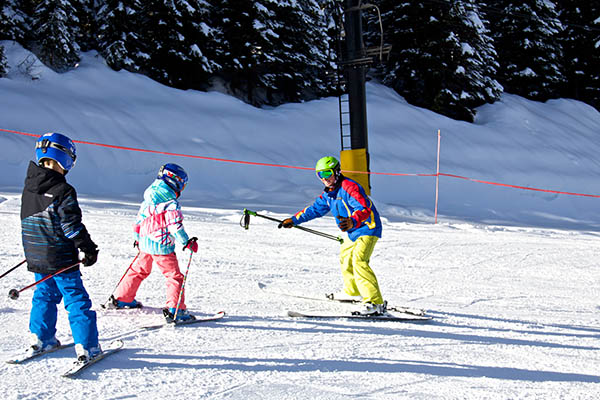 Lookout Pass Ski & Recreation Area
Location: Mullan, Idaho
Rookie Terrain: Success Slope, Huckleberry Ridge, Tamarack
Learn to Ski/Ride Deals: One-day learn to ski or snowboard with 1.5-hr beginner-specific group lesson package ($59) and three-day learn to ski or snowboard package, which includes an all-mountain lift ticket on the third day ($99).
Lookout Pass is not as daunting as it may sound to beginners—their beginner's "Success Lift" is a triple chair, which allows a ski or snowboard instructor to sit between two students and guide them on and off the chair. Success Lift also provides access to several beginner trails to help newbies gain confidence.
"As the beginner lift is closer to the ground on the trip up, it helps put people at ease," says Matt Sawyer, director of marketing and sales for Lookout Pass. The length of the lift is shorter than most, the beginner terrain has a shallow pitch, and there's a large staging area at the top to get comfortable with unloading. For those interested in the terrain scene, the intro-level features and smaller jumps at "Huckleberry Jam" will provide a great opportunity to build freestyle moves.
This season, Lookout Pass has also brought in a new ski school director, Chris Sawyer, who has extensive teaching and directing experience with children's programs. Milam has designed new full and half day programs for kids ages 4 to 12. "Lookout Pass is where you go if it is all about having fun," says Sawyer. "We have also been running a free ski school for kids for 77 years. Our terrain for beginners is welcoming, as is our staff."
Silver Mountain Resort
Location: Kellogg, Idaho
Rookie Terrain: Two beginner's lifts, a surface lift, and a fixed grip double that serves easier terrain.
Learn to Ski/Ride Deals: In January, purchase a full-priced adult or youth ticket and pay just $2 for lessons and rentals.
At Silver Mountain, you can take a ride up Easy Street—it's as beginner-friendly as it sounds. Located just outside the Mountain House, Easy Street transitions from nearly flat to a 10-percent grade. "It's steep enough to make turns on, but still not intimidating for first time skiers and boarders," says ski patrol director Drew Mahan.
Once comfortable on Easy Street, newbies can access beginner terrain via Chair 5, a low-speed double chair that only serves beginner terrain, which is a nice introduction to how to ride a chairlift. Soon, you'll be gliding around Ross Run, another beginner's run directly beneath the resort's gondola. It has a bit more pitch, but is wide and well-groomed. Nearby Noah's Progression Park also offers 10 to 20 beginner- and intermediate-oriented terrain park features.
"We have a great diversity of options for people to choose from," says Mahan. "We have skiing and boarding on Easy Street, snow tubing, snow shoeing on the snowshoe trail, or just watching from the picture windows of the lodge."
One misconception is that the learn to ski lessons are only for kids—Siobhan Ebel, of Silver Mountain marketing, reiterates that plenty of adults are out there learning for the first time, as are full families who want to learn to ski together. "Learning to ski or snowboard is a great way to make friends or spend time as a family while staying active," says Ebel. And, as ski school director Jake Waterdown puts it, "Silver Mountain will offer passionate instructors and mellow beginner runs to get you started on a life-long hobby."//
Lisa Laughlin is a freelance writer and an Associate Editor for Out There Outdoors. She hopes to learn to ski this winter.