Erik Solberg, a tall, thin 30-year-old newspaper archivist who sometimes sports a curly rattail and speaks fluent Feminist, rides a silver fixed-gear bike with a handkerchief tied to the handlebars. To him, the hipster-on-a-bike stereotype he embodies is not a joke – it's proof that bicycling is at the forefront of cultural change. Biking for transportation challenges car-dependent culture and with it, the pace of everyday life.
Bicycling is so much more than a ride to work for Solberg – it's how he connects with his city. He'll take the long way home to explore an unfamiliar part of town. He's got all kinds of ideas for how we could improve our downtown streets, some imported from Geneva, Switzerland, where he spent a year guiding bike tours. For three years, he volunteered his time as a bike mechanic for Spokane's now-defunct non-profit bike shop Pedals2People. "Participation is always the most effective and purest form of advocacy," Solberg says. "The one part I like the most about urban cycling culture is that it's always something cool and people are always doing something different."
Spokane lags far behind other Northwest cities on the infrastructure and amenities that make streets safe for bicyclists — but bicycling in Spokane becomes safer, easier and friendlier every day, in large part due to tenacious local riders with big ideas.
Safe City Streets
Bicycling for transportation has recently become cool again. Bike commuting has increased by more than 60% nationally in the last decade and a half — but Spokane has yet to adapt to the growing number of cyclists on the streets. The city holds a bronze rating — the lowest possible — from the League of American Bicyclists, which rates cities on their bike friendliness. A mere 14% of arterial streets have bike lanes, and only 6% of the total road network has bike facilities. That's compared with averages of 45% and 30%, respectively, among all the cities measured.
Guided by its Master Bike Plan, which is currently undergoing a rewrite, the City of Spokane has begun to reverse that trend. But these things take time, says Ryan Patterson, chair of the City of Spokane's Bicycle Advisory Board, which consists of city residents who advise the city on bike-related issues. (Anyone can apply to be part of it.) "The funding does kind of dictate what can be done," Patterson says. Planned bicycle infrastructure improvements often take years to implement as the city searches for a way to pay for them. With no dedicated funding source for capital improvements, the city often seeks out state or federal grants to pay for big projects.
That's where the Master Bike Plan comes in: it tells the city which projects to prioritize when opportunities arise. "There are some things on the Master Bike plan that we don't know when they're going to happen, but it's imperative that we get them on the Master Bike Plan. Otherwise, when the funding appears, it might be too late," Patterson says.
Several bike lanes and intersection improvements will complete the downtown bike network this summer. First Avenue west of Monroe will be re-striped with bike lanes, and sharrows (aka shared lane pavement markings) will be added east of Monroe. Patterson says those sharrows will eventually be converted to bike lanes as well, but more car traffic means the lanes can't be reduced without an engineering study – and that, too, takes time. "It's the beginning. It's establishing that this will be the bikeway," she says. Other areas with troublesome bike paths, like the eastbound lane of Riverside at Monroe, will be improved as well.
The BAB also has a hand in helping plan the Riverfront Park remodel. To avoid conflicts between faster bikes and pedestrians in the park, a second route that circumvents the park may be included in the improvements.
Bike Share Gets a Second Chance
Two weeks after Spokane's first bike share program launched in 1997, it was over. Robin Rivers, who covered the story for The Spokesman-Review, deemed the swift demise of a well-intentioned effort "alternative transportation gone awry." Lilac Bicycle Program set 50 donated bikes, all painted lilac purple, loose on the streets of downtown Spokane. No locks. No deposit. Just a sticker reminding riders to be responsible, law-abiding and to leave the bike for the next user.
At the time, more than 60 American cities offered free bike programs. While organizers in other cities said some bikes had disappeared, Spokane seemed to be the only city that couldn't hold onto a single one. At least four were pitched off the Monroe Street Bridge, their remains visible under rushing waters. Bike share programs continued to thrive and evolve in other cities while Spokane hung its head in shame for nearly two decades. That is, until now.
A 2015 amendment to the City's Master Bike Plan added a bike share program feasibility study to the city's list of planned bike projects. Patterson says the study has funding, but there's been talk of using that money to run a small-scale pilot program instead. A pilot program may give insight into what a study wouldn't: whether our city can handle the responsibility better than it could the first time around. These days, most bike share programs require riders to leave a credit card number to guard against loss. Rather than install kiosks, says Patterson, a limited pilot program would use a smartphone app.
While requiring participants to own a smartphone may limit access for some riders, it could provide the proof of concept needed to garner support for a full-scale program. "That's the type of program you could get off the ground really fast without a lot of infrastructure," Patterson says. Spokane's mandatory bike helmet law presents a hurdle for the program's success. Seattle, which Patterson says is the only city in the country that has both a bike share program and a mandatory helmet law, has struggled to get its program off the ground in part due to helmet logistics.
Aside from helping locals get where they need to go, bike share programs provide an easy way for visitors to access affordable transportation. "To me, it seems like a no-brainer to make sure people have bikes to see the city," Solberg says. He hopes cyclists won't only look to city government to provide answers for better access to bikes. He's used a site called Spinlister, which is kind of like AirBnB for renting other people's equipment. Only five bikes were listed for Spokane when we visited the site – including one of Solberg's, which goes for $20 per day – but if one of the bikes fits, the price beats local bike shops. The Red Lion Hotel at the Park and Hotel Ruby offer free bike rentals for their guests, providing another way for out-of-towners to see Spokane on two wheels without spending a fortune.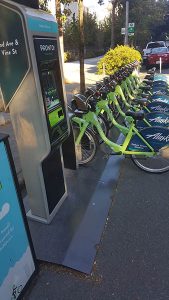 Parking Progress
With more people out riding in the city, having enough secure bike racks is critical. The good news on that front is that the Downtown Spokane Partnership plans to install new bike racks, purchased using downtown parking meter funds, in the city center soon.
"We purchased 30 new racks. We are replacing some of the existing racks which are damaged or unusable, but the intention is to deploy them to places where we've noticed a need for them, especially restaurants and coffee shops," said Elisabeth Hooker, DSP's Marketing and Programming Manager. "We want bikers to feel comfortable taking a break from their ride to enjoy some of our downtown businesses, and that's easier when you know your bike is safely locked."
Meanwhile, the Bicycle Advisory Board continues to work with the city to define bike parking guidelines that recommend best practices for bike rack design, placement and installation. The guidelines would inform both the city's practices on public sidewalks and racks installed by business owners or other organizations. "We don't want to prohibit anyone from adding bicycle parking on their own, but were really hoping people can follow best practices when they do," Patterson says.
Making Friends
Despite lagging in street improvements per the League of American Bicyclist's criteria, Spokane excels in education, outreach and active bike culture. An active bike plan, bike advocacy groups, a citizen advisory board to the city and a robust Bike to Work Week program all count toward its high marks. But those measurements only scratch the surface of the culture and conversation around biking in Spokane. Social rides, online groups and other unofficial communities around niche interests continue to pop up each year.
Several Facebook groups give local bicyclists a forum for sharing their experiences, news, routes and gripes about local biking. Spokane Women Bike Commuters, Spokane Family Biking, Get Around Spokane Using Pedals (GASUP), Spokane's Slow Bike Movement and a host of others allow new users to join or request to be added. "It gives you that opportunity to meet people or to feel that there are other people out there that you might not know in real life, or who you don't interact with in your workplace, but are equally interested in biking," says Patterson, who is active in several bike-oriented Facebook groups.
On the in-real-life front, the Drop-Outs Vintage & Cruiser Bicycle Club meets and rides from the Swamp Tavern the first Sunday of every month at 3 p.m. Everyone's welcome, though as indicated by the name, the group fancies vintage bikes.
The F*cking Bike Club (FBC) ended its heavily-attended monthly full moon rides from the Swamp Tavern in 2013, leaving somewhat of a vacuum of biking groups for casual riders. The club, among the first in the country, has since inspired many offshoots including a booming Sandpoint ride. Three years later, a new iteration of the Spokane FBC and a second group called Fourth Friday Pub Peddlers have followed in its footsteps with evening rides from the Swamp. As yet, none has garnered the numbers of the FBC, but maybe that's alright. In this case, smaller might be better.
Tim Deihl, a 28-year-old Washington Air National Guard boom operator, organizes Fourth Friday Pub Peddlers with his dad, Dave. The father-son duo made a ritual of attending the original FBC's rides together. "We really liked the FBC ride and we wanted it to continue," the younger Deihl says. Unlike the logistical nightmare of the original FBC –
finding bars willing to host hundreds of rowdy cyclists, wrangling sponsors and raffling off prizes – leading a smaller group of 20 or so riders requires little effort, says Deihl. "It's getting together with people who you aren't going to normally run into," he says. "Meeting new people, doing a hobby we all enjoy." //