What's a bike fight race? It's safer than it sounds. More of a bike battle, a bike fight race will allow you to challenge a friend (or stranger) to a competition of stationary pedaling at this year's Expo.
The bike fight races are provided by The Bike Hub, and can be found at The Bike Hub's Expo booth. The bike fight race consists of two bicycles set up on indoor trainers and hooked to cycling computers. Competitors pedal in place as the cycling computer charts the progress.
The Bike Hub has fostered many a bike fight race, and even though they're limited to the indoor arena, there's a few ways to establish race rules. Two people can race each other for a set time, say 60 seconds, and whoever pedals farthest wins. An alternate version of the race is to create a set distance, say half a mile, and to see who gets there first. (Read more about the intensity of a bike fight race from OTO writer Hank Greer.)
Bragging rights are clearly on the table when it comes to a bike fight race, but The Bike Hub will also give the overall winner a free bike tune up.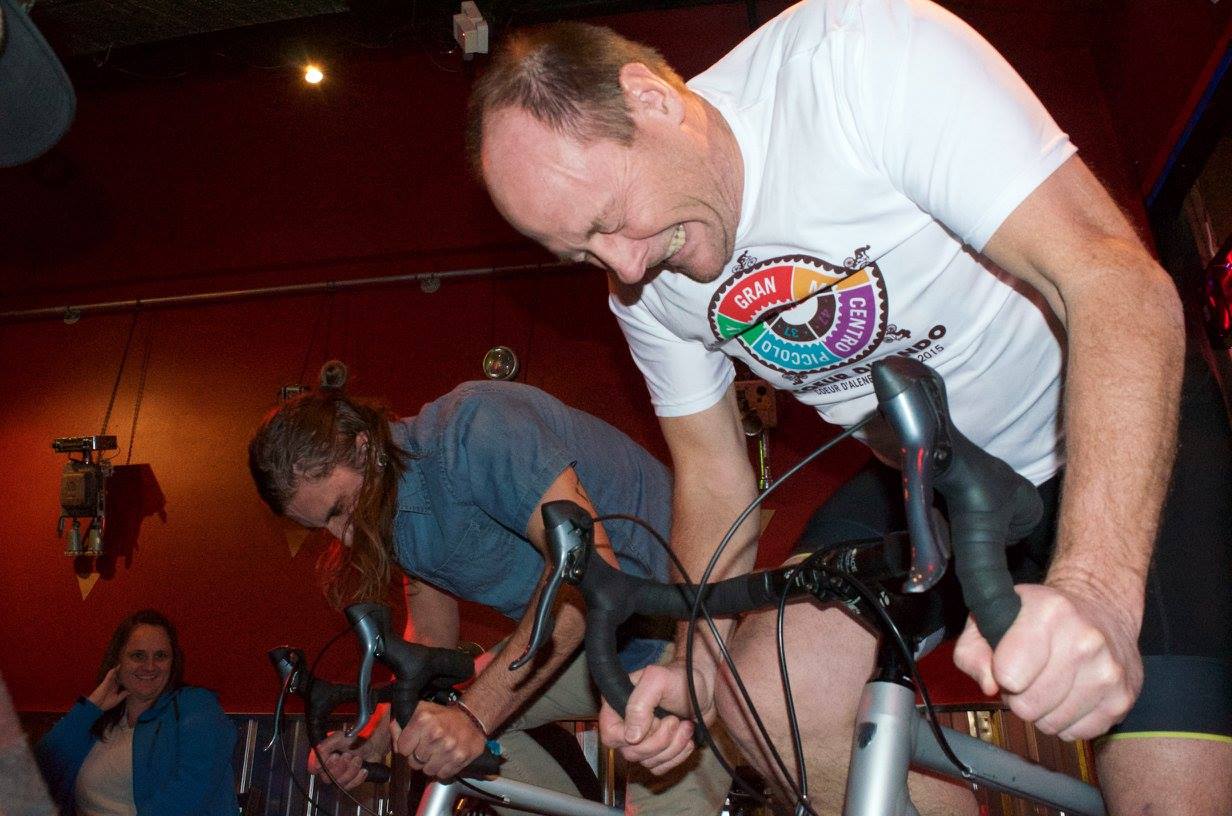 It will be worth stopping by The Bike Hub expo booth even if you're not in the mood for a bike fight race, as The Bike Hub will be giving away some sweet prizes and gear.
"We'll have lots of good energy, high fives, and sweet bikes for people to check out," says CJ from The Bike Hub.
The Bike Hub booth giveaways will include t-shirts, hats, and coffee. They'll also be giving away two bikes, both of which will include a full tune up and limited-edition trucker hat.
While the bike fight races are sure to take center stage, The Bike Hub will also have their fleet of rental bikes for people to test inside the convention center. Additionally, they'll have some bikes from their sales floor to test. All together, they'll have around 15 bikes for people to check out and get a feel for, says CJ.
The Bike Hub always offers a custom fit and free tune up if you choose to purchase a bike, and will provide a full suspension set up if you purchase a mountain bike.
Stop by The Bike Hub booth to challenge a friend to a bike fight race or chat with folks to find out what other opportunities The Bike Hub offers, such as spin classes, group rides, and night rides throughout the year.
About the Spokane Great Outdoor and Bike Expo:
Where: The Spokane Convention Center, 334 W Spokane Falls Blvd, Spokane, WA 99201
When: Saturday, February 24, 9:00 a.m. – 5:00 p.m. and Sunday, February 25, 10:00 a.m. – 4:00 p.m.
Tickets here
More Info here