I find myself passing through Colville on my way to nearby recreational access points several times each month. It's a great place to stop for a quick snack or a cup of coffee on my way to elsewhere, but until recently it lacked a good close-to-town soft-surface hiking or biking trail. Despite housing the headquarters for the Colville National Forest, the nearest trail has always been at least 20 minutes out of town.
That has changed with the recent development of the Colville Mountain trail system on the outskirts of the city. Volunteers with the Northeast Washington Trailblazers (NEWTs) hiking and mountain biking group worked closely with the City of Colville to create single-track trails on the edge of town. The loop trail system consists of 3.5 miles that offer visitors good views of the Colville Valley, including a bird's-eye view of Main Street. Visitors can choose to extend their visit by ascending old logging roads above the loop trail. This is the route to the big cross on the hillside above town, and there's a small picnic shelter nearby that's great for a rest break before continuing the circuit and returning to the base of the mountain.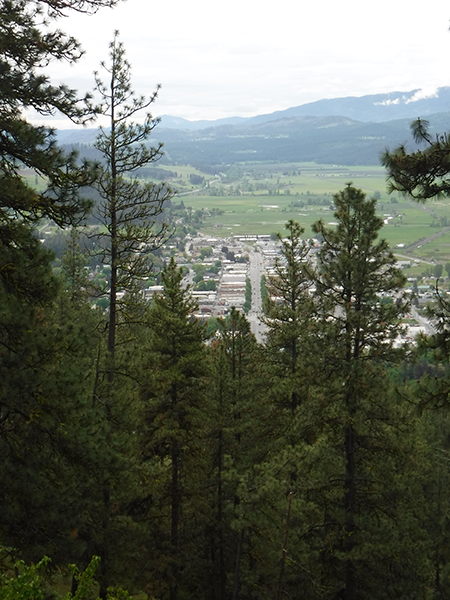 May is the perfect time to visit, as the hillsides are covered in arrowleaf balsamroot and other spring wildflowers, even as the surrounding mountainsides may still be coated in a layer of snow. The trail system is a moderate hike that's great for the entire family, or a challenging mountain bike ride with some good climbs and descents.
From the parking area at the end of May Road, begin the circuit by starting up the old road bed. Approximately a quarter mile from the start, the single track trail drops just below the roadbed. Pick up a copy of the trail map at the small trail kiosk at this location. Then hike, run, or ride the contouring trail as it darts in and out of small drainages along the edge of the mountain
Distance: Up to 4.5 miles round-trip
Rating: Moderate
Getting There: Take Highway 395 north to Colville, Wash. When Highway 395 makes the bend west onto 5th Ave. just north of downtown Colville, continue north on Main Street. Main Street turns into May Road and dead-ends at the small parking area for the Colville Mountain trail system (It is 1.3 miles from Hwy 395 to the trailhead on May Road).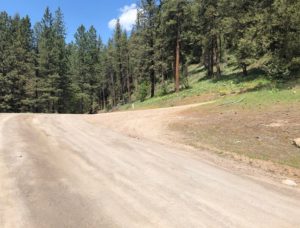 Give Back to Your Trails: Join Washington Trails Association for spring trips to Manressa Grotto on May 12, 13, and 15; register at wta.org/volunteer. //
Holly Weiler is a hiker, backpacker, trail runner, and skier. She writes the Hike of the Month column for Out There.
Feature photo: Holly Weiler