I kick steps into the early summer snow, aiming for the saddle before sunrise. Our fluorescent yellow tent grows smaller on the col, and steep ridges hem in the skyline. In a few hours the sun will fry the bites and scratches from yesterday's 12-hour standoff with mosquitos and devil's club. I try to maintain an efficient pace, but I am physically worn out from the 4,000 vertical feet of bushwhacking and, worse, I am psychologically conflicted. This ascent was supposed to be a goodbye trip for my climbing mentor, Kevin Klim, who was moving to flat-as-a-flapjack Florida to care for ailing parents. But Kevin is camped near a ledge at tree line with the fourth member of our party, and Matt and I alone move upward on our summit bid.
I had never heard of Agnes Mountain when Kevin suggested the peak. It's not on the Bugler list, which names the 100 highest elevation mountains in Washington, and it has never caught my eye on any map. But Kevin's relationship with the peak started 15 years ago. While checking off Goode and Logan Peak from his North Cascades tick list, he saw two grizzled men with tiny packs. He inquired about their mission, but they shrugged it off. Agnes—no one's heard of it—they told him. But their demeanor intrigued him.
"They seemed like the kind of people I wanted to gravitate toward. They weren't bragging. [The climb] was just something they wanted to do," says Kevin. Later, when he poured over a map, he saw the full scope of the climb, and added it to his wish list. He'd asked several people to climb it with him over the years, but everyone turned him down in favor of more prominent or easier-to-access objectives.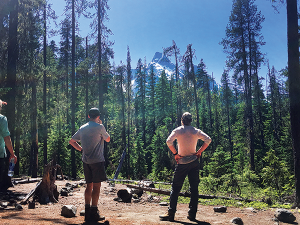 When I first met Kevin in his role as Climbing Wall Director at Eastern Washington University, I would not have accepted the mission either. I took his Climber's Toolbox class because I needed a break from my studies and wanted to learn how to build top rope anchors. I soon enrolled in every class he taught. At the time, I thought he was a great climbing instructor. Now I realize that he taught much more than climbing; through experience-based instruction, he has given dozens of students the technical and mental tools they need to make informed decisions as they move through the diverse challenges of the vertical world.
Agnes would be my chance to prove that I'd become a competent climber who could meet these challenges. Matt and I gain the spur that leads to the saddle, tap the snow off our boots, and begin scrambling. In classic Cascade style, piles of rock crumble under our feet as we move in spider fashion over the steep terrain. Agnes's bold summit triangle appears as we continue the traverse to the saddle—our first close-up glimpse of our objective, which has been eclipsed by ridges and subpeaks for the past 36 hours. It is indeed as Fred Beckey described in his Cascade Alpine Climb guidebook: Agnes is an imposing, Matterhorn-shaped hunk of black granite.
Now that we have our eyes on the objective, I perform the climber's calculus: route description + personal fitness/efficiency on technical terrain + hours of daylight + off-trail descent + miles on established trail + bus schedule and ferry departure times. I think of Cayla, who needed to turn back after giving her all on her first alpine challenge, and Kevin, who could not be persuaded to let Matt or I keep her company instead of him. "You two have the best shot at the summit," he said. After a long discussion, I agreed.
That is, I agreed until I got a good look at our objective. Matt and I both gaze at the dark, pointy massif. It will take several more hours of scrambling and rappelling to even get to final summit block, and from there many more hours of vertical climbing and wayfinding. He outlines the data points as he sees them, and I do the same. We oscillate between two options—continue on our current trajectory, which, given my slower pace, would likely put us in the middle of a heinous bushwhack in the dark. Or, we could ascend one of the nearby subpeaks and forgo the true summit.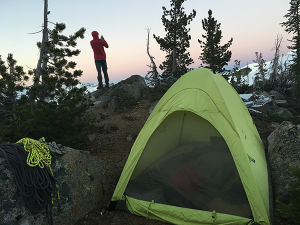 We settle on the more conservative option. Cayla has a plane to catch, Kevin has to get back to his family, and I'm feeling physically maxed out before the technical climbing has even begun. Matt leads out into an unknown crack system on the Agnes sub peak and smoothly stiches together the remaining hundred feet. Once on top, we survey the depth and stillness of the wild range. The jagged blades of Gunsight Peak pierce the bluebird sky, and Glacier Peak shimmers like a full moon on the horizon. Agnes juts up close enough that we can glimpse some of the cracks and ramps that may one day usher us to the true summit.
We rappel, pack up camp, traverse above tree line for as long as possible, then plunge into the sub-alpine madness. A familiar tension accompanies me for much of the alder-choked descent: I feel strong to have come so far, weak to have not made it to the summit, content that I did the best that I could. I beat back devil's club with my trekking pole, and spend equal mental energy whacking down an even thornier question: Given the time off from work, the cost of the ferry, projects going undone at the house, the impact on our families, and the multitude of other demands that crowd our modern lives, is walking up and down the pathless shank of a remote mountain a worthy use of our precious time? More importantly, since this was one of his last Cascade outings, had it been worth Kevin's?
We get part of the answer as soon as the bus pulls up in front of the Stehekin lodge. Kevin and Cayla are drinking coffee on the deck and offer wide grins at the sight of our tired and dirty faces. We spend the next hour talking over the trip dynamics as we wait for the ferry and eat a huge breakfast. Cayla says she feels inspired by her first attempt at an alpine objective and is eager for more. Matt is psyched to come back with a better route description and try his luck on the summit block. I look to Kevin, and he says, "I was feeling nostalgic, thinking this might be my last climb. But all it's done is confirmed that I'm not done with climbing—not yet."
It isn't clear how often Kevin will be able to fly across the continent. But when he does, a generation of climbers will be eager to journey with him into the alpine wilds. I will be the first in line. //