My husband's mission the first time he went to Spokane Bike Swap was to find a "blue bike" for our son, whose fourth birthday was only a week later. Luckily, he did: a used 16" bike with new tires for only $40 – and it came with a new kid's helmet.
If you want to ensure finding a suitable used bike for your little rider at this year's bike swap, your luck increases if you arrive early on the first day, but quality bikes are usually available all weekend. Free helmets will also be given out again to every child who buys a used bike at the swap while supplies last. "Last year we gave away 173 helmets, and this year we are anticipating over 200," says Spokane Bike Swap Event Director LeAnn Yamamoto.
Keep these tips in mind to make your swap-shopping successful.
Know your child's height and riding ability.
Learn the bike size recommended based on your child's height, which also corresponds with an age range. Wheel size (outside tire diameter) is how children's bikes are measured, versus frame size for adult bikes.
Standard kid sizes are 12, 16, 20, and 24 inches. If a child is 26-34 inches tall (ages 2-5), they should try a 12-inch bike; if 34-42" tall (ages 4-8), try a 16-inch bike, and so on up to 62" tall for a 24-inch youth bike.
A sizing guide will be posted at the swap, and bike technicians will be available in the used bike corral to help size bikes for both children and adults, says Yamamoto. In addition to using the sizing guide, consider your child's riding ability and anticipated growth rate.
Entry-level pedal bikes feature coaster, or kick-back, brakes. Gears and hand-breaks start becoming available with some 20-inch bikes. "If kids can't handle both sets of brakes, they'll still need a kick-back brake," says Roger Randall, a bike-fitter and mechanic at North Division Bike Shop. "When kids are bigger than that 24-inch size, they can move into a small-frame adult bike and might be able to fit."
Be aware that test-riding bikes is not allowed at the swap, due to liability issues.
Analyze how your child looks on the bike.
When helping bicycle-fit a child, Randall uses the sizing guide as a starting reference. "And then we see what they look like on the bike – how comfortable [does it feel], how much seat post is showing – [to determine] if they'll need a bigger bike," he says.
A child should be able to stand flat-footed over the bike's top tube – a safety feature to help them stop if needed, he adds. "If they're standing and can barely touch the ground, the bike's too big." However, if too much seat post is showing or the child's knees are too bent, then the bike is probably too small, according to Randall.
"It's a tricky subject because you don't know how fast your kid is going to grow. It's best to get a bike that's on the slightly bigger size, so the child will have space to grow into it," says Randall. "I always try to get a kid on the biggest bike that can fit them. Bikes hold their value well. If it's only used a couple of seasons and kept in good shape, you can trade it up for the next size."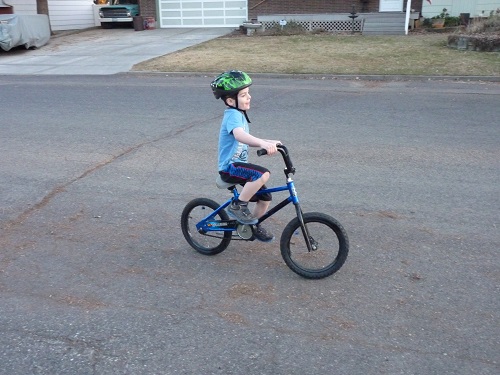 The Spokane Bike Swap and Expo takes place on April 11 and 12 at the Spokane County Fair & Expo Center from 9 a.m. to 3 p.m. You can buy, sell or donate bikes to the swap, which is put on by the non-profit group Friends of the Centennial Trail. For more info, visit www.spokanebikeswap.com.
Sandpoint also has a bike swap organized by the Pend Oreille Pedalers on May 16 at 9 a.m. at the Eureka Institute near Evans Brothers Coffee.
Originally published in the April 2015 issue, Out There Kids column.
Amy McCaffree has been writing for Out There since 2006. In addition to biking with her children, she enjoys camping, paddling, hiking, alpine skiing, and anything else outdoorsy as long as there are trees, a mountain, or a river or lake or other waterway.