Your boots are the most important piece of ski equipment you own – everything starts from your feet. Whether you are a first-time skier or a seasoned veteran of the slopes, having ski boots that fit properly can be the key to having a stellar day on the hill. Conversely, nothing is more miserable than spending a day in the mountains in ill-fitting boots. If you have skied long enough, chances are you have owned at least one pair of boots that you described as "torture chambers," or "vices of death."  I think I have owned four pair of those. But you don't have to. Finding the right pair of boots is kind of like finding your significant other: You have to try several before the right one comes along and you have that "ah ha" moment. By following a few simple guidelines, you can reduce the confusion and frustration and get yourself into the right boots.
Where to Buy
Specialty ski shops will have experienced boot fitters on staff, so buying from one of these establishments is the way to go. A good boot fitter will ask about your skiing history and preferences, foot-related injuries and about the type of boots you are coming out of. The boot fitter should have an idea as to where to start once he sees and measures your feet and will go through several pairs so you can experience the different makes and models that suit your foot and performance level, thus narrowing down the options. Most quality specialty shops also guarantee the fit, so if your boots need to be tweaked after a few weeks on the hill, they should be able to take care of you.
Finding the Right Fit
Comfort is relative when it comes to ski boots – they are not cushy house-slippers. But that does not mean your feet should be killing you after one run either. A well-fitting ski boot should be snug, kind of like a firm handshake. It's important to remember that your boots will only get bigger (pack out) the more you wear them, so make sure they feel snug on your feet in the shop or wherever you buy them. Ski boots are made of plastic and foam, and both can be manipulated to be bigger, but not smaller. That said, buy them snug.
Take Your Time
You should allocate at least an hour to be properly fit for ski boots – mainly so you can try on several pairs and spend 15-20 minutes in the pair you select. This is crucial because it takes some time for your feet to settle in the boots and identify potential "hotspots" or other issues. You might think you have found the perfect pair immediately after putting them on, but 10 minutes later your feet might be asleep. Take the time to do this right and don't rush it.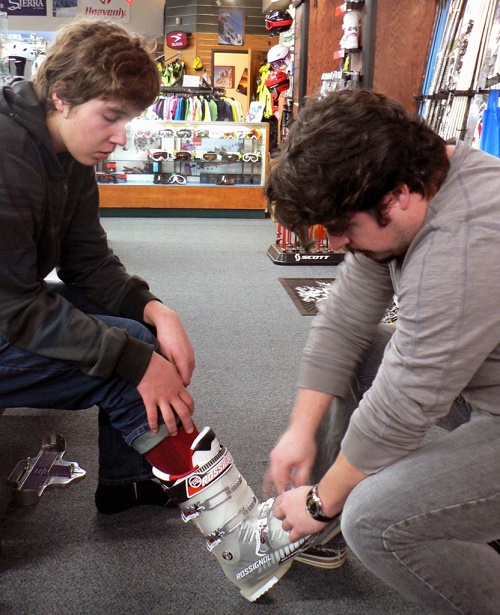 Don't Skimp on Socks
The purpose of a sock is to wick moisture away from your foot; dry feet are warm feet. Go with a thin-to-medium thickness synthetic-fiber sock – one pair only. Adding a second pair will not make your boots any warmer. In fact, they could do just the opposite. And definitely no cotton athletic socks either. Cotton retains moisture, which ultimately makes your feet colder.
Feel the Flex
Once you have the boots on and buckled up, you should be able to easily flex them. Keep in mind that plastic gets stiffer in cold weather, so if you can barely budge them in the shop where its 70 degrees, just image what they will feel like in 20 degree weather. The mechanics here are pretty simple. Flexing your boots allows you to move your weight and your hips forward or down the fall line. This is crucial for turn initiation, balance, and pretty much everything else you have to do if you want to make nice turns.
The Length
When you have the boots on and buckled up, flex forward a few times and then stand tall. Your toes should just graze the front of the boot. When you flex, they should pull back. If you go for a more advanced fit (tight), expect more contact in the front of the boot. For first timers or those who may have more sensitivity to toe contact, it's ok to have a little room in the length, just as long as the side-to-side snugness is there. Keep in mind that if you find a boot that fits great in terms of volume, but is a touch short, a good boot fitter can add a little length.
Final Thoughts
This just barely covers the basics when it comes to finding the right pair of ski boots. There is a ton of literature out there that goes into painfully great detail on the finer points of boot fitting – if you are so inclined to delve deeper, go ahead and pop some ibuprofen and then Google it. Your best bet though is to visit your local ski shop and spend some time with an expert – there is no substitute for personalized customer service. //