Rolling out of Midway, B.C., on fully loaded bikes in the pouring rain might make one think that things can't get worse, but the Kettle Valley Rail Trail (KVRT) had more surprises for us along the way. As the two soggy riders we met at our jumping off point, who'd bailed because of mud and "ruts" shook their heads, we pedaled down a muddy single-track through a field toward our early June destinations.
This bikepacking trip had been months in the making with route planning, adjustments, scheduling, carpooling, and figuring out how to cross the Canadian border during COVID. But at last, three incredibly patient adventure buddies, Sue, Dan, Phil, and I tackled the KVRT between Midway and Penticton, with a final leg to Oliver and our shuttle vehicle: 153 miles (give or take) of riding with a little over 7,000 feet of elevation over what was intended to be five days of riding.
The first day, we left our campsite in Midway (nearly deserted because of the rain and situated on a delightful little creek) to make our way through about a thousand gated pastures and lots and lots of mud. Three of us were pedaling gravel bikes with one rider on a hardtail mountain bike. The knobby tires were a must for the conditions. As were, we would come to learn, heavy-duty waterproof bike bags.
From Midway to our first campsite, the trail mostly followed the Kettle River. Thirty miles of riding with just over 400 feet of elevation brought us to Little Dipper Hideaway—a privately owned facility tucked back in the middle of nowhere, owned and operated by a sweet Canadian couple thrilled to have customers so early in the season. We bought some firewood, set up camp around a small covered picnic table, and took advantage of the break in the weather to hang our wet things out to dry. We soon had clotheslines strung over the crackling flames.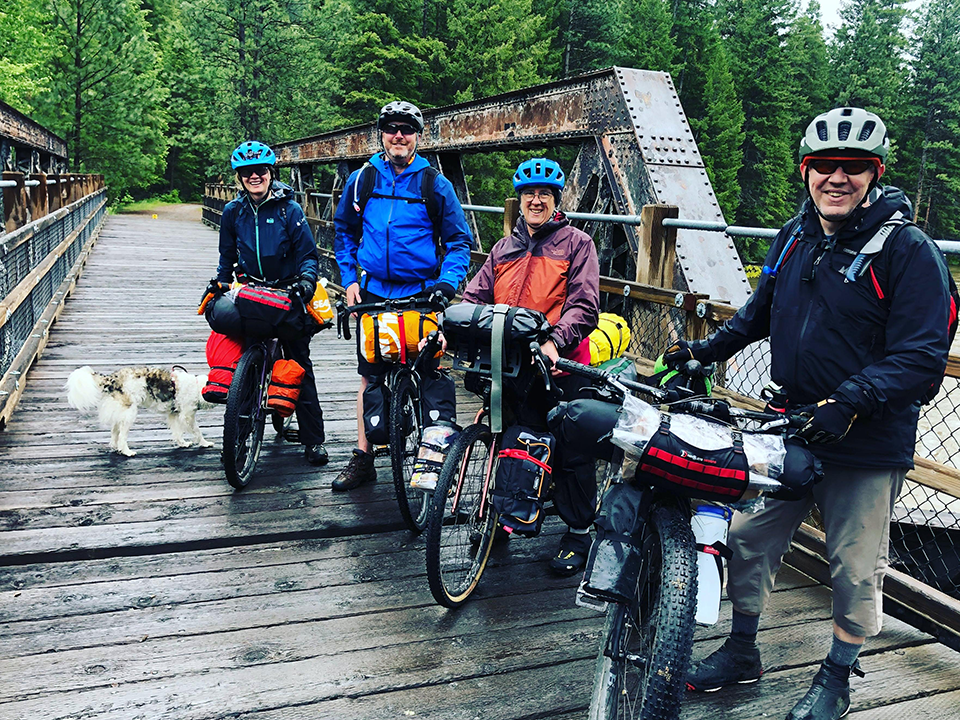 Day two dawned overcast but dry as we packed up, said goodbye to our mini picnic shelter, and hit the trail again. 37 miles and 2,200 feet of climbing treated us to relatively dry, though chilly riding weather. Moody skies ushered us from Little Dipper in the Valley up into the Beaverdell Range.
The Trail continues along the Kettle River until it meets up with the West Kettle River, where it takes a westward bend into the mountains. Our second day ended at Arlington Lakes, a campground accessible by motorized traffic, sparsely populated with fisherman in camp trailers.
Another campfire and an evening of playing cards and watching the sun set over the lakes filled me with that feeling only bikepacking can achieve. That We-rode-our-freakin'-bikes-here! feeling that's like outdoor crack.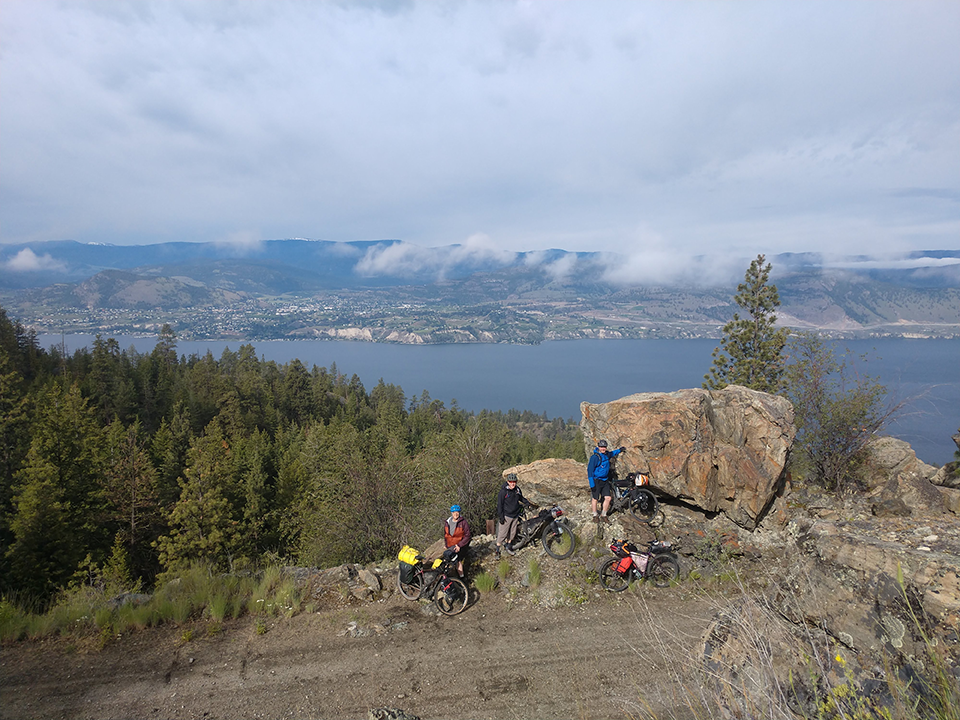 Day three was by far the hardest day of cycling in my life. And also the most majestic and impressive. Our plan was for this to be our longest day of riding, taking us up and over the mountain pass and into Myra Canyon, part of Myra-Bellevue Park. This trail system with tunnels, restored train trestles, and magnificent views of the Beaverdell Range was some of the most beautiful riding I've ever done! But by the time we arrived, I was soaked and chilled to the bone with no feeling in my hands or feet.
Rolling out of Myra Canyon, we rolled into some of the worst riding conditions I've ever experienced (except for the Play-dough mud on the Palouse to Cascades Trail outside of Tekoa). While this section of the trail is also a "road," that term is obviously defined differently by our neighbors to the north. As we rolled down out of the mountains, we found fissures in the road that had probably swallowed several compact cars. Puddles that spanned the entire width of the roadway swamped our bikes up over the hubs. Pedaling into lake after frothy brown lake of potholes got old after the first mile, and, by mile 20, became absolutely maddening. While day three was supposed to cover 33 miles, we were so cold and wet (and maybe my traveling companions were tired of my whining) that we agreed to push on to Chute Lake and a developed campground.
After a 47-mile day, we were relieved to find showers, a roaring fire, a pub, and an only slightly sloped patch of ground on which to pitch our sopping wet tents for the night. As we tucked in for the night at Chute Lake, the rain rolled back in, doing one final soak of our gear. When we got up in the morning, we all agreed to shove wet gear in bags and roll out. Next stop, breakfast in Penticton. Rolling downhill in the sunny weather of what was to be our last day of riding took us through beautiful forests, well-maintained crushed gravel trails, and a spectacular section of trail overlooking and then traveling along the shores of Okanagan Lake. This part was some of the most beautiful, scenic, and interesting rail trail biking I've ever done.
In Penticton, we regrouped over a massive breakfast at Terry's Comfort Food with Attitude. Having already ridden our planned miles for the day, and watching even more rain clouds roll over the horizon, we decided it was time to call it, pedal the last 30 miles to Oliver, and take the last day for a day trip to Ainsworth Hot Springs. That last and longest day of riding at just shy of 50 miles with a mere 374 miles of elevation gain left me relieved to be off the bike. And already scheming for my next B.C. bikepacking adventure. In the actual summer.