Tri-Cities to Spokane
It took me two tries to complete the 130-miles of the Columbia Plateau Trail (CPT), officially named the Columbia Plateau Trail State Park. The first time, we rode the former rail line turned trail about one-third of the way before bailing in the tiny town of Benge, Wash. Our first mistake: we picked the wrong direction and rode straight west into a 20-30 mph headwind. And then our second, bigger error was not having the right bikes for the job. Our 2" mountain bike tires weren't up for the task of plowing through the thick, loose chunks of railroad ballast rock that litter the nearly 100-mile, middle section of the trail.
A few years later, we were back for a second try on fat bikes with 4-inch, ballast-rock busting tires headed in the right direction: uphill but with the wind at our backs from Pasco to Spokane.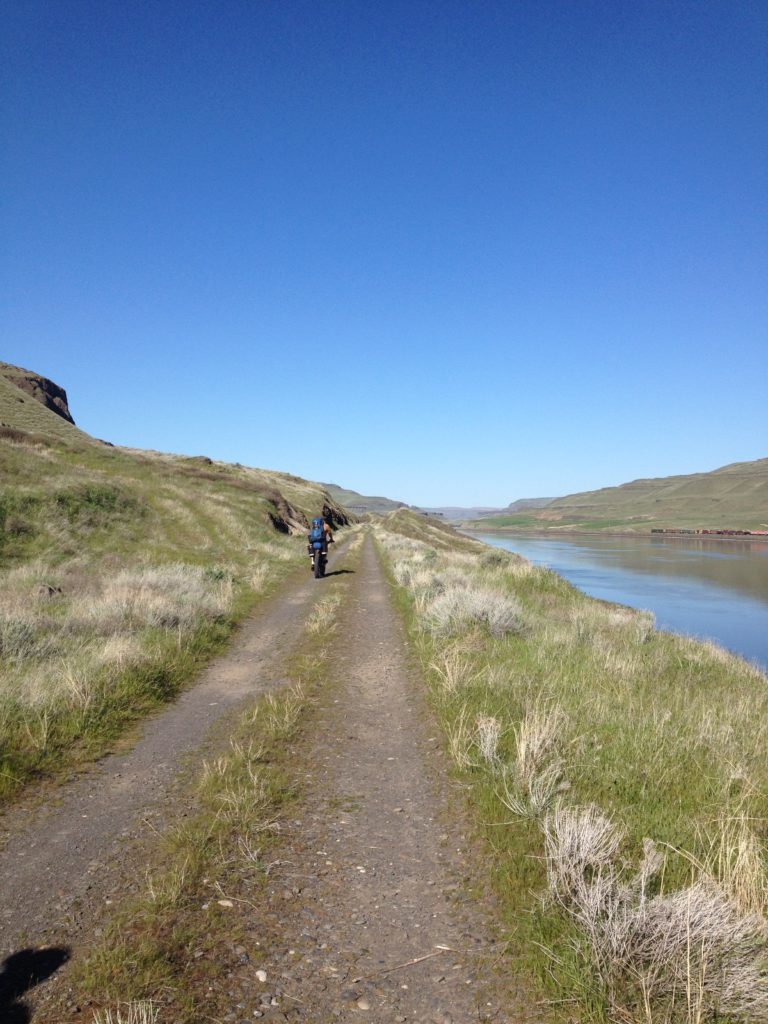 Day 1: Pasco to Kahlotus
The first 15 miles of our early-spring trip flew by with excellent crushed-gravel conditions along the Snake River. Once at the Snake River Junction, riders have two options for avoiding 4 gated trestles that require a detour. For fewer surprises ride the paved highway east to Windust Park on the river where you'll find camping, water, and restrooms (if they are open). A more adventurous option, at least when we rode the route in 2016, is to leave the CPT and ride another abandoned railroad line closer to the river that involved some boulder dodging and Russian thistle wading. At Windust Park we filled our water bottles (you might also be able to get water at a nearby farm) and left the river, climbing up the CPT to our first camp near Devils Canyon and the town of Kahlotus.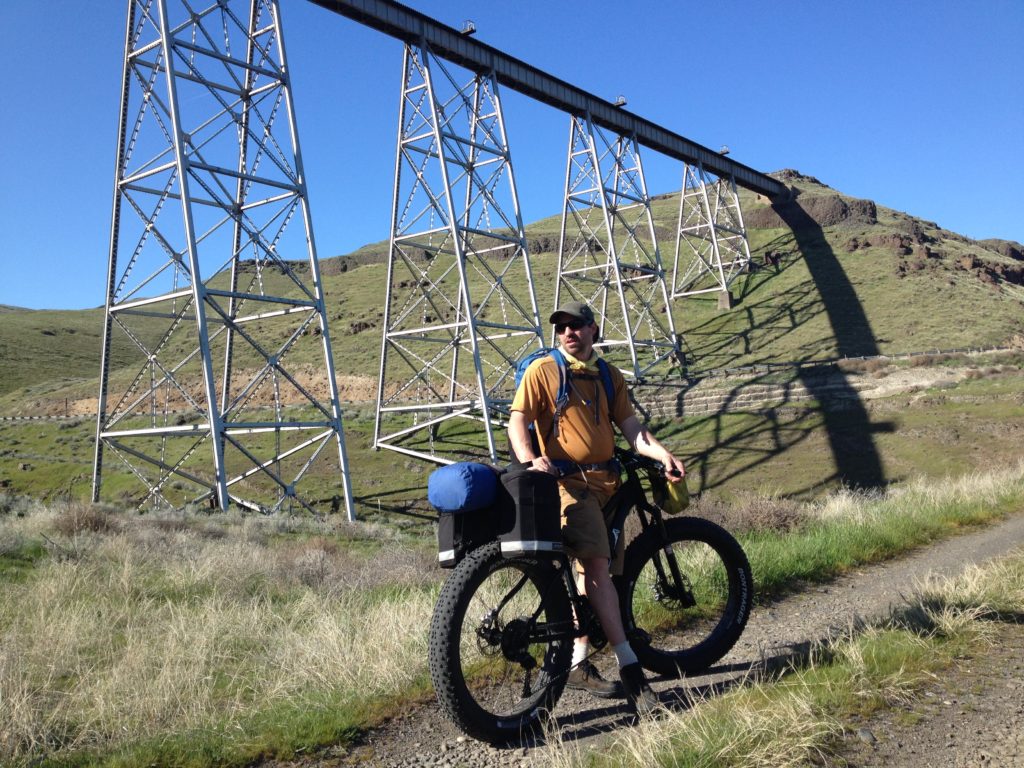 Day 2: Kahlotus to Middle of Nowhere
Dramatic desert scenery gives way to a slow crawl over chunky ballast rock on a long, straight stretch of relatively uninteresting trail between Kahlotus (water stop) and Washtucna, which at the time had an inviting café and watering hole. Another closed trestle blocks riders just to the west of Washtucna (a farm access road and short hike-a-bike regain access to the trail on its north side). Then it's onward through a long stretch of rough ballast rock riding. Beautiful basalt formations; massive sagebrush; and wildlife sightings including mule deer, rattlesnakes, and badger help keep your mind off of the challenging trail conditions. Another blocked trestle after an hour or two of riding warrants abandoning the CPT again. Use your maps to detour around the private land surrounding the closed trestle on roads. Trespassing is illegal and could jeopardize the future of the trail for others.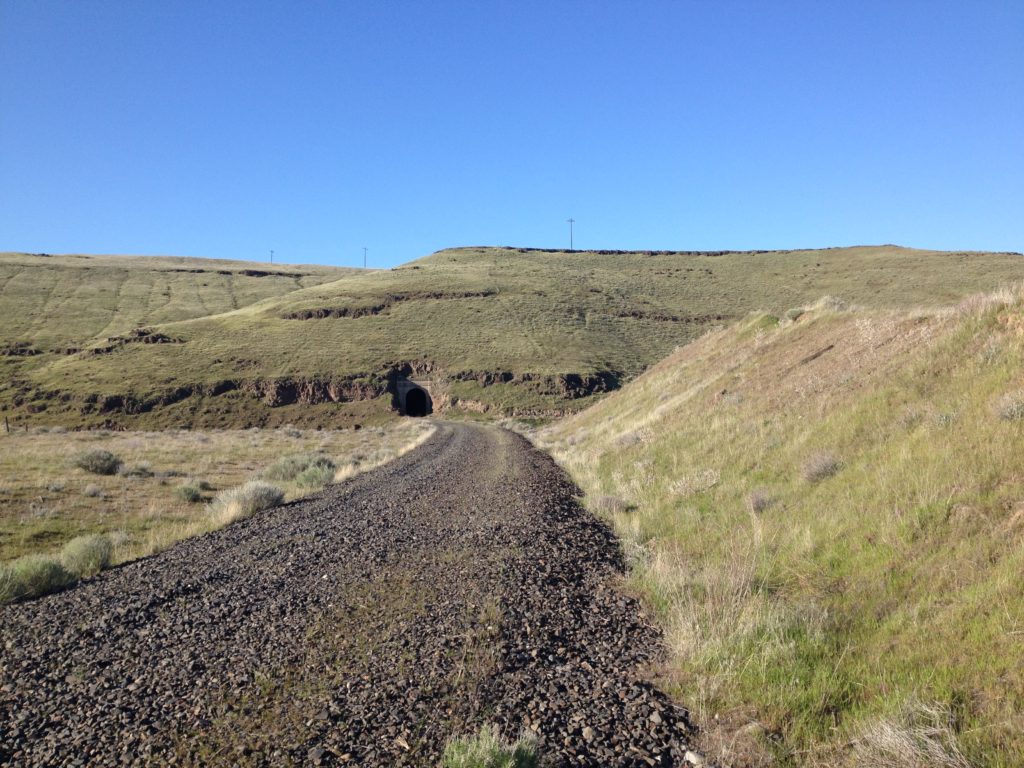 Legal camping and access to drinking water east of Washtucna can be challenging. Plan on stocking up on provisions for this long stretch through the middle of nowhere. You should be able to find water at the church in Benge (and possible camping in town if you ask). You can also ask for water at the grain elevators in Lamont. Despite the fact that there are some nice camping spots next to the trail, camping along the CPT isn't allowed. You can, however, find in-town camping options as well as legal camping on BLM land at Escure Ranch and Fishtrap Lake. The town of Sprague a few miles off the CPT also offers services as varied as a store, bar, café, and motel if you're looking for the comforts of home.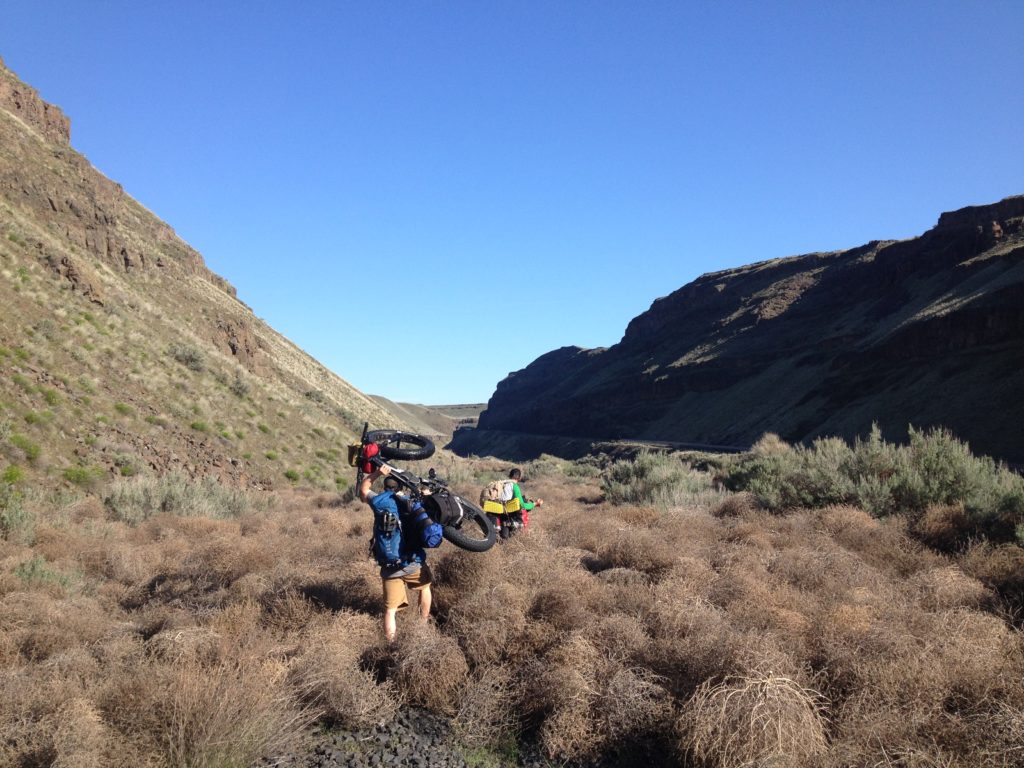 Day 3: Middle of Nowhere to Spokane
For the last stretch of ballast rock riding, you may run into swamp-like conditions west of Lamont. To keep your shoes dry, leave the CPT and pedal the highway into Lamont where you can regain the trail at the grain elevators. Once you've reached Martin Road Trailhead, in addition to being treated to an outhouse, your ballast rock biking experience is over, and it's smooth sailing on crushed gravel surface through Turnbull National Wildlife Refuge to Cheney. Continue on the paved section of the CPT to Fish Lake, where a few miles of road riding will connect you back off-highway on the paved Fish Lake Trail all the way into Spokane.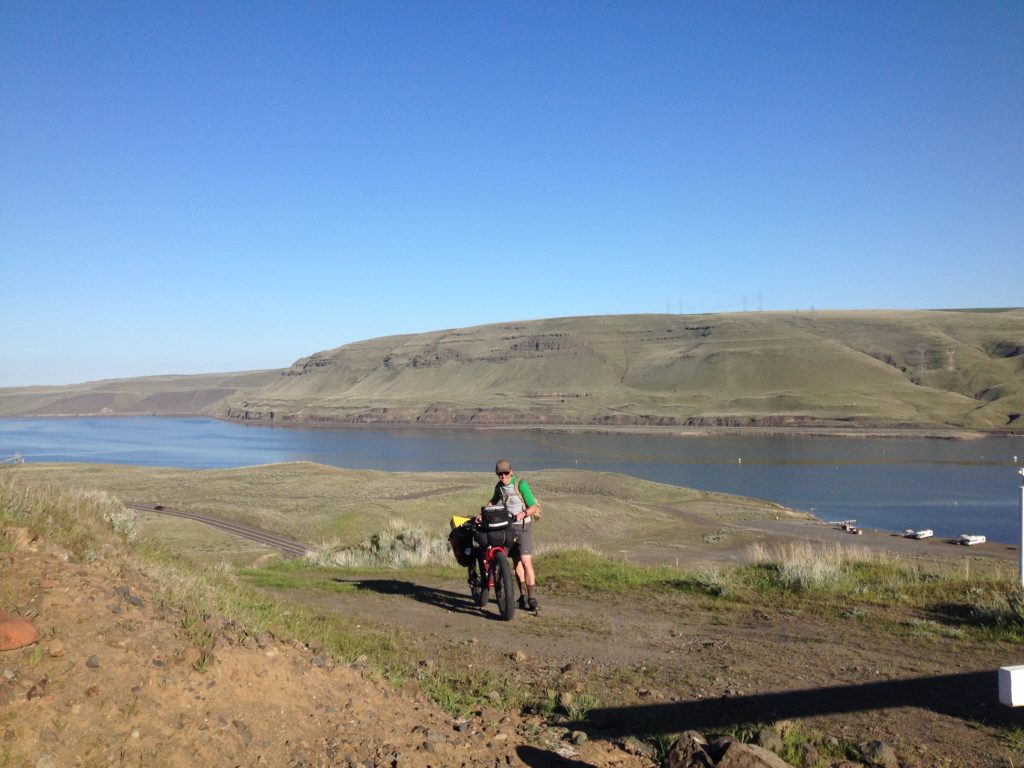 Planning Your CPT Ride
If you plan to ride the trail point to point, this article isn't close to a sufficient guide to the trail. Do your own online research, procure maps, and be prepared for the unknown and some adventure. You will need to be self-sufficient and carry all the gear, food and water, first aid, and tools you might need.
For a more relaxed and less demanding experience, explore the Columbia Plateau Trail in more pleasant sections on day-rides from the developed trailheads or towns. For more info, visit the Washington State Parks Columbia Plateau Trail page.
[All photos by Derrick Knowles]
For more inspiring stories, visit the OTO archives for stories about the Columbia Plateau Trail and bikepacking.