I had a great night's sleep, and I did not want to get out of bed. I was warmly tucked away in my sleeping bag with only my face exposed to the cold, damp morning. My mustache was wet from condensation. My sub 24-hour overnight (s24o) camping trip at the Riverside State Park Bowl and Pitcher campground was coming to an end.
The concept of the s24o, first coined by Grant Peterson of Rivendell Bicycle Works, is simple. You load up what you need for a one-night campout. You ride a short distance. You camp out. There's little planning needed, and it's okay if you forget something. Doing without for only one day, inconvenient as it may be, is pretty easy. And if things turn really sour, you can pack it up and go home since you're only a short distance away. It's a great way to combine spending time outdoors and using your bicycle. In the morning you get up and go to work or go home, depending on the day of your workweek you took your trip.
We in Spokane are fortunate to have the Bowl and Pitcher campground at Riverside State Park so close to the city. It makes doing an s24o a piece of cake. But that's not your only option. We also have the Nine Mile Recreation Area, Lake Spokane, and Mount Spokane campgrounds, although they are farther away from the city and have fewer tent sites than the Bowl and Pitcher. The Washington State Parks has a policy to never turn away a hiker or biker. That works in your favor, but expect a primitive site. Those of you in northern Idaho have Round Lake, Farragut, and Heyburn State Parks to choose from.
I loaded up my bike on a Wednesday afternoon and reviewed my gear: tent, sleeping pad, small flashlight, sleeping bag, camera, warm clothes, stove, and food. My panniers held most of my stuff and bungee cords secured my tent and sleeping pad to the rack. I leisurely pedaled the five miles to the Bowl and Pitcher. Once there I filled out a camping fee envelope, put cash in for a hiker/biker site, and rolled on down to the overflow area where I had my choice of campsites. I chose one that overlooked the river.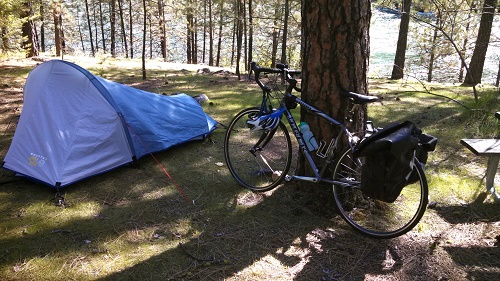 I pitched my tent, unrolled my sleeping pad and bag, and went for a hike. Osprey circled overhead and called to each other. Rafters floated by whooping and hollering when they hit the rapids. Butterflies flitted about. Large bumble bees lumbered just above ground level, stopping occasionally to poke around in the fallen pine needles. Ducks and geese flew low over the rushing water. All that combined with the sound of the rushing river to make a soothing symphony – one that ended with a slight sunburn. I forgot the sunblock.
The Bowl and Pitcher overflow area is a great spot for a s24o. Water and bathrooms are close by, and there are numerous sites. Two spots are always reserved for hikers or bikers so even if you go to the Bowl and Pitcher when the campground is full, you should still be able to get to camp if you show up on a bike.
Regardless of the campground you go to, expect a primitive site. (The Washington State Park online reservation system doesn't list hiker/biker sites at the Bowl and Pitcher, so if you reserve a campsite online, it will be a regular site and you'll have to pay full price for it). The Bowl and Pitcher overflow area is away from the regular campsites, so there aren't many intrusions into your solitude. And if the nearby group pavilion is not in use, then it feels like you have the park and river all to yourself.
That Thursday morning I relaxed in my sleeping bag and listened to the birds welcoming the dawn. Finally, reluctantly, I got up. The bathroom was about 100 yards away. There's something about having a full bladder in cold weather that makes you walk with a real sense of purpose. Returning to camp, I put water on to boil for my tea, and I warmed my energy bar in my pocket to soften it up. After my small breakfast, I broke camp and packed up. One hour after crawling out of my tent I exited the campground and turned south on the Aubrey L. White Parkway. I rode about four miles to work where I showed up with a big smile and slight sunburn. I had just gotten back from a mini-vacation.
Originally published as "Need A Mini-Vacation? Urban Camping On Your Bike" in the June 2014 issue.
Learn more about bikepacking in the OTO archives.