If you're waiting for warmer temperatures or mellow river conditions to book a river trip, don't. Floating lazily down the river on 80 degree days in sandals and board shorts is pretty nice, but waiting also means you're missing out on some of the season's biggest, thrilling whitewater. It's a secret that's kept many seasoned river rats pointing their boat-loaded rigs towards the Lochsa, Salmon, Wenatchee, and other Inland Northwest rivers during peak flows in May and June year after year.
Early season rafting trips also offer other perks. The scenery can be blooming wit wild flowers and spring greenery that you'll never see once the heat hits. With water moving faster, boaters can also cover more miles of river and rapids, which means better sightseeing and wildlife watching on day trips, and more time for hiking, fishing and hanging out at camp on multi-day trips. River outfitters also have the gear and skills to help make trips in colder, bigger whitewater safe and comfortable. High end gear like thick wetsuits, splash jackets, booties, gloves, and other warm clothing and creative comforts like on-river hot lunches, heated vans, and post-trip hot springs, hot tubs, or hot showers will help keep you warm so you can focus on having fun. Here's a sampling of some of the region's best early season whitewater opportunities to get you scheming for your next river trip sooner rather than later.
Lochsa River
The Lochsa, which cuts through the Bitterroot Mountains in north central Idaho west of Missoula, is a world-class whitewater mecca. Come May and June, the Lochsa serves up heavy class III and IV rapids like Grim Reaper, Bloody Mary, and Lochsa Falls with huge, thrilling waves that keeps the action coming for rafters on guided trips and seasoned private boaters. "We start our season on the Lochsa in May and run trips through June, and this year with an above average snowpack, there will probably be good whitewater into July," says Marty Smith with Three Rivers Resort and Rafting. The resort operates at the confluence of the Lochsa and Selway, which come together to form the Clearwater River, at the tiny town of Lowell. "Conditions are already good – it's going to be an exceptional year with big whitewater," Smith says. In addition to running river trips on the Lochsa, Three Rivers also operates a campground, rental cabins, a heated pool and hot tubs, and a restaurant, bar, and store.
ROW Adventures also runs trips on the Lochsa and offers an all-inclusive "Whitewater Rush" package that includes a thrilling day of rafting on the Lochsa and a cabin with a private hot tub at the Riverdance Lodge in Syringa, Idaho with meals at the Syringa Café included (rowadventurecenter.com).
Salmon River
The stretch of the Salmon that flows past the idyllic river town of Riggins, Idaho is a tad mellower than the Lochsa to the north, but it still packs some serious whitewater excitement into 20-25 mile day trips. In May and June, the Salmon is running cold and fast like the Lochsa, with several big class III and IV rapids like Lake Creek and Time Zone to keep the adrenaline pumping, but with its lower elevation, the temps tend to be warmer and the weather more forgiving. It can be downright summer-like in May.
Jess Baugh with Mountain River Outfitters in Riggins, which also doubles as an awesome coffee shop and small store, notes that the spring weather has been exceptionally nice already this year. They run day trips that start above town with a take-out 10 or more miles below Riggins. "Some people get scared of early season whitewater, but you'll be in the best equipment and have the best guides and gear," Baugh says. "We'll keep you safe and warm, and you'll have a lot of fun."
Mountain River Outfitters also offers a unique two-day trip on the Salmon that starts further upstream at the end of the Salmon River Road. From there, the 40 mile trip covers more remote reaches of the canyon and includes a night of beach camping with hiking to a hot spring. This trip is a great opportunity to sample a bit of what a longer wilderness river trip is like. (idahoriver.com).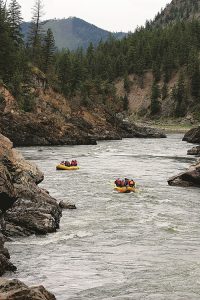 Moyie and St. Joe Rivers
ROW Adventures, which offers an ever-increasing selection of outdoor adventure tours around the region and the world, is one of only two outfitters that take people down the little-known Moyie River in extreme north Idaho and the only outfitter to offer trips down the St. Joe east of St. Maries.
"The Moyie is a gem that many people don't know about, but when they get out with us on a trip, the beautiful forested canyon blows them away," says Candy Bening, an avid river runner and ROW's Domestic Sales Manager. The Moyie (two hours north of Spokane) is an exciting 15 mile day-trip  through a roadless canyon with class II and III whitewater that is less heart racing and more awe inspiring. It's perfect for families or mixed groups with some people who may not be up for more intense adventures like ROW's Lochsa trips. Moose, bear, and several species of raptors are often spotted on Moyie trips, while other boaters are few and far between.
A highlight of a Moyie trip, is running an exciting rapid around the towering face of the old Eileen Dam. "You're heading down the river towards a big, impassible looking cement wall, and then you come around the corner and you see the gap in the old dam with an exhilarating rapid," Bening says. The season on the Moyie is typically limited to several weeks in May and June (depending on flows).
The "Shadowy St. Joe" further south is a well-known fishing destination that is full of whitewater surprises for rafters. 60 miles upstream from the town of St. Maries, the canyon walls constrict the current, creating big, explosive class III to III+ waves. "What brings people out is the gorgeous forest, wildlife and fun, fast rapids," Bening says. "It's a pretty consistent boom, boom, boom of whitewater when the flows are high." Day trips on the cedar forest-lined St. Joe range from 12-16 miles. (rowadventurecenter.com).
Snake River (Hells Canyon)
Looking for a little more than a one or two day trip? Several outfitters, including ROW Adventures and Mountain River Outfitters, offer multi-day wilderness river trips down the Snake through Hells Canyon. The canyon is wild, rugged, and serves up a couple of the region's most intense rapids in the midst of dazzling scenery and unbeatable camping and hiking on 3-4 day trips. All in the deepest gorge in North America. Hells Canyon is known for its warm spring weather and the dam controlled flows are warmer, which makes for more pleasant rapid runs and some excellent fishing.
Wenatchee River
With such exciting early season whitewater, a trip on the Wenatchee River out of Leavenworth, Wash. should get more attention from those of us who live east of the Cascades. Beginning the first weekend in May, Leavenworth based Osprey Rafting is offering several trips that are tiered towards specific types of rafters. Looking for an adrenaline charged whitewater pounding? Try one of Osprey's High Adventure trips featuring some of the Wenatchee's biggest class IV rapids (Triple Shot and Tenley Falls) on a 16 mile long day that ends at Osprey's private beach for a BBQ beach party. They also offer their Main Event class III trips that cover eight major rapids and are suitable for families and anyone who wants an exciting day on the river without the added intensity of class IV whitewater. Like your whitewater wild, fast, and late in the day so you can hike, climb or ride the trails around Leavenworth first? Check out Osprey's Happy Hour floats that include two runs down the biggest rapids on the river from 5-7 p.m. followed up with a beer at Icicle Brewery. "We're talking big, fun, heart pounding whitewater," says Osprey Rafting's Matt Black. "It's the real deal, Wenatchee whitewater experience packed into two hours." (ospreyrafting.com).
Spokane River
Surprisingly to some, the Lower Spokane on the edge of the city passes through a gorgeous river canyon with several fun class III rapids, including the Bowl and Pitcher and Devils Toenail. A whitewater trip down the Spokane is one of the best ways to see 14,000 acre Riverside State Park, Washington's largest state park. Several outfitters start running trips on the Spokane in May and June when flows are fast and furious, and then transition to more easy going floats later in the summer. Book a half-day trip and spend the rest of the day exploring the park's miles of hiking and biking trails. //
Whitewater Events:
Cinco Fest at Three Rivers Resort (May 3-4, Lochsa River, Lowell, Idaho)
An informal tradition at the Three Rivers Resort, Cinco Fest attracts groups of boaters from Spokane and north Idaho to take advantage of some of the season's biggest whitewater. Three Rivers offers rafting specials (with free camping at the resort if you raft). After a refreshing day on the river, hit the hot tub, fiesta down by the bonfire or cozy up with your favorite cerveza in the bar. (idaho3rivers.com).
Lochsa Rendezvous (May 3, Lochsa River, Lochsa Lodge, Idaho)
This annual rafter rendezvous put on by Lewis and Clark Trail Adventures on the Lochsa River has a cult-like following, with cabins at the Lochsa Lodge typically booked up for the weekend well in advance (camping should still be available). Rafting specials all weekend will get you out on the wild Lochsa, with live bluegrass music by Missoula based Ted Ness and the Rusty Nails and revelry at the Lochsa Lodge into the night. (trailadventures.com).
Memorial Day Madness (May 23-26, Lochsa River, Highway 12, Idaho)
Join the informal gathering of spectators lined up to watch some serious peak flow, whitewater carnage at Lochsa Falls (mile marker 114) between Three Rivers Resort and the Lochsa Lodge along Highway 12. Boaters on all sorts of unique craft play it up for the crowd and the peanut gallery gives it right back, says Marty Smith with Three Rivers. "It's definitely fun. People partying and cheering for boats that flip and booing at boats that make it through clean." Watch last year's spectacle for yourself: youtube.com/watch?v=wSWY0Mq3zFU.
Big Water Blowout River Festival (June 7, Salmon River, Riggins, Idaho)
This is an action packed day of rafting and other activities suitable for thrill seekers and families. Hit the Salmon River's famed whitewater with experienced guides offering discounted raft trips all day (you can pre-register for a seat on a Mountain River Outfitters boat at idahoriver.com). Come paddle huge boat munching waves with names like The Pencil Sharpener, The Pancake Wave, The Big Easy and The Haystack. Enjoy the pleasant spring weather and magnificent scenery and wildlife in the second deepest gorge in North America and the rustic old-West charm of Riggins. If you're not up for challenging the whitewater yourself, there's excellent rapid viewing from the road in several locations. And there's a Dutch oven cook-off, live music, a beer garden, and activities for kids at Riggins City Park. (bigwaterblowout.com). //