While fashion may not be your primary concern when it comes to skiing or snowboarding this winter, there's no denying that consciously or subconsciously we all follow trends to some degree. Don't believe me? Do you still shred in a neon one-piece ski suit? Didn't think so. To find out what's new in the industry, we talked to our friends at the Spokane Alpine Haus and Shred Sports Outlet for their take on the latest slope style trends.
Remember when ski bibs were a thing back in the '90s? Remember how warm they kept you? Well, if you're a fan of the bib, you're in luck because according to Spokane Alpine Haus owner, Rachel Harding, bibs are back in style. Bibs help keep you warmer in the winter because they provide an extra layer of insulation against your core, and they do a better job of keeping the snow out. Oh, and if that's not enough to sell you on bibs, two words: extra pockets. Harding notes that the Baker Bib by Flylow is really popular this year.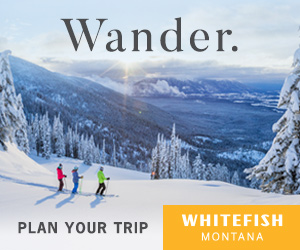 While they never really went out of style, balaclavas are a hot commodity again this year as companies like Black Strap continue to improve the design and make face wear that's more comfortable and less restrictive than in the past. It's definitely a trend that's growing, says Harding.
As far as colors go, Harding explains that the muted colors of last season are still popular, but we're seeing more color creep back in. Blues are really trendy right now, as are eggplant purples, but "not the Barney purple" reminiscent of the early '90s, she adds. However, while your bright purple ski jacket might not win you any style points on the slopes, it could win you points in a retro ski outfit contest.
Chad Ohman, the general manager at Spokane's Shred Sports Outlet notes similar trends in ski and snowboard apparel color choices. "Black is still around, but we're seeing a lot more Earth tones—grays, browns, and tans and darker colors like navy blue, rust red, and mustard yellow—and not so much with the brighter colors."
Guys wearing two sizes too big is also out, says Ohman. "We've seen the progression into more fitted outerwear." Large, loud logos that make you look like a branded billboard have also been supplanted by smaller logos and more discreet placement, he says.
Ohman also highlights a few other ways that style has snuck into technical ski and snowboard apparel. "DC and Oakley both have new jackets out that take a cool, casual approach to style with a garage mechanic look." And even base layers are getting more stylish. Airblaster has a one-piece, hooded base layer Ninja suit with a bunch of pizza slices patterned on the black fabric, says Ohman. You can also get the same Ninja suit in olive green with a moose pattern. // (Siobhan Ebel and Derrick Knowles)