Refreshingly chilly is a good way to describe our regional lakes. Many are snowmelt-fed and deep, though some—even large lakes like Priest and Pend Oreille—feel pleasantly warmer by July. When you're not swimming or cruising in a boat, and it's time for beach-based and flatwater, stay-dry activities, here are ways to combine physical activity and nature exploration.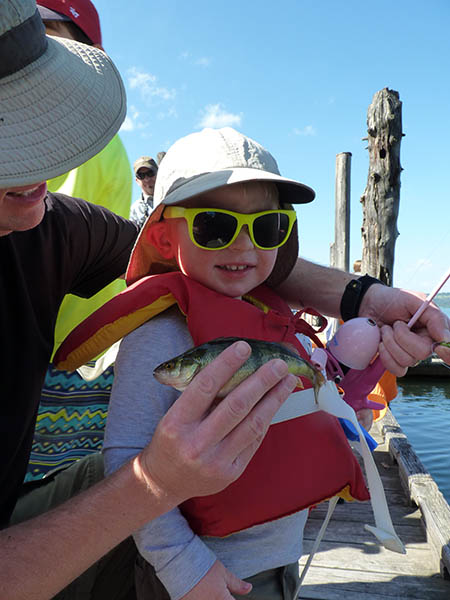 Look for butterflies. In the Inland Northwest, tiger swallowtail butterflies like to hang out at sandy beaches on hot days when there's full sun and no wind. Because butterflies are cold-blooded, they bask in sunlight with their wings open to warm their blood and flight muscles, according to the Washington Department of Fish and Wildlife. Butterflies must be warm enough before they can fly, and you won't see them on cloudy days. They also need patches of sand or soil for water and mineral intake. It's not unusual, in fact, to see swallowtails grouped together on a beach. Teach your child how to think like an entomologist, and to be observant and respectful of nature.
Rockhound. That is, search for and collect rocks and fossils. Kids can spend hours looking for agates and rocks with interesting colors and shapes. Did you know that petrified wood is Washington State's official gemstone? And "Gem State" Idaho's official gemstone is the star garnet which, according to the National Forest Service, is a rare gemstone that's only found in significant quantity in two places in the world—the Panhandle National Forest and India. Though not lakeside recreation, the Emerald Creek Garnet Area, south of St. Maries, Idaho, is open through Sept. 3 this summer, by permit only, to search for garnets. (For 2018: Open Fridays through Tuesdays; free for age 6 and younger; $5 for age 6-12; $10 per adult). More details at fs.usda.gov.
Games on the beach. Bring supplies and use the sand and dirt to create courses for disc golf (set up targets) and mini-golf (putt balls into dug holes). You can also try beach bowling, by digging out six holes in a pyramid configuration and rolling tennis balls into the holes, or by using empty bottles as pins. Bocce ball or beach skeeball are also popular choices. Play musical towels and have water bucket relays. (Find more ideas at Parents.com and RedTri.com.)
Go Fishing. Fishing from a dock allows for short lessons about different types of bait and how to watch a line and bobber, identify fish, and correctly handle and release fish. Some children, like my daughter, have patience and attention-span levels for hours of casting and waiting for bites; others, like my son, prefer incremental fishing time combined with more adventurous lake action. To improve chances for success, visit a small stocked lake, or check local fishing reports for the latest conditions. State agencies provide their annual fish stocking information online. In Spokane County, Clear Lake was stocked this spring with 8,000 catchable trout, averaging nearly 11 inches in length. Williams, Badger, and Liberty Lakes are usually well-stocked each season.
Paddle and search for wildlife. Canoeing or kayaking on calm flatwater along a lake shore or gentle creek combines exercise with experiential learning about waterfowl and other species. In a kayak, young children can sit with an adult in the cockpit, and starting at 6 to 7 years old, kids can learn how to paddle and navigate their own kayaks. A great destination for kid-friendly paddling is the Plummer Creek outlet and marsh area of Lake Chatcolet at Heyburn State Park. My family has seen beavers, turtles, red-winged blackbirds, grebes, white pelicans, sparrows and their nests, and deer on shore—all while kayaking. Teach your child to think like a biologist, and go slow and quiet to prevent startling animals.
Beach Treasure Hunt. Here's a checklist to get started. Find a feather; rocks that are white, spotted, or shaped like a square (find one of each); something heart-shaped; something blue; something sparkly or shiny; and collect in a bag any trash you find.
Originally published as "Beyond Swimming: Lake Fun For Kids Without Getting Wet" in the July 2018 issue, Inland NW Lake Guide.
Kayaking near a beaver den on Lake Chatcolet; Fishing from the beach at at Priest Lake. // Photos: Amy McCaffree
Amy McCaffree is Out There's special section editor and wrote about how to prepare kids for overnight camps in the June 2018 issue. Amy enjoys swimming, kayaking, jumping off docks, and snorkeling in lakes with her son and daughter.
[Feature photo: Fishing from the beach at Beaver Creek Campground at Priest Lake. // Photo: Amy McCaffree.]
For more Out There Kids stories with ideas for family-friendly outdoor recreation, visit the OTO archives.