The Northwest has hundreds of lakes ranging from tiny alpine tarns to giant pools that sprawl for miles through the mountains. The region's many diverse lakes each have their own unique feel and personality. While public land and access is limited at some, others like Priest Lake, nestled in the Selkirk Mountains, are a near perfect mix of developed resorts, communities and cabins intermixed with public beaches and campgrounds, pristine forest and expansive unspoiled views.
Priest has a wild, primitive feeling that harkens back to simpler times. It can be hard to find the same kind of experience at other more developed lakes that you can still have amongst the mountains, trees, big skies, rustic resorts, pristine campgrounds, meandering trails and friendly people at Priest. There are a remarkable number of recreation opportunities surrounding North Idaho's 19-mile-long aquatic jewel. Whether you're camping or calling it home in a resort cabin, paddling the thoroughfare, carving glassy turns behind a ski boat, hiking the high peaks, swimming off a secluded beach, backpacking the upper lake, or biking under giant cedars along the upper river, with so many options, the Priest Lake experience is what you choose to make it. You don't need to travel far to get a taste of the local lake culture down on the water or slip away for some sweet, serene solitude on a backcountry trail. We think Priest is just about perfect and hope you find some inspiration here to get out and explore some of the best Priest Lake has to offer. (Derrick Knowles)
Classic Priest Lake Trails
(By Aaron Theisen)

With its long, level shoreline, Priest Lake boasts some of the best easy lake-side hiking in the region, the sorts of trails tailor-made for post-s'more strolls. Sitting in the crook of the Selkirk Crest, it's also a base for some of the region's toughest hikes, with trails that require serious bushwhacking and boulder-hopping skills. Here are a few favorites.
Upper Priest Lake / Navigation Trail: Surrounded by wilderness-quality woods and separated from the main lake by the shallow Thorofare, Upper Priest Lake offers a quiet backcountry escape from the summer throngs. The Upper Priest – Navigation Trail offers the quickest and easiest access to the upper lake and makes a fine introduction to backpacking. From the Beaver Creek Campground, the trail wanders through sun-dappled forest. Western red cedar, hemlock, and the increasingly rare white pine tower overhead; beargrass and delicate, ground-hugging pipsissewa decorate the forest floor. At one mile, the trail crosses sunny Armstrong Meadows before ducking back into the trees. About 2.75 miles in, Plowboy campground offers a small handful of secluded, high-demand tent sites right on the sand. Past Plowboy, the trail follows the shoreline another 2.75 miles to Navigation Campground and more choice picnic or overnight spots. As might be expected, a relatively short hike on nearly level tread to some of the region's best tent sites means you'll likely have company. Just plan on getting an early start on peak summer weekends to grab your favorite stretch of sand, or, better yet, go mid-week.
Getting There: From Priest River, Idaho, drive north on SR 57 for 36 miles to Nordman. Turn right on the paved road that heads to Reeder Bay. Follow this road, which becomes Forest Road 2512, for 12 miles to the Beaver Creek Campground. Turn into the campground entrance, bear left and follow signs to the trailhead.
Lakeshore Trail: A nearly level shoreline stroll on tread wide enough to push a jogging stroller, the Lakeshore National Recreation Trail wanders nearly eight miles along the quiet and mostly undeveloped northwestern shore of Priest Lake. The tree cover makes the lakeshore trail a great hike on rainy days; it's also ideal in the sweltering summer heat, with ample shade and a beach always within easy reach. From the trail's northern terminus at Beaver Creek Campground, a good base from which to do this and the Upper Priest – Navigation Trail, the trail heads south through cool forest. A cottonwood and cedar canopy frames views of the granite spires of the Selkirk Crest to the east. At less than a mile, aptly named Tule Bay offers several large campsites along its reed-covered shore. At two miles, the wide mouth of Bottle Bay and its beach of smooth, lake-scrubbed rocks make for a fine destination, with picnic tables, a pit toilet and large tent sites.
Those interested in a longer walk can continue south along the heavily forested shore of Distillery Bay another five miles to the trail's southern terminus; numerous secluded coves and beaches invite hikers to pick their favorite for a shore lunch or snooze.
Getting there: Follow directions to the Beaver Creek Campground and boat launch for the Upper Priest Lake/Navigation Trail hike.
Hunt Lake Trail: If the shoreline trails of Priest and Upper Priest Lakes epitomize low-effort ambles, where the miles seem to roll away under your feet, Hunt Lake is the opposite, each step earned by careful calculation. This hike, in Idaho Department of Lands forest on the Selkirk Crest east of Priest Lake, is only a mile each way, but the distance is deceiving. A token 10 feet or so of boot-worn tread in subalpine forest immediately gives way to a hop across a broad granite scree field. Cairns and daubs of paint mark the way. Strong ankles are a must, but the elevation gain is modest. The views are great, and, should you care to take your eyes from the next step, excellent views of Priest Lake some 3,000 feet below and the granite pinnacle of Gunsight Peak just to the north will greet you.
Expect to take an hour to reach pretty Hunt Lake, which sits in a boulder- and brush-choked basin. Hardy hikers use the lake as a base for a cross-country scramble up and through the well-defined notch to the east of the basin into Fault Lake. Incidentally, Idaho Department of Lands forest roads have a rough reputation, and the last couple miles of the drive to the trailhead are as bad as they come; it's hard to say whether you or your car's joints will get the most pounding, but the trek is worth the wear on both.
Getting there: From Priest River, Idaho, drive north on SR 57 for 22 miles. Turn right on Dickensheet Road and drive 5.3 miles to Coolin. Turn right on Cavanaugh Bay / East Shore Road and continue 7 miles to Forest Road 24. Turn right and follow FR 24 for 4 miles to a junction; bear right and drive 1.2 miles to a second junction. Bear left and continue 1 mile to a Y-junction; bear left (uphill) on FR 243 and continue 3.5 miles to the trailhead. Note: the last 2 miles of FR 243 are steep and heavily waterbarred; drivers in low-clearance vehicles may wish to walk this last section of road.
Chimney Rock
(By Jon Jonckers)

Chimney Rock is arguably the most complet rock climbing adventure in the area. Any way you cut it, climbers face a stiff approach hike (even further without a high-clearance vehicle), and you spend most of the day above 7,000 feet on the Selkirk Crest. Even the easiest routes require two or three full rope-lengths of climbing to stand atop the remote granite spire and sign the summit register. Almost perfectly, this North Idaho climbing rite brings out all the best elements of rock climbing – camaraderie, challenge, and perseverance tied to one of the most picturesque landmarks in the Priest Lake region. Not ready to rope up and climb to the top? There are many picturesque places around the lake to view and photograph this iconic Priest Lake landmark.
The Tyee II Shipwreck
(By Jon Jonckers)

The Tyee II shipwreck remains one of the most intriguing icons at Priest Lake. Located at the northern tip of the lake, right next to the boat launch at Mosquito Bay/Lionhead Campground, the 82-foot wreck is submerged in about four feet of water. Originally it was a steamship used for towing logs in the 1940s, but once the logging roads expanded to the north end of the lake the ship became obsolete. The tug was stripped of all its metal and set on fire to be scuttled, as was the custom and usual fate of unwanted vessels in that era. Yet, before it actually sank, the boat drifted into the shallow water of Mosquito Bay, where it rests to this day.

Paddling the Thorofare
(By Jon Jonckers)

The Thorofare channel connects Priest Lake with Upper Priest Lake, and it's a perennial favorite paddling adventure for canoers, sea kayakers, and, more recently, stand up paddleboarders. Near sunup and sundown, wildlife visit the area for water and food, and the fishing can be really good. The Thorofare also receives a lot of traffic from motorboats, particularly during the summer weekends, so keep an eye out for other boats. Provided everyone adheres to the 5 mph, no-wake speed limit, you shouldn't have any problem paddling. But, from time to time, there are a few motorboat scofflaws that ruin it for everyone else. If possible, steer clear of the Thorofare at peak season, and try to enjoy it in the middle of the week or in the fall. For a complete in-depth summary of the Thorofare, visit the Out There Monthly archives: Outtheremonthly.com/paddling-upper-priest-lake-as-easy-as-1-2-3.
Getting there: Head to the far north end of the lake if you launch your kayak, canoe or SUP from one of the north-end resorts or campgrounds or follow directions to the Beaver Creek Campground and boat launch for the Upper Priest Lake/Navigation Trail hike.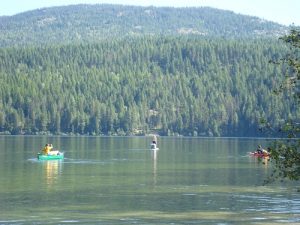 Into the Wild: Fly-fishing in the Priest Lake Basin 
(By Brad Naccarato)

While Priest Lake boasts a world-class mackinaw trout fishery, there are several small-to-medium sized streams and lakes surrounding it which offer their own unique fishing experience. If big fish, big water and big boats are your nirvana, then the deep, cold waters of Priest Lake will keep you happy. But if you're looking for a more remote, fly-fishing experience, the waters surrounding the lake can provide plenty of action.
Priest Lake is sandwiched between two rivers, the Upper Priest River that feeds the upper lake and the Lower Priest River the drains the main lake. The Upper Priest is a "Wild & Scenic" river. The upper river is strictly a catch-and-release, native trout fishery, holding both cutthroat and bull trout. The lower river is a little more diverse holding small populations of rainbow and brook trout.
There are dozens of small streams that feed both the lake and the two rivers. You'll want to be sure and check the regulations here as a handful are protected as spawning habitat for native cutthroat trout. If you'd like to harvest a few fish, many of these streams hold healthy populations of brook trout, which the Idaho Fish and Game have encouraged anglers to harvest as their over-abundance in some streams has negatively impacted some of the native fish populations. Two of the more popular feeder streams are Soldier Creek at the south end of the lake and Granite Creek on the northside.
For a more remote experience, there are several small, high-mountain lakes in the mountains above the lake that are accessible by hiking trails from the lake's eastern shore. Most of these lakes are drop-stocked with cutthroat trout due to the fact that many cannot sustain year-round fish populations at high altitude. While most of these fish are small, they're very eager and willing to rise to any well-presented fly, making it a perfect place for novice anglers to hone their skills. Two of the more popular lakes are Hunt Lake and Two-Mouth Lake.
Whatever stream or lake you choose, always check the local fish and game regulations for the most up-to-date information, and always be aware of the species you are targeting (it is illegal to target or harvest native bull trout). Priest Lake offers a grand scale of fly-fishing opportunities, making it all the more important that anglers respect the regulations and learn to be good stewards. Doing so will help to ensure the future of this one-of-a-kind place.
Priest Lake Resort Scene
(By Brad Naccarato)

The resort scene at Priest Lake is an integral piece of the whole lake experience. While the lake itself offers nearly endless recreational activities by day, the lake's legendary resorts and marinas, somewhat evenly spaced along the lake, come to life in the evenings with world-class cuisine, huckleberry-themed cocktails and live music. These resorts, for the most part, are rustic in nature, but don't let that fool you. Most are nationally recognized, and a few have even achieved top awards by travel magazines and websites. Each resort has its own unique traditions, signature entrees and drinks and rich family history of ownership. In addition to restaurants, bars and small stores, you can also arrange cabin rentals and other overnight accommodation options, boat rentals and other recreational rentals depending on the different resort offerings.
Starting at the south end of the lake, Cavanaugh's Resort is located in the heart of Cavanaugh Bay on Priest Lake's eastern shore. Under new ownership, Cavanaugh's has recently undergone some major renovations and is now offering perhaps the most up-to-date, contemporary style of accommodations on the water. It also offers a complete lunch and dinner menu, served either inside or outside on their new spacious dining deck right on the water. More info: Cavbay.com.
Moving slightly north to the mouth of Cavanagh Bay, you'll find Blue Diamond Marina & Resort. Blue Diamond is a smaller resort, but it is full-scale, offering deep-water boat moorage, boat rentals, condo-style accommodations, and a restaurant that opens daily at 6 p.m., serving up Mediterranean cuisine. The afternoon wine bar features Northwest wines and locally brewed beers and ales served on the deck overlooking Cavanaugh Bay. More info: Bluediamondmarina.com.
Travelling across the lake to the western shoreline is one of the lake's most well-known resorts, Hill's Resort. Also one of the largest resorts on the lake, Hill's has a large assortment of both rustic cabin and condo-style accommodations. Offering a full-scale marina for boaters, Hill's also boasts a large rental fleet of bikes, wakeboards and skis, kayaks, SUPs and motorboats. Hill's is probably best known for its award-winning dinner entrees, not to be outdone by its one-of-kind huckleberry pie. During the peak season of July and August, the resort is bustling with activity. Many of the families who book their week-long vacations here have made it a family tradition that spans many generations. More info: Hillsresort.com.
Reeder Bay, on the western shoreline, is home to Elkins Resort, one of the longest running resorts on the Lake. Elkins is a large resort that offers boat moorage, a rental shop full of water toys, a full bar and restaurant menu, and 32 charming lakefront cabins. Made of giant hand-hewn logs, the main lodge, built in the 1930s, is still the centerpiece of the resort. Recently named one of "Sunset Magazine's" top-10 lakeside resorts in the West, Elkins has always had a solid reputation for providing some of lake's tastiest cuisine in a comfortable, family-friendly environment. The lake and Selkirk Mountain views from Elkin's front lawn are stunning (and look even better when accompanied by their famous huckleberry daiquiris). More info: Elkinsresort.com.
The Essence of Priest Lake
(By Brad Naccarato)

Most people in the Inland Northwest have some sort of relationship with Priest Lake. Whether it's a family cabin, an annual camping trip, or a memorable week spent on the lake years ago, "the Lake" just has a way of getting into your soul and never letting go. North Idaho features a large number of lakes, each unique in their own way, but there is an essence to Priest that seems to set it apart.
That "essence" is culture. Priest has a very unique culture that is largely a result of the families who have shaped its existence over the last century. Most of the bigger lakes in Idaho have a large number of permanent residents due to their proximity to larger cities and towns, but Priest is, for the most part, undeveloped with a large majority of its inhabitants either camping, using family cabins or staying at resorts. This creates the wonderful, laid-back, escapist culture that seems to embody everything about Priest.
Much of the lake is undeveloped thanks to the fact that very little of the surrounding land is privately owned. The State of Idaho and the Forest Service govern most of the waterfront. This rare set of circumstances has limited development, promoted the use of recreational residences and has kept much of the lake's shoreline looking as untouched as it was 100 years ago.
Virtually anyone who spends time at Priest develops a deep connection to the land. Most of the summer inhabitants are second, third or even fourth generation "lakers" whose fondest memories have occurred on its beaches, trails, islands and on the resorts' dance floors. There's a complete relaxation mode that permeates the minute you see the lake and grab that first huckleberry daiquiri. It's not uncommon to hear "hey I'm on lake time today." Flip flops are practically required and Buffett's "Margaritaville" is always playing somewhere.
Priest's culture is also influenced by the absurd abundance of recreation that is so readily available. Boating, fly-fishing, kayaking, mountain biking, rock climbing, hiking, SUP – it's all there, and, in some cases, better than anywhere else. Most "lakers" go hard from sun-up to sun-down, playing all day on the lake and in the mountains, eating amazing resort food at sunset, and then gathering around a beach fire that night to recount their adventures.
An outdoorsperson's fantasy come-to-life, Priest lacks for nothing; it's a place where the beauty of an alpine environment meets a vibrant culture, surrounded by folks who are passionate about the lake's resources. In other words, it's perfect.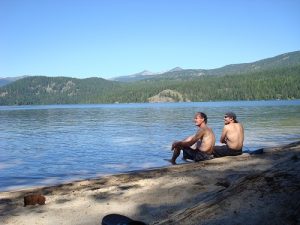 Priest Lake Marathon, 50k, half marathon, & 25k (Sept. 26)
What better way to experience Priest Lake than on an all-dirt run through the Panhandle National Forest? Enjoy the scenery of a trail race, but on drivable dirt forest road with full course support. "It's one of the only events with a pre-race meeting that talks about the dangers of moose," says Race Director Ken Eldore. Run along the lakeshore through groves of lush forest, huge old-growth cedar trees and big views of the Selkirk Mountains (and keep an eye out for wildlife!). More info: Priestlakerace.com. (OTM)