Comfortable shoes, a positive attitude, good endurance, hydration, and yummy trail snacks make all the difference when hiking with children.
WASHINGTON
Bowl & Pitcher Loop / Trail #25, Riverside State Park: After crossing the swinging bridge and going up the steps, turn downriver (right) onto trail #25. Down the steep bank, the river rages wild—enjoy it only with eyes from the safety of the trail. Venture further to see Devil's Toenail, a huge rock formation jutting out from the middle of the river. After another trail marker, take the next junction to return back where you started (trail #211). Altogether, this makes for a 1.7 mile loop. If with a stroller, take trail #211 downriver, which is wider and has a gentle grade. https://www.wta.org/go-hiking/hikes/riverside-state-park
Spokane River Trail #100: Trailhead begins off the Centennial Trail around mile 27.5 near the T.J. Meenach Bridge. This forested stretch of land is managed by Riverside State Park, and there's a parking lot located at the bottom of N. Pettet Drive (no pass required) across the river from the trail (walk across the bridge and down to the trail). Everyone will enjoy this scenic dirt trail, especially in spring when Arrowleaf Balsamroot  flowers are blooming. After about 2 miles, you'll reach a large river bend, which makes a great destination and turn-around point. In summer, when the river is low, a beach appears at this eddy.  
Little Spokane River Natural Area: The Spokane River Trail begins at Indian Painted Rocks. (Avoid the Knothead Trail loop, which is steep and long.) The Waikiki Springs Trail is suitable for strollers but not beyond the river. Discover Pass required for trailhead parking. https://www.wta.org/go-hiking/hikes/little-spokane-river
Ben Burr Trail: A 1-mile trail that connects Liberty and Underhill city parks, in Spokane's east-central area. Stroller friendly. https://www.traillink.com/trail/ben-burr-trail/
Spokane Finch Arboretum: Lots of easy dirt paths to explore and allow toddlers and young kids to wander. Stroller friendly. https://www.wta.org/go-hiking/hikes/finch-arboretum
People's Park & Centennial Trail: Located on a peninsula at the confluence of Latah Creek and the Spokane River, People's Park is only minutes from downtown Spokane but feels miles away. Numerous trails crisscross the wooded area, and you can take Sandifur Bridge (a pedestrian bridge) to access more trails on the north side of the Spokane River. Follow the paved switchback trail uphill to the Centennial Trail. (Although it's generally a safe park during daytime, be cautious of garbage hazards and possible transient camps.)
Fish Lake Trail: With its tree-lined, shaded, flat route; trailhead restrooms and water fountain; trail markers and benches; and location minutes from downtown Spokane, no wonder this trail is popular with all types of users. Be aware of cyclists and runners, and stay to the right. Explore out and back as far as you like. Stroller friendly. https://www.wta.org/go-hiking/hikes/columbia-plateau-trail
Columbia Plateau Trail State Park: The closest trailhead to Spokane is located near Fish Lake County Park (Discover Pass required). You can also access a paved 4.75-mile section through Turnbull National Wildlife Refuge from a second trailhead near Cheney on the Cheney-Spangle Road. Stroller-friendly.
Pine Ridge Trail, Kamiak Butte: Though technically a "steptoe," this 3,641' geological feature—the second highest point in Whitman County—provides great views of the surrounding Palouse. Trailhead is at Kamiak Butte County Park, near Colfax and Pullman. https://www.trails.com/tcatalog_trail.aspx?trailid=HGW293-044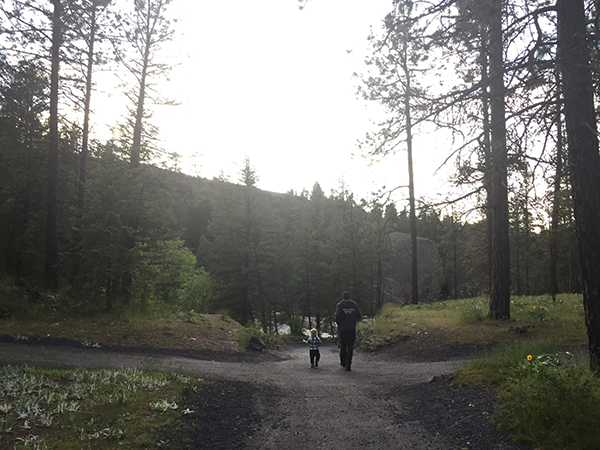 IDAHO
Priest Lake-Lakeshore Trail: The rolling grade of this smooth, wide trail makes it a wilderness paradise for kids. Located in the Panhandle National Forest along the northwest side of Priest Lake, the south trailhead is near the town of Nordman, and the north trailhead is at Beaver Creek Campground (7.25 trail miles away), which has a great day-use swimming beach.
Deep Creek & Chickadee Trails, Kootenai National Wildlife Refuge: Both of these flat trails provide opportunities to spot the over 200 bird species and 45 animal species in the area. Deep Creek Trail is just over 4 miles round-trip, while the paved Chickadee Trail is only 1,000-feet long. Stop by refuge headquarters to pick up a Refuge Explorer Day Pack and animal track cards for children. Stroller-friendly.
Trapper's Trail, Round Lake State Park: This 1.8-mile forested trail takes you around the lake and through the marsh. Look for skunk cabbage, beaver dens, and a resident moose. Parksandrecreation.idaho.gov
Beaver Bay Shoreline Loop Trail, Farragut State Park: This 4-mile loop along Lake Pend Oreille connects with the Beaver Bay Beach swimming area. Additional kid-friendly trails within the park are Squirrel Cache Nature Trail and Willow Lakeview Trail. https://www.outdoorproject.com/adventures/idaho/hikes/beaver-bay-shoreline-trail
Lakeshore Loop & Plummer Creek Trails, Heyburn State Park: Lakeshore Loop is an easy 1.3-mile trail that links Hawley's Landing Campground to Plummer Creek Trail—an easy, half-mile trail along the creek's marshland (look for signs of beavers). http://visitnorthidaho.com/activity/576/
More hike details and trailhead directions are available from Washington Trails Association (wta.org) and Washington State Parks. //
Leave No Trace Principles for Kids
Know Before You Go
Choose The Right Path
Trash Your Trash
Leave What You Find
Be Careful With Fire
Respect Wildlife
Be Kind To Other Visitors
Learn more at: LNT.org.

Feature photo: Bowl & Pitcher is perfect for toddler led hiking. // Shallan Knowles