By Jim Johnson
When you discover something really fun, there's potential of going overboard. In just over a year, I've done three backpacking trips to northeast Oregon's Eagle Cap Wilderness. Man overboard!
For years I had wanted to backpack the Eagle Cap Wilderness in the Wallowa Mountains. I almost always go solo and thought its remoteness meant few visitors. Should I run into trouble, I'd be on my own.
Overcoming my timidity with a five-day visit in August 2020, I encountered plenty of backpackers, many from the west side of Oregon and Washington. Curious why they'd drive past the Cascades to come here, the answer was simply the beauty. More than once I was told Eagle Cap is more beautiful than the famous Enchantments in Washington's Cascades.
A four-hour drive from Spokane and the largest wilderness area in Oregon, visitation has increased from 30,000 in 2010 to 80,000 in 2020. There's still no entrance restrictions, though—just fill out a free, self-issued permit at the trailhead. But the increased use means visitors need to be more diligent than ever at following Leave No Trace practices.
Backpacking the Wallowas' Two Highest Peaks
I was ready to tackle the two highest points in the wilderness, Sacajawea Peak and Matterhorn, by my second visit. I did a steep climb into a high-elevation valley and pitched my tent at 7,770 feet. Despite the increase in hikers and backpackers in the Wallowas in recent years, I was the only person in the valley that night.
At camp, I set a store-bought hummus wrap on the ground while setting up. When I reached for it several minutes later, hundreds of tiny ants had infiltrated the package and were swarming the wrap. Wondering if it was salvageable and amazed a huge swarm of ants had so quickly found my wrap, I dumped most out. Though some ants were still coming from inside it, I sealed and returned it to my backpack.
I arose next morning seemingly before sunrise. However, I was surrounded by steep mountains, and the sun wouldn't clear them for some time. I boiled water and added instant ramen. Then more boiled water for the requisite cup of coffee.
By midmorning and 2,000 feet of elevation gain, I reached the summit of Sacajawea Peak at 9,838 feet, the highest point in the Wallowa Mountains. It's only 1.5 miles of additional ridgeline hiking to Matterhorn; however, it's a class 3 scramble, and climbing experience is recommended. I'm strictly a hiker, and trekking poles are the closest I have to climbing equipment.
The worst part was immediately ahead—several gendarmes, or ridgeline pinnacles or rock. Some I skirted at the base. Others required finding a climbable route over.
Reaching the subsidiary peak between Sacajawea and Matterhorn, I found two young women snacking. Forest Service employees whose jobs are at a much lower elevation, they spent the night near the summit of Sacajawea. I'd seen them up ahead, going the same direction as me, carrying all their equipment.
The rest of the way was less stressful with a couple interesting sights—a cave that goes straight down and mountain goats. At the summit I admired the views while eating my ant and hummus wrap. I can attest a hummus wrap tastes good even with ants inside.
Matterhorn is 5,000 feet lower and doesn't resemble the original in Europe at all, but it's dramatic and beautiful nonetheless. It looks more like Half Dome in Yosemite.
I looped back by hiking the Hurwal Divide, lingering at the high point (9,776 feet). Descending in a hurry seems a waste when I spend so much effort coming up. Also, it's tough to walk away from a fabulous view.
I finally forced myself to descend and reached my campsite by walking the entire valley again. I'd be the only person in it for a second night.
Lakes Basin and A Guy Who Bikes to Backpack
In the morning I headed to the Lakes Basin to establish a base camp and do day hikes. I hiked up and spent an indulgent hour and a half at the summit of the wilderness' namesake, Eagle Cap (9,572 feet).
I chatted briefly with several summiteers, except one guy named Bill from Dallas, Texas. When I remarked he'd driven a long way, he corrected me—he came by bicycle.
I use my car as little as possible and prioritize personal time for things I enjoy, but Bill has taken the minimalist approach to living to the next level. Before coming here, he backpacked 400 miles of the Idaho Centennial Trail, ending at Upper Priest Lake. I wondered how he gets back to his bike.
Bill spends six months a year installing phone systems and the other six bicycling the country to hike and backpack. He's been doing this for 32 years. For his four-day backpacking trip, he chained his bike to a tree near the trailhead.
For one-way, multiday hikes, he asks a local bike shop if they'll hold it or give names of bike enthusiasts who will. To get back to his bike, he hitchhikes. While hiking down together, I wondered how many other people in the country are out there doing what Bill does.
The Hike Out and Back Again
My six-day stay ended with a 12-mile hike out. I thought my backpacking season was over, but good weather at September's end brought me back once more.
On my autumn return trip, I climbed Sacajawea and Matterhorn again as a shortcut to beat an approaching storm on my next-to-last day. Gusty winds forced me to squat often along the gendarme-laden ridge, making it slower and more worrisome than before.
Arriving late and tenting far from the main camping area near Ice Lake, I awoke to footsteps in the middle of the night, followed by a loud, forceful nostril exhalation. Later, whoever did it came back and did it again.
Deer snort as a warning, but I saw mountain goats while descending Matterhorn. I don't know if mountain goats snort, but whoever was responsible, they'll have to be satisfied that I left in the morning and won't return for a while.
Snow and temperatures down to the teens were expected by evening. As I hiked out, I inquired of a solitary woman hiking in if she knew about the change. She enjoys the challenge and was prepared.
End of the Hike and Off-Trail Camaraderie
I made it to my car, drove to attractive Main Street in downtown Joseph, Oregon, and stopped at a coffeeshop. Indoor comfort and a hot mocha at a window side seat is an elevated pleasure after a wilderness stint.
Walking to my car, a woman recognized me from a brief trail encounter my first day in. We compared experiences, small-talked—she and her partner were going to work their way back home to Kalispell, Mont. After parting, I wished I could've had a longer conversation. The camaraderie of exploring a unique place made me want to share more experiences and inquire of hers.
It's the same on the trail. Being in the wilderness is such a pleasing experience, and trail encounters add to it. So often a brief chat is interesting and informative.
The superb setting and sharing insights with fellow backpackers makes for a memorable and pleasant adventure. That is, if you can avoid the misfortune of tiny ants swarming over your lunch.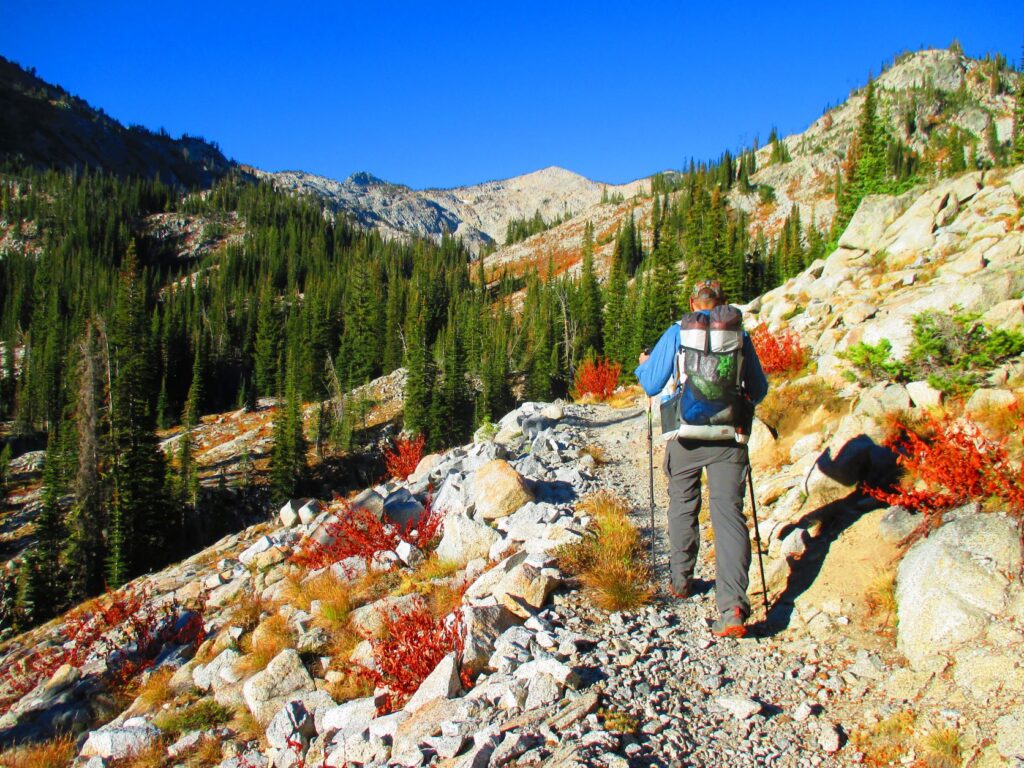 Find more stories in the OTO archives about Eagle Cap Wilderness and Wallowa Mountains as well as other travel destinations and recreation opportunities in Oregon.