UPDATE: This booty has been found! Congrats to Laura!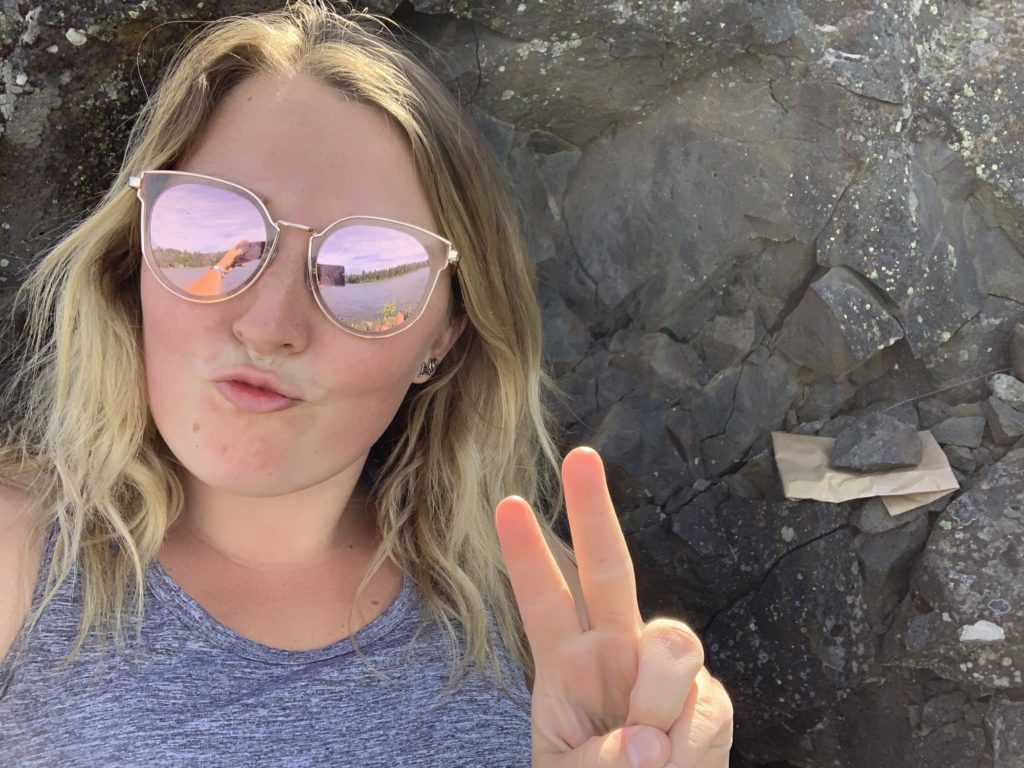 Weekend Adventure Cave Singers Package
This is a special Backcountry Booty: a Weekend Adventure Cave Singers Package ($230 value) in partnership with Get Out Fest in Ferry County, June 27-30! The winner of this Backcountry Booty will receive:
Festival admission for 2 adults: gets you into the Cave Singers show, and festival events all weekend. Kids under 18 free.
Tent or RV camping pass: good Thurs, Fri, and Saturday nights.
Free admission for 2 to the Half Marathon & 5k run: includes t-shirt and finisher's medal.
8 free drink tickets for the beer garden, open Friday and Saturday nights. Wine, beer, and non-alcoholic drinks included. Sponsored by Rainier Beer, Latta Wines, Kind Stranger Wines, and Sleight of Hand Cellars.
AND
Road trip to beautiful Ferry County in Northeast Washington for camping, outdoor adventure, and an intimate show featuring The Cave Singers. Escape the big city and discover the state's best kept secret.

Enjoy an outdoor movie, food, and a beer garden at base camp. The Cave Singers headline the music stage Saturday night. For outdoor events, there's an officially timed Half Marathon & 5k, mountain bike ride on the Kettle Crest, guided hike along a section of the Pacific Northwest Trail, a 25-foot climbing wall, skateboarding activities, a fishing derby, and a fossil dig. REI Spokane will be at the fest providing free watersport rentals (kayaks and paddleboards).
Clues are below, as are the rules on how to play! Good luck! It's Finder's Keepers!
————–
CONTEST RULES
Play the Out There Outdoors Backcountry Booty treasure hunt contest and you get to explore different trails around the region and possibly win gift certificates for cool outdoor gear and other prizes. Here's how it works along with a few rules you need to follow to play:
We hide a booty certificate, that's good for whatever prizes are up for grabs, near a trail somewhere in a park or recreation area in the greater Spokane area.
We name the general location and offer up a few clues and photos on Facebook and the Out There Outdoors website (scroll down on this page for the clues and pics).
You "like" the Out There Outdoors Facebook page to keep in the loop when a new booty is up for grabs, and then check the contest page at OutThereOutdoors.com to review all the current clues.
You take care not to trample native plants/wildlife while you're searching. No digging, turning over rocks or disturbing shorelines, logs or brush that provide important wildlife habitat is required to find a booty and is highly frowned upon and will bring you bad booty karma! Walk, look around and pay attention to the clues and forest/nature around you. We also encourage you to take along a garbage bag for picking up trash whenever you're out hunting for booty.
We keep giving out clues on Facebook and on our website until someone finds the booty and wins.
Winners take a victory photo at the location where they find it and post the photo on the Out There Outdoors Facebook page to confirm that the booty has been found (letting us know that you found the booty right away is important–email us with questions).
Follow the instructions on the booty certificate and we will let you know where to pick up the prize(s)!
Clue #1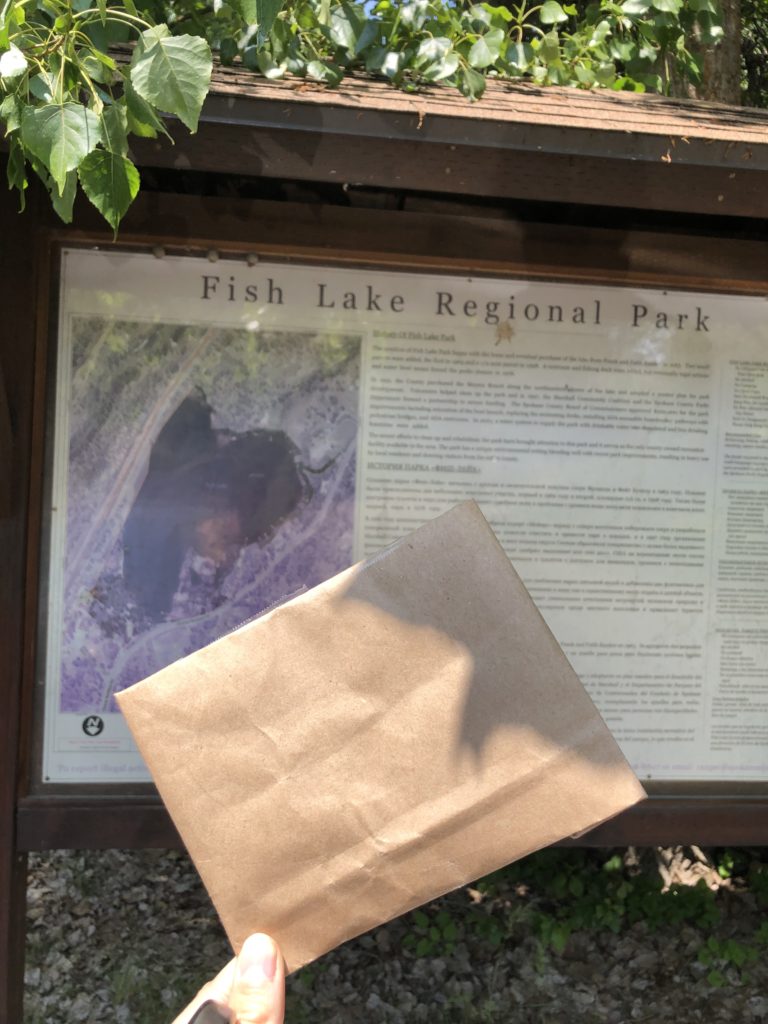 Head to Fish Lake Regional Park to start the search for this booty! We will say that this booty is one you can walk or PADDLE to! Bring your Discover Pass for parking, or travel along Fish Lake Trail until you get to the lake. You'll have to walk down to the regional park to start your search either way.

Clue #2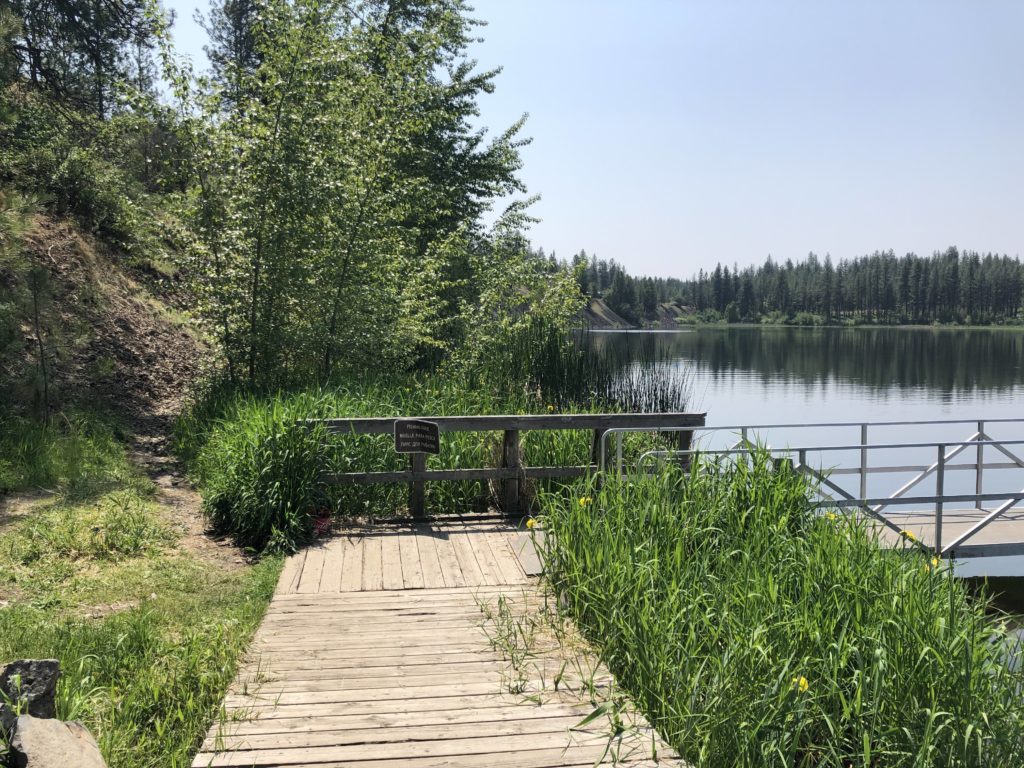 When you reach the fishing docks, take a left on the trail! You'll need to work your way along the rocky shoreline, so bring appropriate shoes. You can also access the Booty package by paddling close to the shoreline and looking into the rocks. Keep a sharp eye!
Additional Clues Coming Soon!