Riding the route of the Hiawatha with four generations of family
The tunnels are colder than you might expect. There is no cell phone service. The shuttle is an old school bus. Each of these elements add to the unique experience that is biking the Route of the Hiawatha rail trail. This 15-mile backcountry ride follows the scenic crest of the Bitterroot Mountains near Lookout Pass Ski and Recreation Area. It should be on your list for regional to-dos, if it's not there already.
In June, I took my family to test the trail. We were of various ages and biking abilities, from my 84-year-old grandfather, who bikes at his gym, to my parents, who don't ride bikes, to my younger brother and sister-in-law, who occasionally race in triathlons. My immediate family included my 3-year-old son and 1-year-old daughter, who were pulled in a Burley bike trailer behind my husband on an e-bike. You could say our group ran the gamut.
The Tunnels of the Hiawatha
The Saturday we chose favored us with cool, overcast summer weather. I had only done light research on the trail before arranging rentals, shuttle passes, and hauling my extended family up to the trailhead. My first surprise was the Taft Tunnel, the longest tunnel of the route at 1.66 miles. It is the first tunnel you'll experience when starting at the east portal entrance to the Hiawatha, which is in Montana and a different time zone if you're coming from Spokane.
Headlamps or bike lights (400+ lumens) are required on the Route of the Hiawatha precisely because of the Taft Tunnel and the lesser tunnels that follow. It's completely dark inside. For a summer ride, it was also shockingly cool. A Hiawatha trail marshal told us to look for the thermometer at the middle of the tunnel—it hovered at 50 degrees, cold enough to start numbing my hands by the end of our long, echo-y ride through the dripping, dark and muddy tunnel. (For this reason, even on hot summer days, I'd recommend packing a jacket.)
When we emerged into the light after Taft Tunnel, we were treated to a waterfall. After turning off our bike lights to save power, we felt happy to pedal in the open, soaking up the rich, woody smell of the Idaho backcountry. It wasn't long before we hit another tunnel. There are 10 tunnels in total. Some are short enough to see the light from the other end when you enter, which our group tended to favor. The variation of trail features keeps this ride interesting.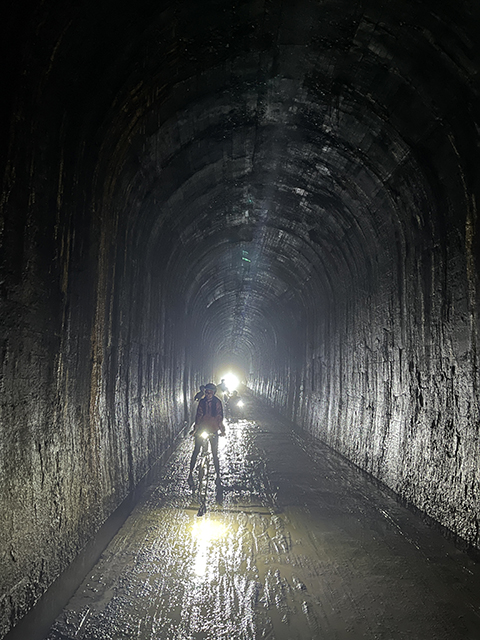 Riding over Trestles and Back through Time
Soon we found our party spinning over wide, wooden trestles (seven in total), an assortment of pines descending in spires beneath us. We stopped to comment on a tree with beautiful, fan-type foliage: a Grand Fir. We saw cedar, tamarack, and other trees we didn't know. When we stopped to eat the sandwiches we had packed, we noticed the chipmunks and butterflies.
While we exchanged greetings with numerous bike groups on that busy Saturday, we rode the trail almost entirely on our own. Like most places in Idaho, there was room to spread out, making this a backcountry ride that lends a solo-in-trees feeling to be treasured.
Interpretive signs along the route explain the trail's rich history from the time when the Milwaukee Railroad was operating. I also discovered my family had a history with the trail, which was the reason it had been a goal of my grandfather's to complete long before I went to write an article about it. In 1935, on the heels of the Depression, his father rode the rails hobo-style along the same route, heading to Idaho to look for work from the plains of South Dakota.
While we pedaled, my grandfather mused on how we were looking at the same sights his father would have seen on his all-in journey, off to start a new life. My grandfather was born in Saint Maries, Idaho, three years later, so the trail was the path my family took into the Inland Northwest many years ago. It added significance to complete the ride with my grandfather and kids this summer.
Tips for Young and Older Riders
A few tips from the young and the old on the tunnel rides: turn on a tent light or kids' lantern in the bike trailer before entering each tunnel to give kids some light. If you wear auto-tinting glasses, like my grandfather, he'd advise removing them before each tunnel, as his didn't adjust very quickly and contributed to a crash he had in the first tunnel.
That early crash made my grandfather doubt whether he could complete the ride. After a bandage, the open, scenic views of the trail buoyed his spirits, especially the stretches where he could coast without pedaling. (Staff from the Hiawatha bike the route every hour to check on riders in case of emergency, but packing your own bandaids like my dad had is a smart call.)
After riding the trail as a mother with young kids, I'd recommend packing snacks, water bottles, sweaters for the tunnel rides, and factor in time to stretch your legs. On the other end of the age spectrum, my grandfather would recommend to anyone 70+ who wants to ride that they should try to be in the best physical shape possible before going, adding that any conditioning to strengthen the legs and back would be helpful.
What to Expect on the Trail
Biking is not my primary outdoors pursuit, so I rode this trail on my husband's road bike. For future rides, I'd recommend a gravel bike or mountain bike, as the rock and dirt path became tiring terrain to navigate with thin road bike tires. You can rent bikes from Lookout Pass to make sure you get the right type of bike and fit. If your bike doesn't have a fender, you're also likely to end up with a mud stripe up your back, so a change of clothes for the car post-ride is advised.
Our extended family group rode the Hiawatha slowly with several stops and finished the ride in 4.5 hours. (There were riders in spiffy bike outfits whom I'm sure finished in closer to 2 hours.) Plan ample time to complete your ride and remember that this experience should be more about enjoying the nature around you than completing a speed goal. One of the joys of this downhill ride was the sensation of easily gliding along the tree-lined trail. I found myself looking forward to each new tunnel and trestle.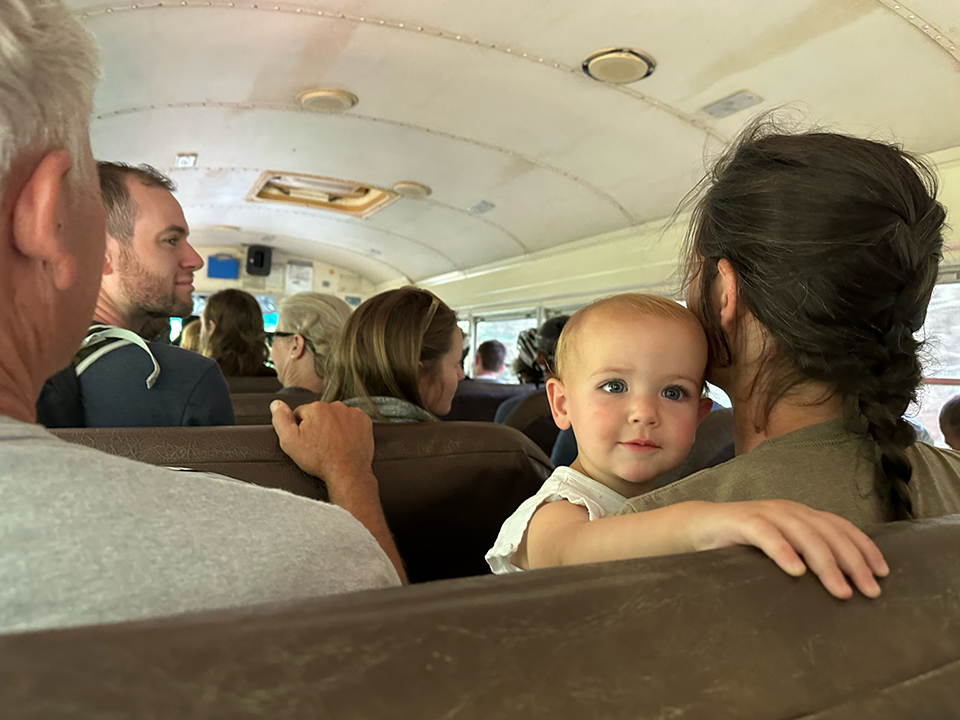 Planning Your Ride
Overall, the Route of the Hiawatha is an accessible way to experience the backcountry and a reminder that biking is just pure fun. To book your trail pass and shuttle ticket, call Lookout Pass Ski Area (208.744.1301) or visit Ridethehiawatha.com. You can bring your own bike or rent a bike for an additional cost. The trail will be open until September 17 this season.
On the day of your ride, you must stop at Lookout Pass (I-90 exit 0, on the Idaho-Montana border) to pick up your physical trail pass and shuttle ticket before going to the trailhead. Rentals are good all day long, but it is best to hit the trail before 2 p.m. to ensure you make the last shuttle. While the shuttle takes riders back up most of the elevation, it stops just shy of the infamous Taft Tunnel, so all riders from the east portal trailhead will ride this long tunnel twice. It is unforgettable to ride through the dark with the knowledge that all the rock and debris that makes a mountain sits above you. //
Lisa Laughlin is the Managing Editor of Out There Outdoors. She's gotten back into trail running this summer and rolled her ankle several times accordingly. She lives and works in Spokane.