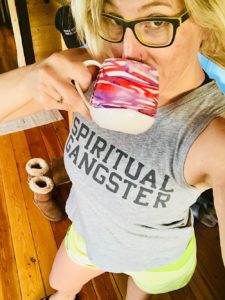 Ammi Midstokke is a nutritionist with an arguably-dangerous appetite for adventure. Her monthly "Eatology" nutrition column appears in each print edition of "Out There Outdoors" and online at OutThereOutdoors.com. She lives with her daughter in Sandpoint, Idaho.
Reader Question: WTF is "clean eating" anyway?
Ammi: Contrary to popular belief, eating clean does not refer to food with good personal hygiene, but is suggestive that the food meets several other trendy 'free from' criteria.
Eating clean is part of the post-paleo rush, where people who suddenly became concerned about the amount of meat they were eating while questioning the witch hunt on grains tried to accommodate a newly emerging group of Hamburger-bun-consuming but conscious humans.
The suggestion is that eating clean means the dish is free from food coloring, preservatives, pesticides, and other various "contaminants." It often refers to organic foods, whole grains, pastured animals, and the like.
It does not suggest that the said food is gluten-free, nut-free, or dairy-free. For this reason, if you have any allergies, you'll always want to order with a series of pretentious questions ensuring that your meal is not only clean, but will not cause you to spend the remainder of your evening in the restroom or emergency room.
To ask Ammi a nutrition or health question to be answered here, send an email to ammi@twobirdsnutrition.com