Whether it's building a tiny home or repurposing a used van, thinking outside the norm is enabling Inland Northwesterners to live the lives they want and have the adventures they crave. Several of them share their stories of how adventure rigs and scaled-back living situations have changed their lives for the better.
Maddie Seipp—2003 Volkswagen Eurovan
"I'm actually in the van right now," says Maddie Seipp. We're talking about the van she grew up adventuring in with her family, which is now the daily get-around vehicle for Maddie, currently a high school senior doing Running Start through SFCC. "I drive it every day," she says.
Maddie, her parents, and her younger brother have logged a lot of miles in the VW. "I've been pretty much everywhere," she says. "I think I've been to over 40 states in the van." Her parents purchased it around 2008 and they've traveled broadly: down to Ensenada, Mexico; up to Banff, Canada; to California to visit family; to Montreal; and Maddie's personal favorite, "the great American road trip, as we call it," which took the four of them all the way over to the Florida Keys and then up the east coast the summer before her sixth grade year. Seeing the world and the country this way meant "I was exposed to more of American history hands-on," she says.
The family culture of van adventuring has shown her the possibilities—versus the limitations—of travel on a budget. "I feel like it taught me you don't really need to spend a lot of money or be super extra about it to travel and get exposure to different places," she says. "Having the van be my adventure vehicle or my introduction to the lifestyle has been really good, and I know that it will definitely inspire me to continue on this path as I progress in life."
Recently, Maddie and a friend road-tripped to Portland over spring break. "That was the first trip I was able to take in the van without my parents." She has plans for a trip to Seattle with friends in a few months; she also hopes (if she can convince her younger brother that the van is hers for the taking) to bring it along to college for more "outdoorsy adventuring." Wherever she ends up (when we spoke, she was debating between Western Washington University and the University of Montana), she knows the van is just as good for getting out to "explore close by you" as it is for grander-scale excursions.
The VW and her family's time in it have changed Maddie's life for the better. "I feel really lucky," she says.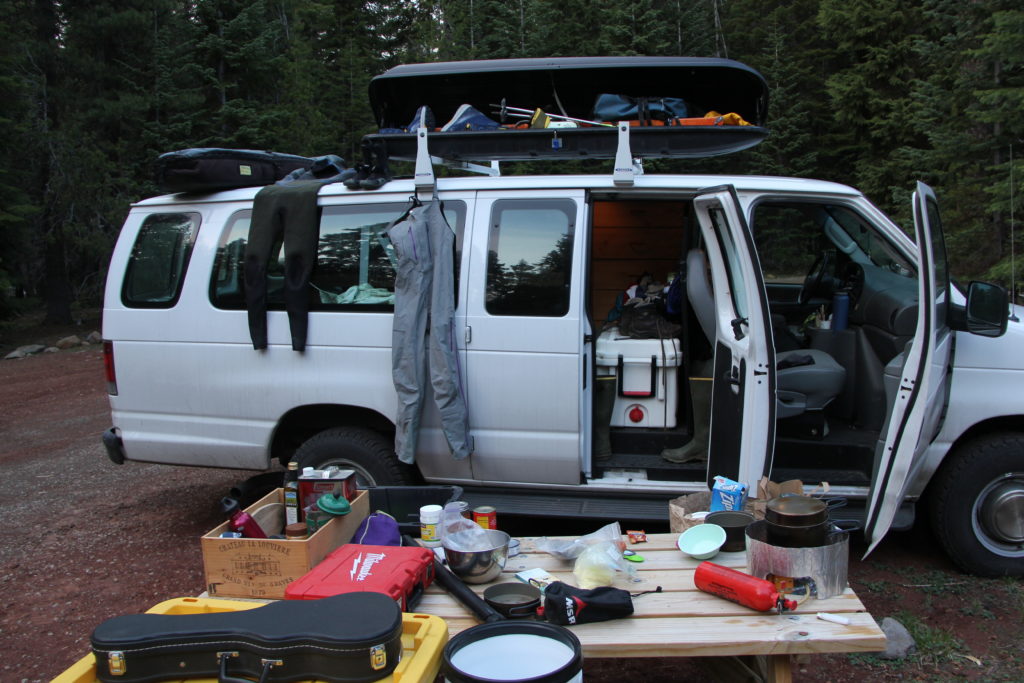 Matt Jones—(Temporarily!) Built-Out University Motor Pool Van
When a tight budget meets a big idea, it can be the catalyst for something great. That's what happened when Matt Jones was conceiving of a large-scale research project as part of his graduate studies in entomology (bugs) at Washington State University.
"My research was looking at how dung beetles and soil bacteria biologically reduce the amount of foodborne pathogens on farms," he explains. "I was designing this really huge field project to study dung beetles from central California up to British Columbia. I was thinking about how I was going to pull off this huge project singlehandedly by myself on a budget."
As he considered where he'd be traveling for research, he also "realized there was this incredible opportunity to surf and ski and hike basically along the entire west coast." But how to cover the cost of all of that?
Enter the unexpected hero: a university motor pool van. For a six-month research season two years in a row (2014 and 2015), Matt rented and lived out of a WSU-owned Ford E350. He kept his plans vague with the university. "I said I'd be camping, but I didn't say I'd be sleeping in the van," he confesses.
Not wanting to do any damage to the vehicle, "essentially I had to find a way to build out the van in a non-permanent way," Matt explains. A rocket box on the roof, attached with a painters' rack, held his skis and climbing gear. Inside the van were two huge coolers, "one for food and one for science." He strapped an old dresser behind the driver's seat and built a platform bed with space beneath for Tupperware storage bins, and two surfboards. "A critical detail is that my mother, she sewed me curtains so that people wouldn't stare at me in rest stops when I was sleeping," he says.
Matt traveled the coast, collecting samples from farms and sleeping in rest stops and on forest service land, climbing, swimming, and surfing along the way. Though the temporary way the van was set up meant it wasn't the most comfortable (for instance, the van wasn't tall enough to stand up in), it worked. Bathrooms were primarily rest stops and restaurants and "I didn't shower much," he says. Every couple of weeks he'd spend a night in a hotel "to just refresh, start over, get organized," he says.
One of the biggest risks was stench potential: In the "science cooler" were lots of frozen cubes of pig excrement—the baits used for collecting dung beetles. "One of the more stressful things about that whole situation was that it might thaw out," Matt says. The dung beetles he caught were put on alcohol, and anything sensitive, like the soil DNA samples, was put on dry ice and shipped overnight to the university. "That was actually really expensive, overnighting boxes of dirt," Matt says with a laugh. "In some ways it's priceless, but in other ways it's worth nothing."
Was it worth it? Would he do it again? "A hundred percent, yeah."
"It absolutely allowed me to balance my work and pulling off this huge project with having lots of fun along the way," he says. "It was really good. Actually, I miss a lot of elements of living in the van. It was a really good season of life."
Kirby Walke and Family—58 Heald Teardrop Trailer by Overland Trailer
The Walke family—parents Kirby and Jenifer and their two young kids—had long been into tent camping when they started looking for a trailer their four-cylinder Subaru could pull. That's when they discovered the 58 Heald teardrop trailer, built by Hayden-based company Overland Trailer, which they were fortuitously able to purchase used from its original owner.
Kirby praises the sleek, light trailer, which they use for everything from "goofy family weekends" at the state park to solo trail running trips. It's bear-safe and cozy, with a queen mattress and a bunk that's been claimed by their older daughter, but the small interior encourages them to spend most of their time outside. The smaller profile and lighter frame makes it easy for the Subaru to pull, and it fits on dirt roads and pullouts, places larger trailers and campers wouldn't. Weighing in at around 800 pounds, it's easy to hook up for quick trips, and, oncee unhitched, "you can easily move them without having to hook it up," Kirby says.
The Walkes have taken many adventures in the trailer, hitting up national parks and beloved local spots like Farragut State Park. "Every one that we go on is a favorite adventure," Kirby says. Recently they've been to Rainier and the Cascades and to Icicle Gorge near Leavenworth, where Kirby was able to run the Alpine Lakes route.
The two-burner Coleman stove and an oven—built into the tailgate of the trailer—enable delicious, outdoor-cooked meals to be a big part of their time together. "We make pretty righteous breakfasts," says Kirby, who notes the family camping menu often includes things like cinnamon buns, cookies, and homemade pizzas.
For the Walkes, the trailer is just right for this stage of life. "It's sort of that in between. You're getting the camping experience, but you're also getting a great night's sleep," he says. He also admits to being a bit relieved the family dog has opted to sleep in the back of the Subaru rather than squeezing into the trailer with the four humans. "And the car you're driving on a daily basis isn't dictated by your trailer."
When spring hits, the trailer is ready for action. "On April 1, we put it back in the garage so it's always stocked and ready."
Henry Hagood and Mallory Koula—DIY Tiny Home
It's a big project, crafting a tiny home. That's the current undertaking of Henry Hagood and Mallory Koula, who are spending their evenings building a tiny home that they'll be moving to Missoula this summer when they relocate there from Spokane. He's heading to physical therapy school, and she will be doing a residency in family medicine.
Henry first got the idea in 2016 from friends who'd handcrafted their own tiny home. Knowing he'd later be enrolling in a three-year program, he wondered how he might do something more cost-effective than pour money into three years' worth of rent. A tiny house seemed like the answer.
In 2017 he purchased the bare metal trailer that's the base of what's now a gorgeous, cedar-planked work in progress. "It was supposed to be a six-month project," Henry says with a laugh, since work was still well underway as of April of 2019, with elements like the kitchen and bathroom still coming together.
"The tiny house was his first partner," Mallory jokes. The two of them have worked on it off and on together when they could over the past couple of years, often with the help of family and friends. "We've done it all," says Henry.
The small footprint—22 feet long, 8 feet wide, and 13.5 feet tall—means "everything had to be multifunctional," says Henry. A ladder to the loft area would have made sense, but stairs are even better because the space beneath them can become contained storage. The plan is for the dining table to serve as a guest area, building it on "a telescoping post that can drop to match the height of the bench area to make a guest bed," Henry explains.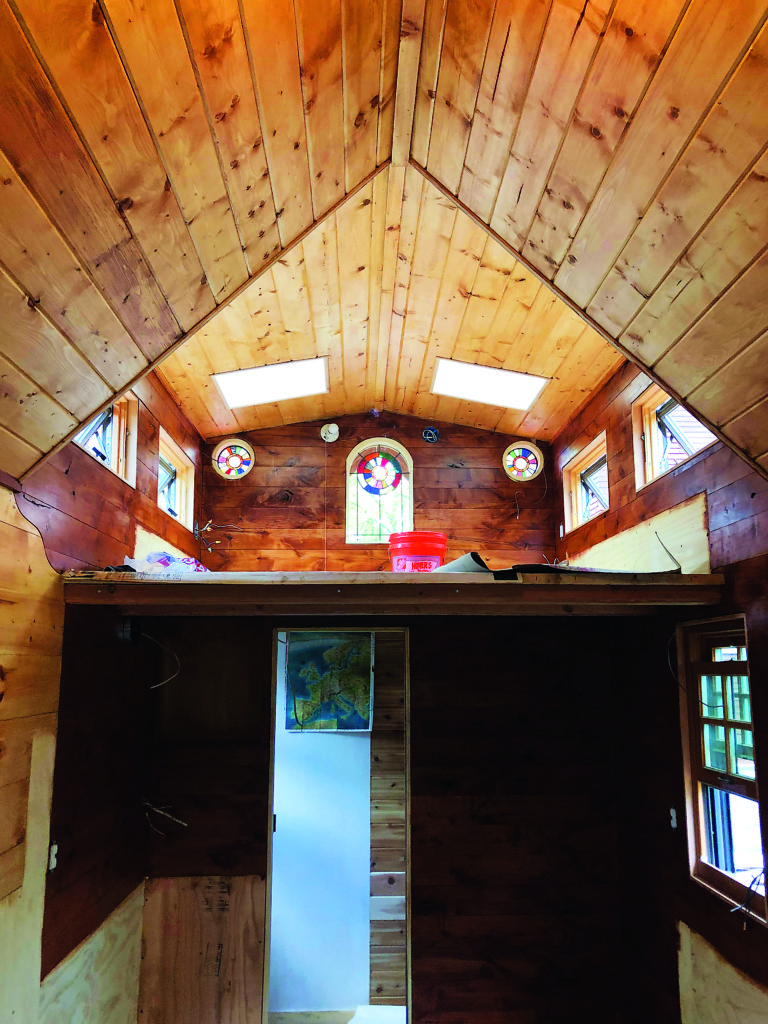 With a traditional home, customizing everything would be cost-prohibitive, but the reduced square footage means that's not the case here. "It's likely the only time I'll be able to build a fully custom home for myself," says Henry. This has led to features like the hot and cold water spigots on the exterior for rinsing off the dogs, Grouper and Wizard, a double-hung door for the main entrance, and stained leaded-glass windows, which Henry and Mallory learned how to create from a local glassworker. There will also be a shower and a deep Japanese-style soaking tub; the kitchen will have a propane stove, built-in spice shelves, a washer/dryer unit under the counter, and "a not so tiny refrigerator." They had fun learning about environmentally responsible materials and incorporating them, like Western Red Cedar, and looking for old things they could give new life, like old doors they've reused.
"A lot of the idea behind having minimal stuff is to not be attached to things," says Henry, but having poured so much work and vision into this home, "it's definitely the one thing I care the most about among material things." Having worked commercial fishing in Alaska and living in tight quarters "with a bunch of stinky dudes" Henry's fears aren't about tiny house living, but about transporting the beloved project safely across three states. "I'm incredibly nervous to move it," he says. The destination is the backyard of a young Missoula family they connected with through Craigslist.
Mallory's concerns are more about day-to-day tiny living. She's thinking ahead to crazy work hours and sharing close quarters—hoping she'll be able to get enough rest and "feeling like it's a space you can come home to."
Before long the final components will be coming together—countertops, shower, furniture—and it will be time to hit the road. In the meantime, the work continues—and that's something they've really enjoyed doing together."It's been super fun," says Mallory.