The North Fork of the Coeur d'Alene River – a western, freestone masterpiece – is what fishy dreams are made of: crystal clear waters, old growth forests, mountains for miles, and, of course, a healthy population of brilliantly colored, native westslope cutthroat trout. Located just east of Spokane, the North Fork's emerald waters originate deep in the Bitterroot Mountains, flowing south for 77 miles before its confluence with the South Fork in the Silver Valley before entering into Lake Coeur d'Alene. The majority of the system is accessible by paved and gravel roads, with a few stretches going deep into roadless regions accessible by foot.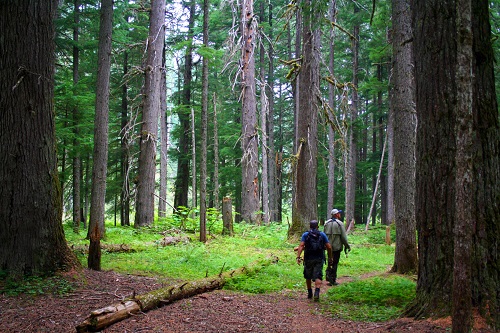 The North Fork is a dry fly fisherman's paradise, where fish rise to dries from Memorial Day weekend all the way through October. Fishing in a place like this is a little like stepping back in time. The fish populations here are 100 percent native, and other than the occasional rustic cabin, the majority of the river valley is void of development. The best part though is the fact that fish numbers are strong and healthy due to conservation efforts over the last couple of decades to improve fish habitat. The introduction of catch and release regulations for specific stretches have also helped.
Our wingman for a recent day on the river, Randy Dingman of River Odysseys West (ROW) Adventures is part trout guru, part entertainer. Dingman's passion and unique personality kept us captivated as we made our way up the river canyon, eyeballing several deep, fishy-looking tail-outs along the way. We sauntered down to a lazy stretch of river with a deep cut-bank on the opposite side and a strong depth change. Dingman whispered some last-minute pearls as I begin my casting wind-up: "Throw up super high there against the wall," he coaches. "Now mend, mend, mend. Let it drift. Not gonna lie, they're gonna scrutinize it. They see a lot of flies through here, but if it checks out, duuuude they will hammer it, and you're a rock star!"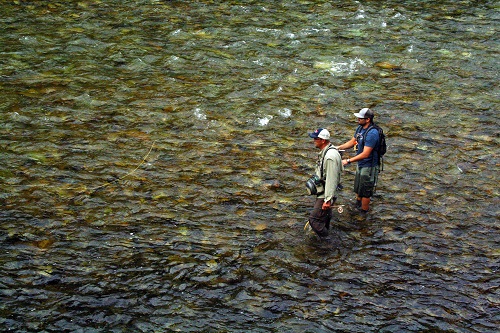 When targeting westlope cutts, fly selection is not nearly as critical as placement and presentation. Cutts are eager to eat as the high mountain streams they live in do not have the rich food sources that larger, warmer rivers do. However, the gin-clear waters and shallow pools they inhabit afford them the ability to study your fly carefully. Just about anything "buggy" looking can produce results, so long as you remain still, drop it in a feeding zone, and present it without any line drag.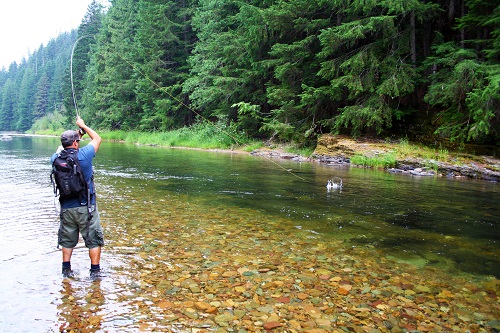 After several attempts, I finally got the distance on my cast, placing my fly at the head of the run. I'm fishing a big, ugly hopper on a 9-foot leader. Two strong mends and my fly floats directly over a deep channel that is holding a large, actively feeding fish. She takes one look at it, smacks it hard and the fight is on. Five minutes later, we have a beautiful, healthy 19-inch female cutt in the bottom of the net ready for release.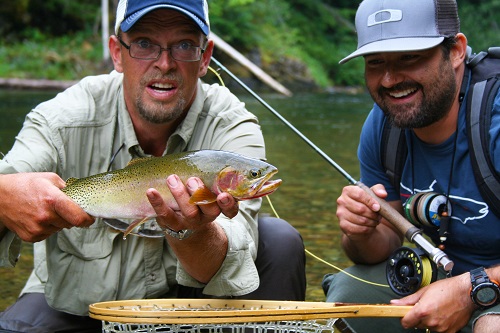 When You Go:
The North Fork is about an hour drive from Spokane. Roughly 28 miles east from Coeur d'Alene, the Kingston exit will put you directly on the Coeur d'Alene River Road, which will take you up to the farthest reaches of the system. The farther you drive, the better the fishing and scenery gets. Consider hiring a guide to help get you into the action quicker than most anglers are able to on their own. ROW Adventures offers guided trips on the Coeur d'Alene, St. Joe, Lower Selway, Middle Fork Salmon, and Grand Ronde, with a $45 discount on full-day trips and $25 off half-day trips booked before September 30, 2014. More info: ROWfishing.com. //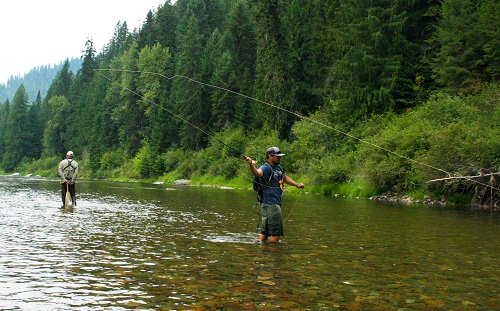 Idaho's Wild & Scenic Rivers
The North Fork of the Coeur d'Alene is one of many fabulous options to fish for native westlope cutts in Idaho. While the North Fork isn't classified as a Wild and Scenic River, many Idaho streams are, making them that much more special of an experience for fisherman.
From the white sand beaches of the Salmon River to the cathedral forests of the Lochsa, Idaho's rivers are some of the most beautiful places in the country. To guarantee that these awe-inspiring rivers and their corridors remain as special as they have always been, many are protected by the National Wild & Scenic Rivers Act. The Wild & Scenic Rivers Act, created by Congress in 1968, preserves and protects certain rivers with outstanding natural, cultural, and recreational values.
The act prevents any new dams or harmful water projects, protects riverside lands and wildlife migration corridors, safeguards clean water, requires development of a comprehensive plan to manage the river, and prohibits activities that would diminish the river's outstanding values. Idaho has approximately 107,651 miles of river, of which 891 miles are designated wild and scenic (less than 1% of the state's river miles).
The upper St. Joe and the Lochsa Rivers are two notable westlope fisheries in our region that are protected under the act. While these rivers are a little more remote in location compared to the North Fork, both boast very healthy trout populations and pristine mountain environments, making them well worth the efforts to get there this fall. //