On February 8, 2022, Schweitzer opened the doors to its new boutique, 31-room Humbird hotel, named in honor of the local historic Humbird Lumber Company. Just off the lobby, you'll also find the newest Schweitzer restaurant: the Crow's Bench.
Honoring the deep community roots of the area, the Crow's Bench is named after a row of benches outside the local watering hole in nearby Hope, Idaho, that has been a gathering place for local "crows" for a long time.
"[The name] seemed like a really good fit and in keeping with how we all are after a day on the mountain," says Dig Chrismer, Schweitzer's Marketing Manager. "We sit around and cackle about our day!"
Natural wood graces most of the surfaces in a classic Alpine or Scandinavian lodge style, and wide windows bring the view of the mountain to your table. The dining room seats 50 with 15 seats at the bar where birds of a feather can gather next to the grand fireplace.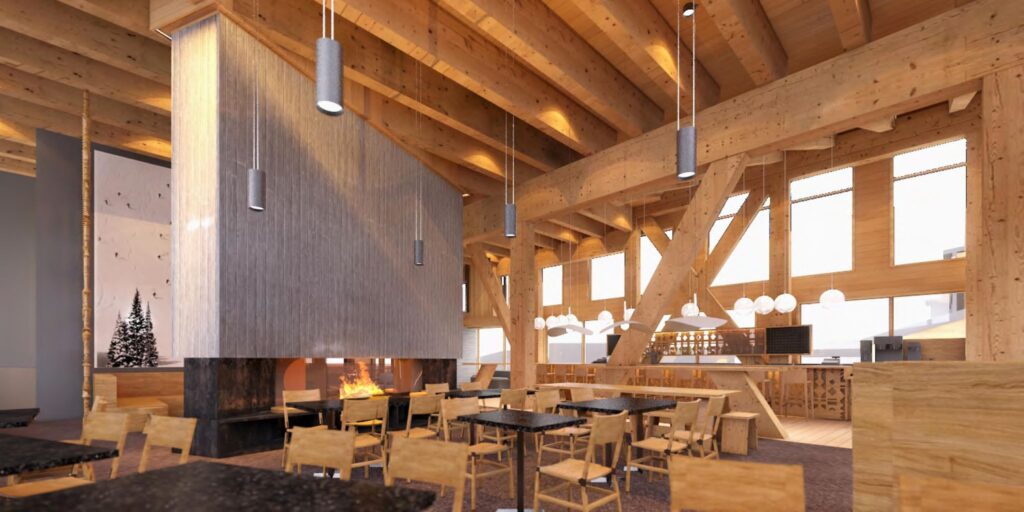 The menu is inspired by a range of Alpine cuisines, including Bavarian, French, and German. "In the Alps, cultures overlap, and that's where the inspiration is coming from," says Chrismer. "The chef is excellent, and the options are incredible!"
The opening menu offers starters like Maultaschen forest mushroom dumplings and Charcuterie. The Elk Carpaccio is made with regional Lake County elk loin. Main courses include Roast Game Hen with a German beer glaze—and, of course, there's Strudel for dessert.  
The twist on the Alpine theme continues with innovative drinks such as Apres Ski and Bayerische Fizz cocktails and Swiss, French, and German regional wines and beers.
Dining is by reservation only (208.255.3051), with preference given to Humbird guests.
Learn more about the Humbird hotel at Schweitzer.