Why haul your bike to the shop when the shop could come to you?
That's the question mobile bike shops like Grafton Pannell's answer. Pannell's mobile shop Velofix (part of the Velofix franchise) operates with a simple model: Customers identify that their bike needs a tune-up or other service. They make an appointment, and Pannell, a trained mechanic and the shop's owner-operator, comes to them in his Mercedes Sprinter van full of the needed tools and parts. "Essentially, I can do everything that a regular bike shop can, but in your driveway," he says.
An experienced mechanic, Pannell enjoyed his previous work in brick and mortar bike shops, but recognized opportunities in a mobile model to simplify and streamline the process, eliminating communication errors and winnowing down wait times. He opened up his mobile bike shop in 2016.
Pannell's red van is set up with a tool bench along one wall with tools hanging above it. The rest of his setup includes space for parts and accessories, a bike stand, and a point-of-sale system. He handles bike maintenance and repairs of all kinds, whether that be wheel building, suspension services, or basic tune-ups for your family's fleet of two-wheelers.
Pannell says customers like knowing exactly where their bike is and having a precise estimate of how long the work will take; plus, they can easily build report with their mechanic: He's right outside, after all. Once the appointment is underway, "the nice part of having your mechanic in your driveway is, there's no wait time. I get there and your bike is done in an hour or two," he says.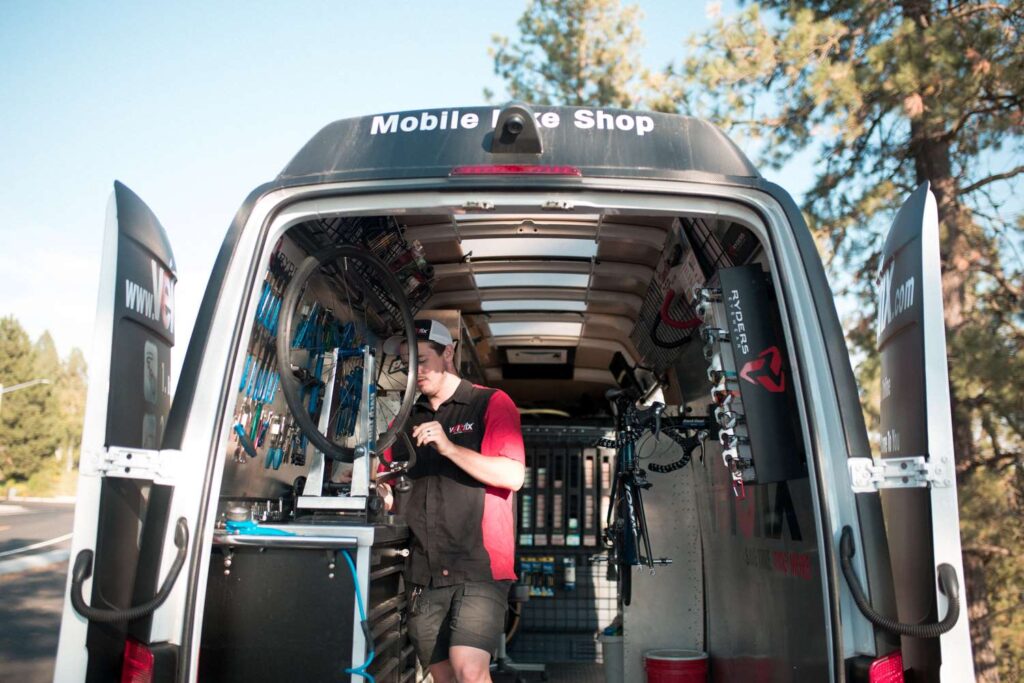 "I love people. I enjoy the relational aspects of the business," Pannell says. Customers "can hang out and watch me work, I can answer questions." The opportunity is there to "create a relationship, rather than just waiting for unknown amounts of time for your bike" to be finished and ready to pick up.
Pannell says he has many repeat customers and is adding new clients weekly. He is able to schedule five appointments on a busy day. He takes his shop on wheels to customers throughout the general Spokane area as well as Coeur d'Alene, Deer Park, Spangle, and Cheney.
"I wanted to start a mobile bike shop because I believed in the model," he says. "I think it's a way we can offer customers much better service."
Schedule with Velofix at (208) 271-1011, 1-855-VELO FIX or Velofix.com.