Spokane and Coeur d'Alene
Meghan Henry, triathlete and winner of this year's second leg of the Tour de Dungeness.
Bike of choice: Giant TCR Advanced Pro
Background: Henry competed in Ironman races for eight years. 2019 is her second year road racing where, at the time of this writing, she is four points shy of Category 3 upgrade.
Favorite road ride: Saltese Flats and Quinimose Hill
A 31-mile loop skirting Liberty Lake that winds around and through the Saltese Conservation area, with a 1.5-mile climb. A good bit of up and down with winding descents or climbs, depending upon the direction travelled. It includes one 500-foot climb and 1,300 feet of climbing overall. The Saltese-Quinimose loop can be tackled in either direction by intermediate riders and made as difficult as one likes. (Bradley Bleck)
Dan Wilson, Evergreen East board member
Bike of choice: Pivot Mach 5.5, "a climbing and descending machine."
Background: 15 kind-of-serious years, since high school
Favorite mountain bike ride: Caribou Ridge
Wilson says Caribou Ridge near Coeur d'Alene has "got some of the most gnarly, technical ridgeline trails around. My favorite thing is to go out and climb and do it all for the descent. I love trails that keep me on my toes and push me. If you fall off, it can be really bad." Distance: 14-mile loop with about 2,800 feet of climbing. Difficulty: Advanced to expert or a willingness to tumble down some steep slopes (Bradley Bleck)
Justin M. Short, Dirty Spokanza founder
Bike of choice: An Open Unbeaten Path carbon gravel bike, nicknamed the Blue Goose Looney
Years riding: 41, or since he got training wheels.
Favorite ride: Dirty Spokanza
This 100-mile, mixed-surface ride with pavement, gravel, singletrack, doubletrack, and a few optional jumps was first held this past summer. The Dirty Spokanza starts and finishes at Mojo Cyclery in Spokane Valley. From there, it's off to Beacon Hill and then Mount Spokane's summit. It starts with a wheelie contest, followed by the ride to and a big air contest at Beacon Hill, then a summiting of Mount Spokane where those who brought kites fly them. Short is looking to change up the route, trying to work in 10,000 feet of climbing.  Difficulty: Advanced to expert. (Bradley Bleck)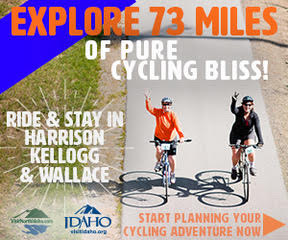 Central Washington
Dirk Fowler, Manager at Cycle Central
Bike of choice: Trek Emonda
Years riding: Since 1995-ish
Favorite road ride: Mad River Road
Drive to the town of Entiat and park at the south end of Entiat City Park (road biking). Head up Entiat River Road. Just after Cooper's General Store, take a left on Mad River Road. Begin climbing for the next 11.6 miles and enjoy the beautiful brutality. When the pavement peters out at around 4,500 feet, turn around and head back to Entiat. This 3,000-foot climb is one of the most challenging in the state. It's also stunning as it begins at a gorgeous creek and heads into high alpine country. It's relatively untraveled and best in June or July in the early morning when wildflowers are blooming. Distance: 51 miles and 4,595 feet of elevation gain. Difficulty: Advanced. It's one of two 8c climbs in Washington. (Summer Hess)
Kyle McNatt, Arlberg Sport bike and ski technician
Bike of choice: 2019 Specialized Stump Jumper Expert
Years riding: 16
Favorite mountain bike ride: Upper Mission Ridge Trail to Lower Devil's Gulch
You can ride both trails both directions, but the logging road has a more gradual uphill. Park at the Lower Devil's Gulch Trailhead. Ride up Fire Road 7100 until it ends and take a right on FR 9712. Pass the Upper Devil's Gulch Trailhead and continue another 2 miles to the Mission Ridge Trailhead. The upper section is super rocky and really technical. After 4 miles come to an intersection and continue down Devil's Gulch Trail and enjoy a flow trail the rest of the way down. Mission Ridge Trailhead tops out at nearly 6,000 feet and you can see 360 degrees. You're in the woods the rest of the time. Distance: About 14 miles uphill on fire road and 12 miles down on trail. Difficulty: Intermediate-advanced. (Summer Hess)
Montana and British Columbia
Cricket Butler, Whitefish Bike Retreat owner
Bike of choice: Trek Stash
Years riding: 13
Favorite bikepack:Red Meadows Divide Ride
Start at Whitefish Bike Retreat with the option of riding singletrack or gravel roads. Head north toward Upper Whitefish Lake then continue on to Red Meadow Lake with a few primitive tent sites. The ride is treed with open views along the ridges up to Red Meadow Pass—the one major climb. Enjoy pristine alpine lakes with lots of wildlife and great fishing. There's most likely snow in June, so this ride is best July-September. For a longer tour, it's possible to ride to Kintla Lake or Bowman Lake Campgrounds via dirt roads through the west side of Glacier National Park. The west entrance of Glacier is not as popular and makes a good 2-3 night trip. Distance: Approximately 20 miles or one day to get to Red Meadows. Difficulty: Beginner friendly. (Summer Hess)
Nat McGrath, a mainstay on the BC Cup downhill series
Bike of choice: Rocky Mountain Maiden
Years riding: 17
Favorite downhill ride: Hula Girl, Mount Swansea.
British Columbia's Upper Columbia Valley is not the first spot in the province that comes to riders' minds when they think of classic BC biking. But there's a reason the region produces riders like Nat McGrath, a mainstay on the BC Cup downhill series. Thanks to the arid climate—with its wineries and golf courses, the Upper Columbia Valley bears more in common with the Columbia Valley of southern Washington than with the surrounding Canadian Rockies. Its rocky, rooty, old-school trails allow for a long riding season. Hula Girl highlights the features in this technical trail system, where ladder-like launch platforms and rock steeps demand dialed-in riding. Distance: 1.7 kilometers one-way. Difficulty: Intermediate. (Aaron Theisen)
Jesse McClintock, SilverStar team rider
Bike of choice: Carbon Devinci Wilson 27.5
Years riding: 8
Favorite downhill ride: BX Creek loop at Silver Start Bike ParkMcClintock recommends an 8-kilometer loop beginning on Brian's Trail, which connects to BX Creek trail, and then onto Grizzly Adams and Corkscrew. "The main reason for that is because the trailhead for Brian's Trail is literally out my front door," says McClintock. But the riding itself is worthwhile: short, steep climbing switchbacks and berms alternate with root-strewn descents for a technical pedal. He admits that he loves every trail at SilverStar. He says, "It really just depends on what you feel like riding and who you're with. I honestly just love being on my bike with awesome people or by myself with my headphones blasting." Difficulty: Intermediate to expert. (Aaron Theisen)