One of the deepest lakes in North America, Lake Pend Oreille is one of the most pristine and enjoyable lakes in the Inland Northwest. At 43 miles long, it offers a wealth of activities and adventures on and under the water as well as private stays, national forests, city campgrounds, and plenty of natural and historic scenery.
Here are some of the most popular ways to play around the lake this summer.
1. Go fish.
Whether you cast a line of the dock at Pend Oreille Shores Resort, launch a boat in one of the many bays, or wade into the Clark Fork or Pack River Deltas, there is a wide diversity of catchable fish to be had in the lake. Charter a fishing guide for an even more successful day.
2. Find a campsite.
From public to private, there's a campground for everyone. Find information and book some campsites at Recreation.gov and Fs.usda.gov. Reserve a private beach stay through Airbnb or Hipcamp. Hike or boat out to Maiden Rock, Evans Landing, or Long Beach in the Green Monarchs for a more rustic experience immersed in the simple, natural beauty and power of Pend Oreille.
3. Rent lake toys.
Sports shops, resorts, and marinas around the lake offer powerboat, pontoon, wave runners, kayak, and paddleboard rentals for a day on the water. Extend your time on the waves by renting a houseboat.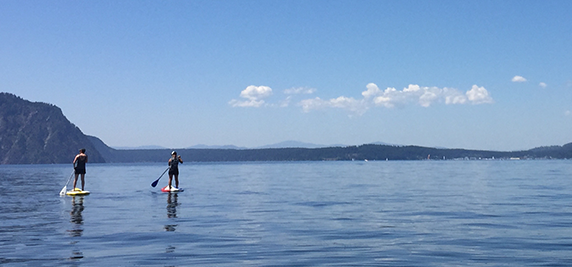 4. Ride the wind.
Sailing is a breathtaking water adventure, and it's fascinating to watch Lake Pend Oreille Yacht Club races and cruises throughout the summer. Charter your own professional skipper through Cloud Nine Sail Charters or Dogsmile Adventures. Dogsmile also offers sailing lessons, custom sailing experiences, and their Dogsmile Race Academy next level training.
5. Take a cruise.
Take a relaxing tour or cruise and discover the nooks and crannies of the lake. Lake Pend Oreille Cruises offers eagle watching, delta cruises, interesting history, and island cruises. Get a little more private with a tour from one of two water taxis: Lake Pend Oreille Water Taxi and Tours out of Hope (208-691-3158) and Captain's Call out of Bayview.
6. Hunt for treasure.
Shipwrecks and other fascinating treasures are hidden just below the surface. Don your own scuba gear or book a dive with Jake's Scuba Adventures or Tom's Diving Adventures. Or try snorkeling the shallows near docks and beaches.
7. Watch the fireworks.
The granite hills surrounding the south end of the lake make Bayview one of the best spots in North Idaho to experience a fireworks show at their annual Bayview Daze community event, typically during the weekend closest to the 4th of July.
Watch them from a boat in the bay or reserve a floating house on the expansive dock in the marina. (Airbnb or bookahouseboat.com).
8. Play on an island.
Fisherman Island is a rustic day recreation spot managed by Idaho Fish and Game and accessible only by boat. But Warren Island near Hope is the largest on the lake and is private and exclusive—except for the Warren Island Bungalow. This 4-acre retreat is the only vacation rental on Warren and boasts private waterfront, majestic views, exquisite amenities, and "a safe, peaceful sanctuary."
Wing foiling on Lake Pend Oreille (top left). // Photo courtesy Alan Shepherd; Dock at Sam Owen Campground on the west shore of the lake near Hope, ID (top corner right), and sunset view from the campground beach (bottom row). // Photos: Amy McCaffree; Sandpoint City Beach (top row corner left). // Photo: Shallan Knowles
For more stories about Lake Pend Oreille, visit the OTO archives.
Learn about other lake destinations and recreation in the 2021 Inland Northwest Lake Guide.