By Dave Copelan
Wallace, Idaho, has been in the charm business for most of its 135-year history. During the boom days, a drink and a wink led many a lonely miner, businessman, or traveler to discover the charms of its storied red-light district. Today visitors are wooed in a different manner. There are literally dozens of places to drink, dine, shop and unwind in Wallace's National Register of Historic Places downtown. And, the best reason to plan your next ski or snowboard trip to Wallace is the fact that it's at the doorstep of two ski resorts, Lookout Pass and Silver Mountain, and plenty of backcountry terrain. Best yet, it's a place corporate America hasn't invaded.
That unspoiled character and easy access to the mountains has led over a dozen visitors from around the country and globe to set up shop and make Wallace their new home and entrepreneurial home base in recent years. And it's making for a more vibrant downtown that everyone from skiers and snowboarders, to history buffs, and outdoor enthusiasts of all stripes want to spend more time experiencing. On your next trip to Wallace, be sure to check out these new business additions.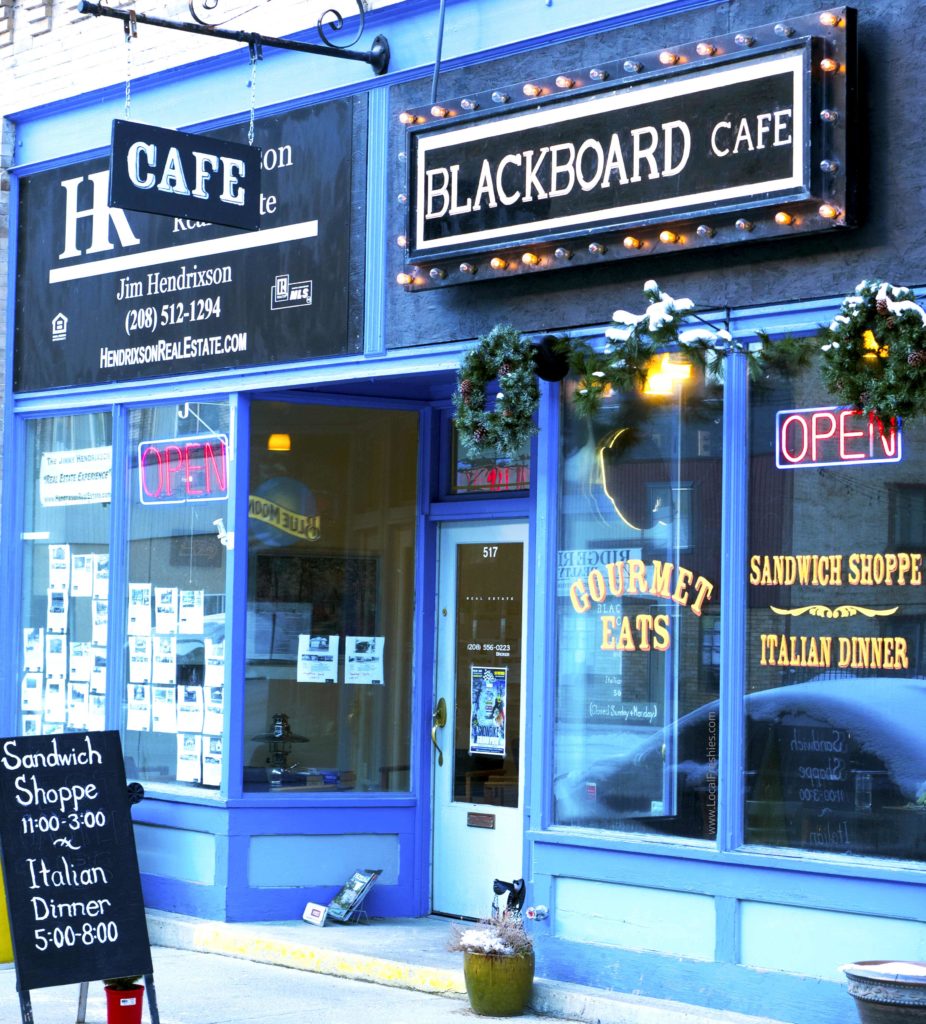 1. Blackboard Marketplace
Rob Wuerfel first came to town with his restaurateur wife and business partner Luanne in 2014. Within two years this former World Cup Champion Skier turned gourmet chef opened the Blackboard Café. Today the couple operates half a city block of businesses in the Blackboard Marketplace located in the remodeled three-story Tabors' Mercantile building. Take a walk around the block and you'll find an expanded Blackboard restaurant, an Italian deli/bakery, a coffeehouse/bookstore, and an upscale outdoor apparel shop.
2. Silver Corner & Lux Rooms
Tacoma transplants Jocelyn and Mathias Bachman offer upscale cocktails and drinks for the everyman in their refurbished, 19th century former bordello and bar. Signature drinks include their shrubs and Old-Fashioneds, along with hundreds of different spirits, beers and wines. Book an adult-themed stay upstairs in their Lux Rooms, the former bordello.
3. Cogs Spokehouse & Gastro Pub
Find L.A. style street tacos, a full bar, cigar humidor, and rent an electric bike all at Cogs. Timing for this new business was perfect with the nearby Trail of the Coeur d'Alenes opening to e-bikes this past December. But owner Stu Strother is a guy used to taking risks. This 50 something economics professor is the same guy in Wallace's Extreme Ski-Jor promotions getting big air and doing a back flip while being towed on skis at 40 mph down the snow-covered downtown streets.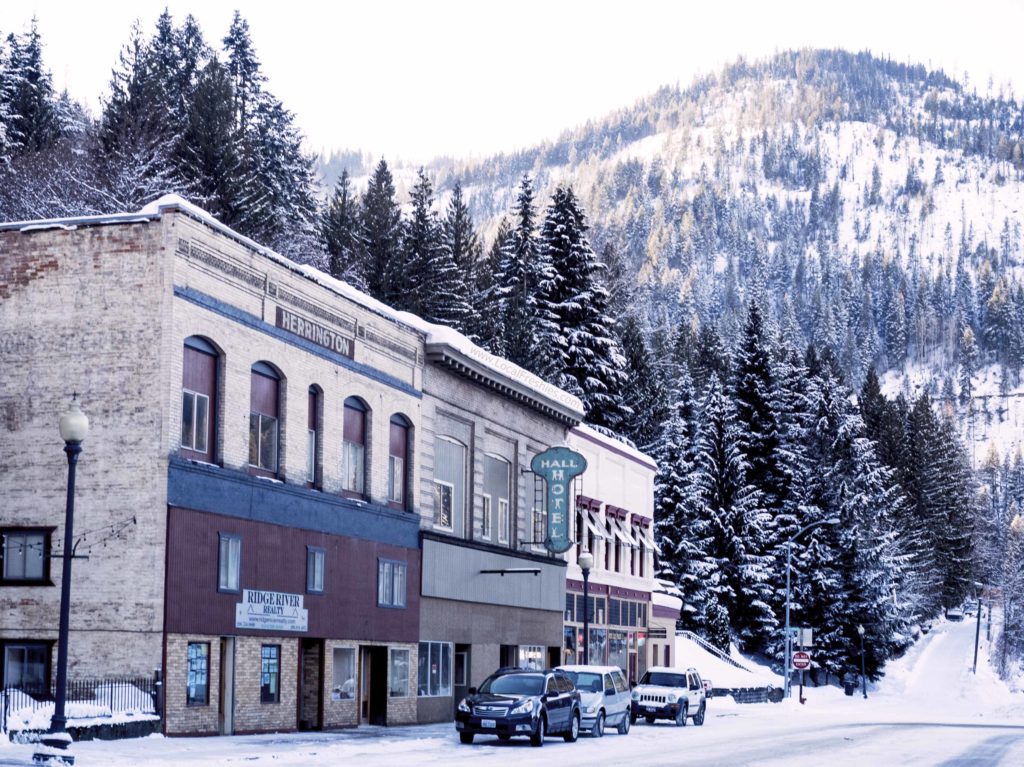 4. Oliver's Mercantile
Combine an apparel store, gift and custom t-shirt shop, and a huge selection of wines and craft beers, then put it all in Wallace's old two-story J.C. Penney's building. That's Oliver's—named after owner Ali Koski's young son. Rapidly becoming the place to shop, sip, and socialize, you'll find this gem across from the landmark Wallace Brewing Company on Bank Street.
5. Albi's Steakhouse
Reopened last year, Albi's is the answer to the question of where to get a late-night meal in Wallace. Known for its steaks, Albi's also has a complete menu served until 10 p.m., as well as a full bar. Don't overlook the oversized images of mines and madams adorning the walls.
6. Silver Streak Zipline Tours
Coming this winter, you'll be able to get your zipline fix year-round. Silver Streak Zipline Tours has new owners with big plans for 2020. This winter owners Scott and Gina Haney will be running the ziplines for the first time on a limited basis. Come spring look for a new mountain bike park and by next winter a snowboard park. All on their 200-plus acres of private land overlooking Wallace and the Silver Valley.
Whether you're passing through on your way to winter adventures or plan to stay a while, there'll be something to charm you in the ever-evolving historic mining town of Wallace.
Winter Events You Won't Want to Miss in Wallace
It may be cold outside, but they are raising the temperature in Wallace and the Silver Valley for some fun winter events.
Jan. 26: Lookout Pass Winter Carnival
Kids' snowbowling is a major highlight. Families push the little ones on a sled down a course towards huge inflatable bowling pins. Brewfest: Over at the lodge the adults can enjoy a host of craft brews and tunes.
Feb 1: Radio Brewing Uptown Throwdown
Kellogg's Craft Brewer and home-town ski hill Silver Mountain join forces to build a snowboard course down Kellogg's Main Street. Watch the fun and enjoy a cold one.
Feb. 15-16: Wallace Extreme Ski-Jor & Mullan Snow Machine Races
A fun and action-packed weekend in Wallace and Mullan, where sanity takes a little vacation. WALLACE: Watch skiers and snowboards get towed by ATVs down snow covered streets over jumps and around obstacles for the Extreme Ski-Jor. MULLAN: Motorized SnowBikes compete in the third annual Silver Valley SnowBeast Grand Prix Pro-Am that Saturday. On Sunday Vintage Snowmobiles race around the Mullan's Drager Field on a specially designed course.
Details on all these events at wallaceidahochamber.com/events and Wallace Idaho Chamber Facebook Events Page. (Sponsored Content)
Dave Copelan is a writer and graphic artist who moved to Wallace in 2014 from southern Nevada. His day job is the coordinator for the Historic Wallace Chamber of Commerce.