Seeking a nice beach for lounging and bookreading? A swimming area for your young children to wade and a sandy or rocky beach for digging? Load up the kids' PFDs, floaties and beach toys for a visit to these favorite local beaches.
City Beach at Lake Pend Oreille – Sandpoint, Idaho
Conveniently located in the heart of town off Bridge Street, this white sand mecca has everything you need: a large, supervised swimming beach that includes a floating swim dock; restrooms; children's playground; large grassy area; picnic tables and barbeque grills; bike rack; marina and lots of free parking. During the summer months, the concession stand is open, while the main street of Sandpoint (1st Ave.) and its eateries are only a short walk or bike ride away. 
No dogs are allowed at City Beach; however, if you want to swim with your pooch, Sandpoint's Dog Beach is located off a section of the bike path adjacent to Long Bridge. You'll still need to bike or walk the path to the beach since the only parking is at the trailhead in town.
Beaver Bay Beach at Lake Pend Oreille, Farragut State Park – Athol, Idaho
Bring your picnic blanket, tubes, rafts and other water toys. While many beach visitors are campers from the park, day use visitors are just as common. Huge flotillas of families come here to have fun and enjoy the serene bay. There is a downhill hike from the parking area (with restrooms and showers) to the beach.
While no dogs are allowed at Beaver Bay, other parts of the lake shoreline provide pet-friendly access. A hiking trail connects the upper part of the Beaver Bay parking area to a shoreline dotted with pseudo-beach patches. As of 2017, a $5 Idaho State Parks vehicle access fee (included in your campsite reservation) or an annual park pass is required.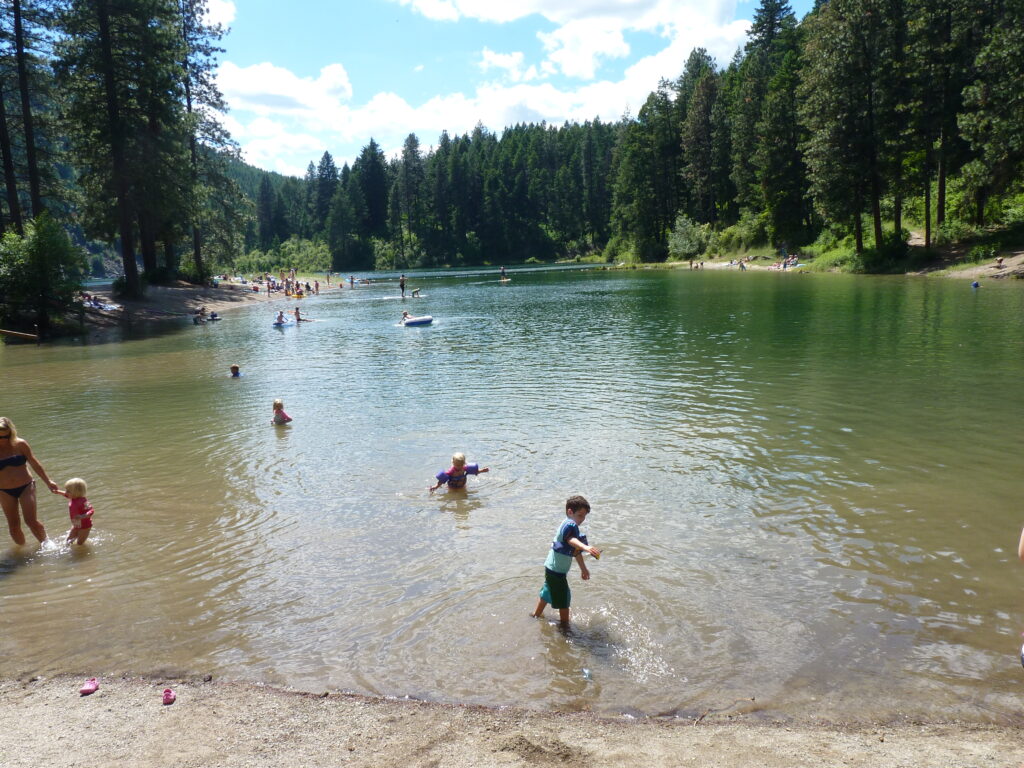 Q'emiln Park along the Spokane River – Post Falls, Idaho
Situated in a small bay on the south bank of the river, Q'emiln Park provides a great, all-in-one, day-trip experience for the whole family. It has a lifeguard-supervised swim area, playground, restrooms, picnic area with barbeque grills and more.
The beach and boat launch open after Avista closes the Post Falls Dam for the season; the City of Post Falls Parks and Recreation reports that it should open in early July (check the city website for official announcement before you go). As of 2017, a $5 daily parking fee is required, with hours running 9 a.m. – 8 p.m. weekdays and weekends from 8 a.m. – 8 p.m.
Rocky Point at Lake Chatcolet, Heyburn State Park – Plummer, Idaho
Located less than 90 minutes from Spokane's South Hill, this gem of a beach is south of the Trail of the Coeur d'Alenes at Chatcolet Bridge. Amenities for the large, crescent-shaped beach and swim area (no lifeguards), include a dock, treed picnic area, restrooms, and a nearby marina store that sells ice cream and other snacks. 
The Hawley's Landing Campground and park visitor center are located only a short drive away. (As of 2017, a $5 Idaho State Parks vehicle access fee (included in your campsite reservation) or annual park pass is required.)
Rocky Point Beach, Trail of the Coeur d'Alenes Chatcolet Bridge, and Kayaking on Lake Chatcolet. // Photos: Amy McCaffree
A playground, restrooms and more await you at this lake, which is part of the Columbia River before it reaches the Grand Coulee Dam. There is no cost for beach access, but there is an $8 boat launch fee. If you want a really secluded experience, paddle or boat to find a primitive beach along the shoreline, which range from sandy to rocky.
Be sure to refer to a detailed map of the lake and surrounding land before choosing your beach. While all the immediate shoreline is public, the amount of beach space changes depending on the lake level, and the land surrounding the shoreline can be private property, reservation land or public land. Because there are no amenities available, bring your own water and/or water purification system and pack out all trash. 
For a list of designated swimming beaches on the lake, visit nps.gov/laro/planyourvisit/swimming.htm or call the Fort Spokane Visitor Center at 509-754-7893.
Fort Spokane is located at the confluence of the Spokane and Columbia Rivers (left). // Photo: Amy McCaffree; Swim, float, and paddle on Lake Roosevelt (right). // Photo: Shallan Knowles.
For more swimming and paddling stories, visit the OTO archives.