Washington has some of the best hiking trails and wineries in the Northwest. Pair the two together with one of these five hiking and wine country tour options for a fall adventure that will engage all of your senses.
The Palouse: Kamiak Butte, Moscow Mountain, and Merry Cellars
The Hike: The Palouse is beautiful any time of year, but it shines in autumn when the fields have been cut and the rolling hills go for miles under a late-summer sun. Throughout these hills are stands of pine trees, and in those pines there are often trails, as with Kamiak Butte just outside of Pullman, Wash. Named after Chief Kamiakin of the Yakama tribe, this area is recognized as a National Natural Landmark and is worth the trek. It's an easy walk to the top, as the main trail is a well-maintained path with a few switchbacks. When you reach the butte, you'll be able to choose from several trails, such as Pine Ridge Trail, to weave your way along open vistas.
You can visit whitmancounty.org for a self-guiding nature walk brochure to learn about how this seemingly random group of pines came about. For a more challenging hike, trail run, or mountain bike session, drive 25 miles west and hit Headwaters Trail on Moscow Mountain. This hike will have fewer Palouse peek-a-boo viewpoints, but you'll get a breath of fresh autumn air in the old growth cedars and soft singletrack trail making a 3.7-mile loop. Moose, bear, and cougar can be spotted here, so take appropriate precautions.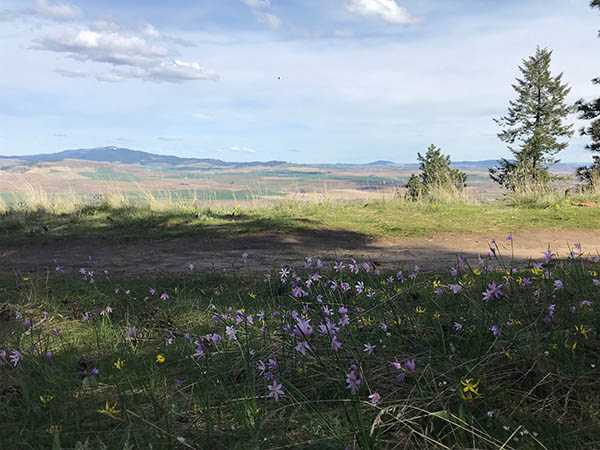 The Wine: Merry Cellars Winery is tucked up behind the Schweitzer Engineering Laboratories in Pullman, Wash. Housed in similar warehouse-style digs, the tasting room is a warmly-lit place with an expansive deck. Enjoy a glass of syrah, malbec, or Crimson, the winery's Coug-themed red wine blend consisting primarily of Cabernet Franc. With a variety of red and white wines on tap and in bottles, you'll be able to sample the gamut for a $10 tasting fee. From the tasting room, head to the outdoor patio to sip your glass among a small row of grapes tucked into the rolling hills.
Columbia Valley: Ancient Lakes Trail System and Chris Daniel Winery
The Hike: In central Washington, you can bank on sagebrush, basalt, and open, breezy views of the clouds rolling across the horizon. This primarily treeless location still has brush that flushes with the colors of fall, and the open expanse makes it easy to spot groups of white-tailed deer. The Missoula floods carved this area, so you can enjoy poking along basins and plateaus, and hunting for quartz, flint, jasper, or agates. While there are a small series of lakes and a desert waterfall, you should carry your own drinking water on this hike. The Ancient Lakes Loop connects with Potholes Trail, Dusty Lake Trail, and the Gorge Amphitheatre Trail, which offer stunning views of the Columbia River. Also in the area: rock climbing or hiking in the Frenchman Coulee near Vantage, mountain biking on Beezley Hill, and hiking on Monument Hill or in the Lenore Caves area.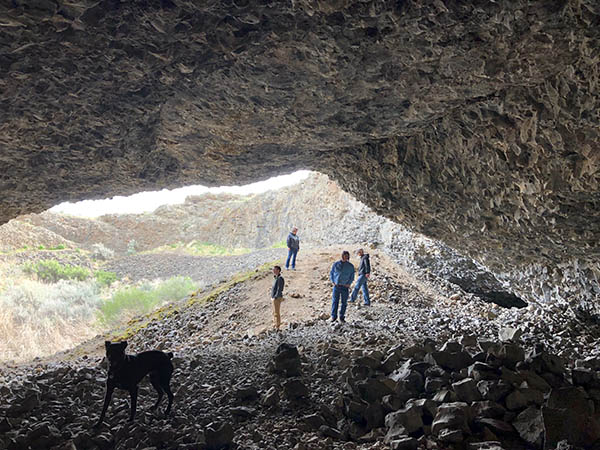 The Wine: Chris Daniel Winery is kid- and dog-friendly. With a dry, French-style viognier, a rosé blend of Bordeaux grapes, and other beautifully bold Columbia Valley wines like a petit sirah/syrah, Chris Daniel will continue the adventure via your taste buds. There's indoor and outdoor seating at this rural winery that abuts the flat farmland of central Washington. You'll want to bring your own picnic-style foods to wineries in this area. There's a network of great wineries here, including Beaumont Cellars (another rural gem tucked along an apple orchard), Cave B, Jones Winery, and wineries to the south of Vantage bridge that lead toward the Wahluke Slope.
Central Cascades: Mission Ridge, Palisades, and Chateau Faire le Pont
The Hike: A well-known ski area in winter, Mission Ridge has some great fall hiking options. You'll find plenty of singletrack and elevation through the pines, made special this time of year when the western larch turn gold. You can clock miles on Devil's Gulch trail, which includes various creek crossings and switchbacks up the side of Mission Ridge, or make a four-mile loop on Squilchuck Trail #1200 and stopover at Clara Lake. Visit Pybus Public Market before your hike to snag some fresh apples and artisan meats and cheeses to take on the trail. Consider walking through the public spaces of the nearby Palisades canyon for an away-from-it-all feeling among towering basalt plateaus.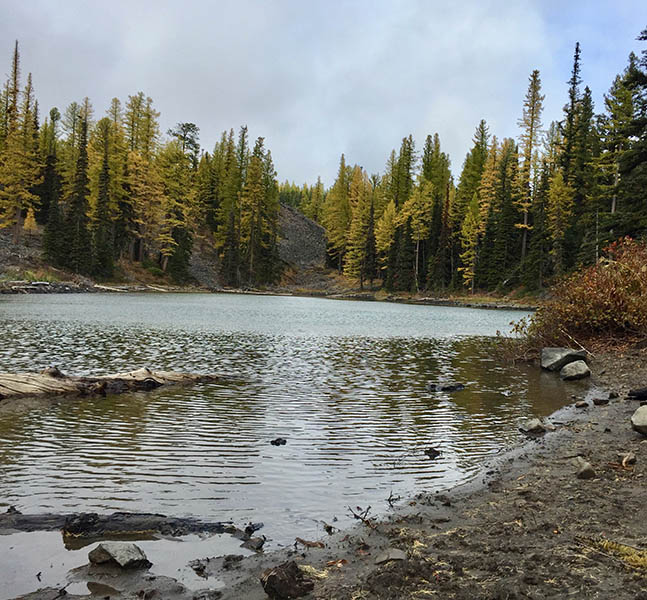 The Wine: Chateau Faire le Pont has full-varietal grenache, carménère, and petit verdot, along with some tantalizing white wines and red wine blends. The quaint tasting room houses a restaurant with full lunch and dinner menus, making it a great post-hike stop. You can find anything from a locally-sourced tenderloin salad to a Columbia River steelhead entrée. After a chilly fall hike, try a cup of the French Onion soup with a glass of tempranillo. Make it a day by visiting nearby Martin Scott Winery, which has a great view of the surrounding Wenatchee hills and river.
North Cascades: Chelan Butte, Lake Chelan-Sawtooth Wilderness, and Local Wineries
The Hike: For a hike that's close to town and looks over Lake Chelan, check out Chelan Butte. It's a little over 7 miles round-trip, and you'll gain 2,500 feet over this exposed terrain. If you're searching for trees and alpine lakes, there's plenty of neighboring backcountry options to explore in the Lake Chelan-Sawtooth Wilderness. You can even ride the Lady of the Lake passenger ferry up Lake Chelan, where it will drop you off at various hike-in trails, like Prince Creek; or, visit Stehekin, a community accessible only by water, float plane, or mountain trails. Hike the backcountry, then catch the ferry back and explore the wineries. Take note that the high-elevation destinations (think 7,000 feet plus) will feel more like winter than fall this time of year. Check Ladyofthelake.com for ferry schedules in the off-season.

The Wine: You'll have many wineries and tasting rooms to choose from in the Lake Chelan area. Visit Karma Vineyards, Nefarious Cellars, and Fielding Hills Winery tasting rooms for lakeside views. Lakechelanwinevalley.com will have a full list. Near Manson, a small town along Lake Chelan with eight tasting rooms, there is the fun and notable Winegirl Wines.
Central Washington: Richland, Red Mountain, and Horse Heaven Hills
The Hike: If you know your Washington wines, you'll know that Horse Heaven Hills is a popular AVA (American Viticultural Area). Turns out, it's also a nice place to hike. You can go nearly seven miles on this open-vista plateau just south of Benton city. It's only one of several hikes in the expansive scrub brush around the greater Tri-Cities area. Check out the Rattlesnake Slope Wildlife Area, Badger Mountain, or the Juniper Dunes Wilderness for hiking with a view of local wine country.
The Wine: If you're in western Richland, be sure to visit Tulip Lane—it's home to three wineries within walking distance, including the award-winning Barnard Griffin Winery (try their rosé of sangiovese). If you hike on Badger Mountain, you'll have easy access to Badger Mountain Vineyard & Powers Winery, with a chill tasting room that will let you peruse the vineyard rows. Goose Ridge Estate is another must-try with its notable wines, seasonal ciders, and rural-feeling outdoor seating area. Be sure to spend an afternoon exploring the many wineries on nearby Red Mountain to sample wines from one of the most unique AVAs in the state. //
Lisa Laughlin is a runner and backpacker. She grew up on a wheat farm in central Washington and loves Washington wines. She wrote about rollerblading in the August issue of Out There.