By Rebecca Gonshak
Washington Wildflower Hikes: 50 Destinations by Nathan Barnes & Jeremy Barnes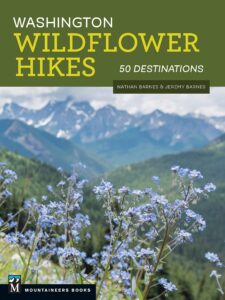 There are few things more miraculous to me than a wildflower. How can something so beautiful and delicate-seeming thrive on its own in the most unlikely environments, when I can't even keep my succulents alive? And yet before reading this book I didn't know the names for most of the wildflowers I walk past on hikes, let alone their histories and their nutritional and medicinal uses.
Using Washington Wildflower Hikes as a guidebook I've been able to better know my bio-region and the plants and animals that inhabit it. This book provides a detailed guide to 50 hikes in Washington State, including a "featured" wildflower for each hike. They give you all the practical information you could need too, including driving directions, length, elevation, and difficulty level, as well as detailed instructions for navigating the trail so that you don't miss the best views. 
Price at Auntie's Bookstore: $24.95
Where Should We Camp Next? by Stephanie & Jeremy Puglisi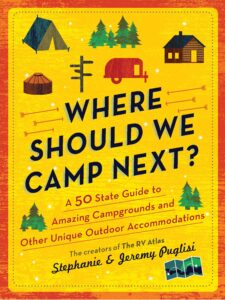 For most of us, movement has been pretty limited for the past year, and I think many people are craving an escape from the confines of their houses and apartments. Reading Where Should We Camp Next? got me dreaming of escape to a beautiful place I've never been before, where I'd sleep under the stars, kayak on pristine lakes, and hike through old-growth forests.
This 50-state guide is chock-full of great vacation ideas, no matter where in the U.S. you'd like to travel. We're lucky in the PNW to have so many beautiful parks and natural wonders within a few hours driving distance, so I especially loved the chapters for Washington, Idaho, and Montana.
After reading this book, I feel inspired to seek out the best hot springs in Idaho and go exploring in Olympic National Park. 
Price at Auntie's Bookstore: $18.99
Pacific Crest Trail: A Visual Compendium by Joshua M. Powell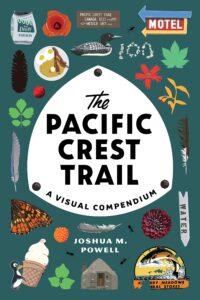 I've you've ever dreamed of hiking the entire Pacific Crest Trail, about 2,650 miles, but you want to do some research before you attempt it, this book makes you feel like you've hiked the PCT even if you haven't.
Spokane-based author Joshua Powell goes into every colorful detail of his experiences on the trail, from the eccentric characters he met along the way (people with wonderful nicknames like Whitewater and Ninja Tank), to the wildlife and landmarks he saw and the "trail angels" who offered him food and shelter along the way. He's funny and irreverent and doesn't sugarcoat the experience.
The book is full of entertaining infographics, making it a fast and fun read. Whether you want to hike the PCT or not, just reading the book gives you a taste of the adventure.
Price at Auntie's Bookstore: $21
Book reviews sponsored by Auntie's Bookstore in downtown Spokane, Wash. Support your local, independent bookstore!
Rebecca Gonshak has an MFA in creative nonfiction from Eastern Washington University and is currently a bookseller at Auntie's Bookstore and fiction co-editor for "The Swamp Magazine." This is her first contribution to Out There.
Read more book reviews in the OTO archives.