Backcountry alpine lakes are the summer equivalent of a hidden powder stash: highly coveted, accessible for only a short part of the year, and all the more special for the human-powered effort required to find them. To outsiders, the Inland Northwest is not known for its alpine lakes; the Central and North Cascades to the west and Glacier National Park to the east tend to hog all the high-alpine H2O glory. That's fine; we can keep our aquatic stashes – from the granite infinity-pool tarns of the Selkirks to the beargrass-ringed bowls of the Bitterroots and the trout-packed high-mountain shores of the Cabinets – to ourselves. Add these five hiking treks to one, two or more backcountry lakes to your secret stash.
One Lake: St. Joe Lake
Summer days see the St. Joe River in North Idaho lined with anglers working its blue-ribbon waters. Leave the camper trailers behind and visit the headwaters of this world-class river, a pretty lake tucked in the shoulder of the Bitterroots. Beginning in an expansive meadow, primitive tent sites here make a decent base camp. The St. Joe River trail works its way five casual miles through a forest of hemlock and huckleberry, the river never far from sight. On the way, admire evidence of old mining work, including a dilapidated cabin with a front-door view of a waterfall.
The forest canopy eventually opens up to steep subalpine meadows filled with fragrant hyssop, alpine forget-me-not and beargrass before reaching St. Joe Lake, tucked in a deep granite bowl. Backpackers can find several nice sites near the outlet; bring a rod. From the lake, it's a steep, mile-long climb to the ridge-running Stateline Trail on the Idaho / Montana borders and the endless blue-green vista of the Bitterroots receding in the distance. 
Getting There: Several routes access the St. Joe River trailhead; the approach from Superior, Montana is the fastest and easiest on vehicles, but an adventuresome back road drive from Highway 12 and the Lochsa River through the Clearwater River country is also a possibility for those interested in exploring deeper into the Bitterroots to the south. From Superior, Montana, drive 1 mile east on Diamond Road (State Highway 257) and turn right on FR 320. Continue on this well-graveled road 28 miles to the stateline (the Stateline Trail crosses the road here), where the road gets rougher as it descends along Medicine Creek. The trailhead is on the left just before the Medicine Creek bridge.
Two Lakes: Little Spar Lake
Although it lacks the abundance of glittering alpine lakes of the nearby Cabinet Mountains Wilderness, the Scotchman Peaks proposed wilderness area east of Lake Pend Oreille on the Idaho / Montana border is no less wild. Bounded by the Clark Fork and Bull rivers, the Scotchmans boast jagged summits, avalanche-scraped cirques, subalpine meadows and rugged, brushy drainages. From a base at drive-in Spar Lake, trek 4 miles to its junior relative, the only trail-accessible tarn in the Scotchman Peaks, to bag two lakes for the work of one.
Beginning 2 miles beyond Spar Lake, the cedar-shaded shores of which feature a quiet campground, the Little Spar Lake trail begins on an old-roadbed before turning to true tread amid pleasant hemlock forest. A creek crossing at 1.5 miles can be dicey early in the season. The trail then traverses a brushy avalanche slope high above Spar Creek where snow may linger until July, shaded by steep Star Peak on the far side of the drainage. Blooms abound, from the musty smell of fool's huckleberry to the minty fragrance of hyssop. Pass a hidden waterfall, and at 4 miles, Little Spar Lakes awaits at the base of a steep talus slope. Good, and well-used, tent sites by the lake's outlet fill up quickly on summer weekends – relative to its western Montana neighbors, at least. Van-sized granite boulders on the shore are perfect for lounging. Most hikers will be content to relax at this picturesque lake, but seasoned cross-country travelers can bushwhack to shallow Horseshoe Lake in the high heart of the Scotchmans.
Getting There: Two miles east of Troy, Montana, turn south off Highway 2 onto Lake Creek Road (FR 384). Drive 17 miles to Spar Lake Campground. From the campground, continue 2 miles to the large trailhead.
Three Lakes: Pyramid / Ball Lakes
Quick access to a trio of alpine lakes on North Idaho's Selkirk Crest, coupled with good fishing and excellent huckleberry picking, make this a popular North Idaho destination. You'll have lots of company on this trail, but you'll be too distracted by beautiful lakes and berry-picking to notice. From the large trailhead, weave three-quarters of a mile through hip-high huckleberries in thick forest to a trail junction. Bear left another half mile – made slow only by frequent stops for huckleberries – to the well-used campsites along the grassy lawn of Pyramid Lake.
Expect to find anglers working the shallow east and south shores; follow a user-maintained path to the north end of the lake for the best tent spot. Climb on blasted granite above Pyramid Lake nearly a mile to Upper and Lower Ball Lakes. Tucked into the crook of the Selkirk Crest, the boulder-rimmed shores of both Ball Lakes are quintessential Selkirk tarns. Are the Ball Lakes prettier than Pyramid? That's for you and your hiking companions to debate. For an extended trip, hike back to the trail junction and trek nearly four miles to Trout Lake and another three to Fisher Lake. Or climb over Pyramid Pass and onto the Long Canyon trail for rooftop views of the Selkirks.
Getting There: From downtown Bonners Ferry, Idaho, drive west on Riverside Street along the Kootenai River, passing the Kootenai River Wildlife Refuge. At 5 miles, bear right on West Side Road and continue another 10 miles to a junction; turn left onto Trout Creek Road (FR 634). Continue on this busy gravel road 9 miles to the road's end and trailhead.
Four Lakes: Cabinet Lakes Loop
At the southernmost extension of western Montana's Cabinet Mountains lies a little-known and lightly explored region of rugged ridgelines, expansive wildflower meadows and steep, glacier-gouged basins pockmarked with tiny lakes. The Cabinet Lakes Country doesn't get the same regard as the lofty peaks of the Cabinet Mountains Wilderness to the north, but it has its own quiet charm. With names such as Cabin, Lawn and Grass, these lakes invite relaxation. Miles of short, interconnected trails allow for trips tailored to a variety of skill and fitness levels. But the 8-mile Four Lakes Loop is the best introduction to the Cabinet Lakes Country.
Although Four Lakes Trail puts its best lake at the beginning, after just 2 miles (usually a dessert-before-dinner no-no), this route saves Cube Iron Mountain for last, a worthy trade-off. Of the Cabinet Lakes, Cabin Lake is the largest and most popular – although "popular" is a relative term here; even on a cloudless August Saturday you are not likely to find more than a handful of equestrians and anglers at the lake. Consider bringing a rod; the trout are active.
Continue on the loop over a small pass and into a flower-filled basin dotted with three shallow lakes. In an avalanche-gouged basin at the foot of Cube Iron Mountain, turn left to descend 3 miles back to the trailhead. Or continue straight to climb Cube Iron Pass and the unmarked summit trail to Cube Iron Mountain, site of a former fire lookout. The summit route is breath-takingly steep, especially in the dry heat of high summer. But the views are worth the work. 
Getting There: From Thompson Falls, Montana, drive east on Highway 200 to the Thompson River Road at milepost 56. Turn left and drive just over 6 miles – the pavement ends at 4 miles – past several small campgrounds to a junction. Bear left onto West Fork Thompson River Road (FR 603) and continue 7.5 washboarded miles to the road's end and trailhead.
Five Lakes: Ten Lakes Scenic Area
Overshadowed by its famous neighbor to the east, Glacier National Park, 40,000-acre Ten Lakes Scenic Area, just shy of the Canadian border in northwest Montana, boasts an abundance of shallow, grass-fringed lakes suited for foot-soaking amid rocky spires and wildflowers. The 10.5-mile Bluebird Basin Loop samples a handful of picturesque lakes with plenty of huckleberries as an appetizer. This is some of the best grizzly habitat in western Montana; while you're unlikely to eye a bruin, black bears, grouse and bluebirds are plentiful.
From the Bluebird Basin trailhead, climb through huckleberry-laden forest 1.5 miles to shallow – and aptly named – Paradise Lake. Continue around its grassy shores for another 10 minutes of trail time, bearing right at two junctions, to Bluebird Lake. Turn around here for a kid-friendly 5-mile hike. Otherwise, climb around 7,350-foot Green Mountain and descend to Wolverine Lakes. To complete the loop, continue another 2.5 miles to the Wolverine Lakes Trailhead, from which the 3.5-mile Clarence Ness Trail connects back to your car.
Nearby Big Therriault and Little Therriault Lake Campgrounds on the edge of the Ten Lakes Scenic Area, offer some of the best tentside views in the Northwest.
Getting There: From Eureka, Montana, drive south on Highway 93 9 miles and turn left on Graves Creek Road (FR 114). Continue on pavement, then on well-graded gravel, 28 miles to Little Therriault Lake Campground. From the campground, continue 1.8 miles to the road's end and trailhead. //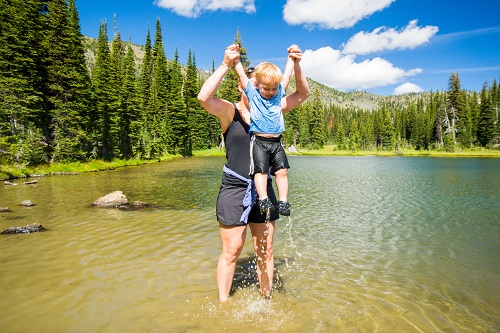 Camp Responsibly in the Backcountry
1. Practice Leave No Trace
All the things you bring to your campsite or the backcountry should be taken out with you: trash, cans and other recyclables, extra wood, food, food scraps and fuel canisters. Be a good person, and pick up any trash in your camp that others may have left.
2. Keep a Clean Camp
Pack trash and recycling bags (5 gallon buckets make great trash and recycle bins when lined with bags), and bring reusable water bottles, utensils, plates, towels, etc. to reduce waste and litter. Camp near a toilet facility to reduce human waste in natural areas, and never, ever, leave toilet paper and other human waste on the ground out in the woods–use a toilet or bury it!
3. Keep Wildlife Wild
Wild animals only stay wild when they rely on natural food sources and have a healthy fear of humans. Feeding and approaching animals isn't good for them, nor is it safe for you. Don't inadvertently feed animals by leaving food out where they can get to it. Especially if you are camping in bear country, never leave food outside or in your tent, or expect unwanted nighttime visitors. //