There is no shortage of outdoor activities to experience between the Cascades and Rocky Mountains. In case you need a bit of inspiration, here's our annual list of our favorite Inland Northwest summer adventures!
Get your horseback trail riding fix with Spokane Trail Riding & Boarding just south of Spokane.
Tube, kayak, or SUP the lower Spokane River between Peaceful Valley and the TJ Meenach Bridge area. Ongoing construction will make river recreation access at the traditional take-out spot challenging, so consider alternatives, including taking out farther downstream at the wastewater treatment plant upstream from the Class III Bowl & Pitcher rapid. FLOW Adventures typically offers shuttles and tube rentals if you want to simplify all that.
Ride the 15-mile scenic stretch of the Trail of the Coeur d'Alenes from Plummer to Harrison, Idaho. The trail is paved and elevation lowers in that direction, making it a great choice for infrequent riders and kids. The public beach in Harrison is a welcome destination with swimming. Enjoy a sweet, shady park and several restaurants and pubs. Set up your shuttle with The Cycle Haus in Harrison or double your mileage and ride back to Plummer.
Take a brewery tour by bike along the Trail of the Coeur d'Alenes, with stops at the North Idaho Mountain Brew/City Limits Pub and Wallace Brewing in Wallace, Idaho, and Radio Brewing in Kellogg. Call the Wallace Inn for shuttle information.
Bike with some friends to a local park and have a barbecue dinner using the grills you can find at parks like Bowl & Pitcher in Riverside State Park in Spokane. Bring foil to protect your food from any unwanted grill contaminants.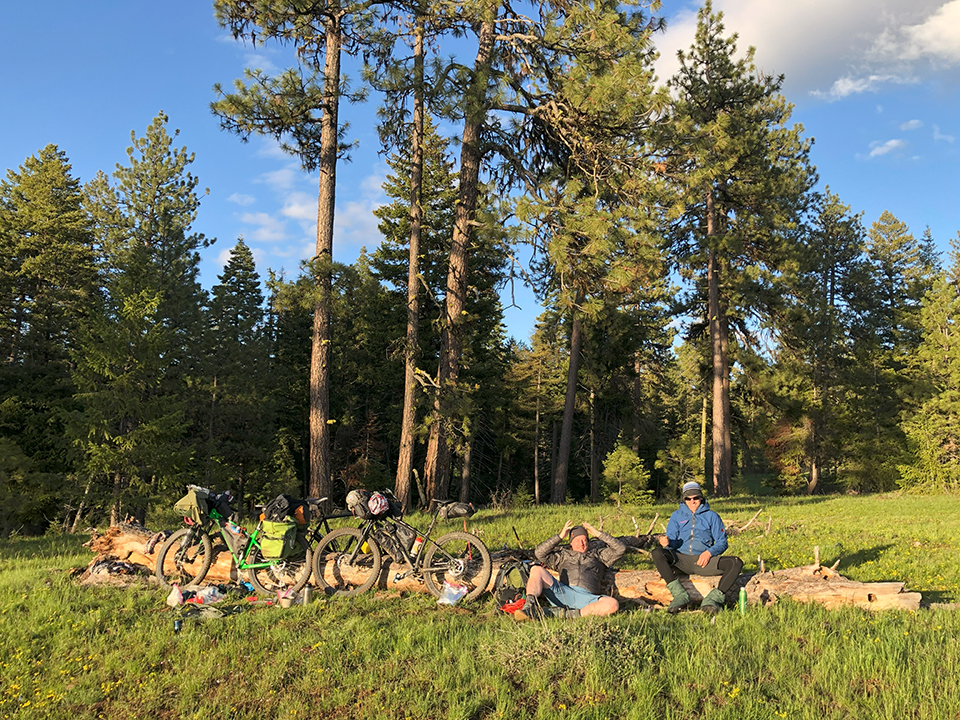 Run the clothing-optional Bare Buns Fun Run July 30 north of Spokane near Deer Lake. Summer is all about being free, right?
Enjoy a gravity-fueled ride from Lookout Pass on the mixed-surface NorPac rail trail to Mullan, Idaho, then hop on the paved Trail of the Coeur d'Alenes and roll all the way to Wallace. Call the Wallace Inn for shuttle options.
Start a bird list of all of the amazing avian species you can find in our area. Get a regional birding app or book to help and check out the Audubon Society website.
Check out the Doris Morrison Learning Center at Saltese Flats near Liberty Lake, Wash., to learn about the restored wetlands. Then take a hike or ride on the Saltese Uplands trails.
Take a tour of urban wild areas and historic places downtown Spokane with the local tour company Wander Spokane.
Hike the Whistler Canyon area near Oroville, Washington. Hike options range from a few miles to all-day epics. Keep a look out for birds and other wildlife including rattlesnakes and mountain goats.
Find a big, beautiful tree in a natural area near your house and lay down under it for a quiet shift in perspective.
Crack open rocks in search of fossils at the Stonerose Interpretive Center and Eocene Fossil Site in Republic in Northeast Washington.
Bike the Ferry County Rail Trail near Republic in Northeast Washington, then hit the Republic Brewing Company.
Bike the Columbia Plateau Trail from Cheney out to Amber or Downs Lakes to go fishing.
Do a local long day hike across one or more linked trail systems in the Spokane area using an STA bus as a shuttle. Creative options could include sections of trails in one or more of these areas: Riverside State Park, the Little Spokane River Natural Area, the High Drive Bluff, Dishman Hills, and Mica/Liberty Lake area.
Get an archery set up and start learning to shoot a bow.
Camp at the campground at Mount Spokane or rent one of the condos if available and bike or hike for several days. Peak berry season will soon be upon us, and you can pick your limit here.
Set up a shuttle and mountain bike the back roads from Mount Spokane all the way down to Spirit Lake.
Paddleboard a quiet bay on Lake Pend Oreille.
Visit a fish hatchery to learn about Inland Northwest fish, including the Washington Department of Fish and Wildlife one in north Spokane.
Take a tour of Grand Coulee Dam or one of the other dams in the Columbia Gorge.
Look for the elusive bighorn sheep on Lake Roosevelt in Eastern Washington via boat, back roads, or kayak.
Hike or trail run your own Little Spokane River shuttle instead of driving two cars. Or use the Spokane Parks & Recreation shuttle service.
Find a friend with a wake surfing boat or rent one and surf your favorite lake.
Take an urban hike happy hour, hitting up favorite bars and breweries while sticking to back streets, alleys, and pathways as much as possible.
Walk or bike all of the pedestrian-friendly bridges over the Spokane River in Riverfront Park downtown Spokane, including below the falls to Sandifur Bridge.
Take a dog for a walk from the Humane Society or from another animal shelter.
Visit as many parks as you can in the great Spokane area to see some pretty cool outdoor spaces and win prizes with the Greater Spokane Parks Challenge (see the article in this issue's Dispatches section for details).
Join a full moon group bike ride or create your own.
Did you know that swinging on a swing set can help with anxiety? Go swinging at a park you've never been too. Try listening to some relaxing tunes or a meditation app while you do it.
Sign up for a women's writing retreat in Yellowstone National Park in September with local author and Out There writer Ammi Midstokke (Wideopenwriting.com/yellowstone-2023).
Hike as many of the Spokane Conservation Futures conservation areas as you can (find maps and directions at the Spokane County Conservation Futures website).
Hike the John C. Pointner Memorial Wildlife Sanctuary at Cougar Bay a few miles south of Coeur d'Alene on Highway 95.
Invite family or friends to ride the Route of the Hiawatha. The 15-mile (one way) crushed rock surface trail has a mellow grade. It includes a ride through nine long, dark train tunnels and across seven trestles with scenic mountain terrain all around. Shuttles and bike rentals are available along with trail tickets.
Join one of the many Dishman Hills Conservancy hikes and other outdoor events as a way to explore this urban wildland with other people.
Participate in Summer Parkways on June 21 on Spokane's South Hill and join other people on bike and foot as they enjoy the full use of a road near Manito Park for the evening.
Take a hike on Spokane's High Drive Bluff trails and then get ice cream at The Scoop on the South Hill.
Join an outdoor yoga class. There's a free one for all abilities in the morning at the Spokatopia Festival at Camp Sekani Park in Spokane on July 8.
Set your TV up outside or a movie screen and invite some friends or neighbors over to watch an outdoor movie or documentary.
Go try out new mountain bikes and e-bikes at Spokatopia at Camp Sekani Park July 8, then listen to live bands and enjoy some adult beverages in support of Evergreen East and local mountain bike trails.
Go rollerblading on the Centennial Trail.
Go to an outdoor music festival or show, like the Festival at Sandpoint, the Spokane Pavilion at Riverfront Park, the Moscow Mountain Music Festival, the 90s Flannel Fest in Moses Lake, and many other great outdoor music festivals that have popped up since the pandemic.
Rent a raft from one of the university or college outdoor programs and take on the upper Spokane (Class II) or Clark Fork (Class III).
Catch brook trout on a fly rod at Fish Lake near downtown Spokane. Go on your own or book a guided fishing session with Fly Fish Spokane to get the lake dialed quick. Make a day of it by biking out to the lake on the Fish Lake Trail from downtown Spokane with your fly rod.
Find a new book from the library or local book store and bike to a park or natural area to read outside all day. Did you know you can also check out a Discover Pass from Spokane libraries?
Bike a section or the entire International Selkirk Loop that connects super-scenic sections of backroads in Washington, Idaho, and British Columbia.
Pick up a copy of the new-ish "Spokane Bouldering" guide and start exploring local climbing challenges with your crash pad.
Ride some of the new trails at Moscow Mountain in the Palouse.
If you're not lucky enough to live in Sandpoint, plan a multi-day mountain biking trip or several weekends to finally ride the major trail systems near town: Syringa, Schweitzer, Mineral Point, Gold Hill, and Bernard Peak.
Bikepack all or part of the Adventure Cycling Association-mapped Idaho Hot Springs Loop bikepacking route, which consists of over 500 miles of mostly un-paved roads as well as 200+ miles of optional singletrack and 50 hot springs.
Ride all or part of the Palouse to Cascades Trail across Washington from North Bend to the WA/ID border.
Plan a trip to the Bonners Ferry area to bike some of the awesome mountain bike trails in the area, including the Enchanted Forest, Brush Lake, and many others you can find on Trailforks.
Explore some loop trails you've never hiked in the Dishman Hills in Spokane Valley. Centrally located, with mellow trails and a variety of loop distances, you can check out a new hike here one night after work every week or so all summer long!
Try different kayaks, paddleboards, canoes, and other water toys at Boulder Beach as part of Spokatopia on July 8.
Hike to some of Spokane's best views: Rocks of Sharon in the Dishman Hills, Mount Spokane, Antoine Peak, Palisades, the summit along the Knothead Loop in the Little Spokane River Natural Area, or the Saltese Uplands.
Take an early summer hike to Kamiak Butte near Pullman to marvel at the wildflowers. Set up a hammock and hang out a while.
Take some hikes in the Zumwalt Prairie near Joseph, Ore., and enjoy the beautiful prairie meadows and frequent wildlife sightings.
Hike into one of Idaho's many natural hot springs and leave it better off than when you arrived by cleaning up any trash.
Rent an adventure van for a hiking, mountain biking, paddling, or climbing road trip to B.C., the Cascades, Bend, Central Idaho, or Montana.
Paddle the Pend Oreille River Water Trail near Newport, Wash.
Learn how to fly-fish. Take a class from one of several regional fly shops that offer guided trips and lessons.
Rent a kayak or SUP from Fun Unlimited under the Division Street bridge downtown Spokane and paddle up river for Thai food at Bangkok Thai. If you live close enough, bike on the Centennial Trail to the put-in for some extra exercise.
Hike a section or two of the Pacific Northwest Trail that runs from the Washington Coast to Glacier National Park to get a taste of what a thru hike would be like
Visit the spectacular Kootenai Falls in western Montana and take the time to hike to all of the viewpoints.
Pedal a "RailRider" on retired railroad tracks along the Pend Oreille River near Metaline Falls, Wash.
Raft or kayak as many rivers within 200 miles of Spokane/CDA as you can: Lochsa, Spokane, Moyie, St. Joe, Lower Salmon, Clark Fork, Wenatchee, Methow, Salmo, Lower Selway, Grand Ronde, etc. Guided trips are offered for most of these rivers, and they are all possible on your own if you have the right gear and river rafting experience.
Go ziplining at Silverstreak Zip Tours, Timberline Adventures, or Mica Moon.
Jump out of an airplane on a tandem skydive with Skydive West Plains west of Spokane.
Race your mountain bike as part of the Wednesday night mountain bike races in May and June at Riverside State Park, or the "5 in July" series at Farragut State Park.
Mountain bike or hike the Empire Trails in Spirit Lake, Idaho.
Keep a wildlife log of all of the different species of wildlife you see over the summer and make trips to places where you have a better chance to encounter critters you really want to see.
Ride one or more of the Idaho Panhandle Gravel Series gravel rides.
Ride the Wallowa Lake Tramway, a 3,700' gondola ride to the summit of Mt. Howard near Joseph, Ore.
Take the Wallowa County barn tour and visit 31 beautiful, historic barns in the stunning Northeast corner of Oregon.
Ride the Seven Summits Trail in Rossland, B.C. There are plenty of shorter but equally gnarly rides around town too.
Paddle or boat to one of the islands in Priest Lake—some are day-use only, and Kalispell, Bartoo, and Fourmile islands have rustic campsites.
Take a morning or evening drive or bike tour along the Turnbull National Wildlife Refuge auto tour loop near Cheney to spot birds and wildlife. There are several trails and wildlife viewing areas along the way.
Drive to the dramatic Selway Falls east of Lewiston, Idaho, then find a beach downriver and go for a swim.
Go kite boarding on the Columbia River near Hood River, Ore., or mountain bike the trails around town. One of our favorites is Surveyor's Ridge Trail.
Drive part of the historic Lewis & Clark Trail between Lewiston, Idaho, and Missoula, Mont., near Highway 12 and do some day hikes along the Lochsa River.
Give back to the hiking, biking, and running trails you love by spending a day volunteering doing trail work with Evergreen East, Washington Trails Association, Idaho Trails Association, Pend Oreille Pedalers, or Lake City Trail Alliance.
Take a tour of small-town museums in just about any region of the Inland Northwest. Hit up any local thrift stores while you're at it!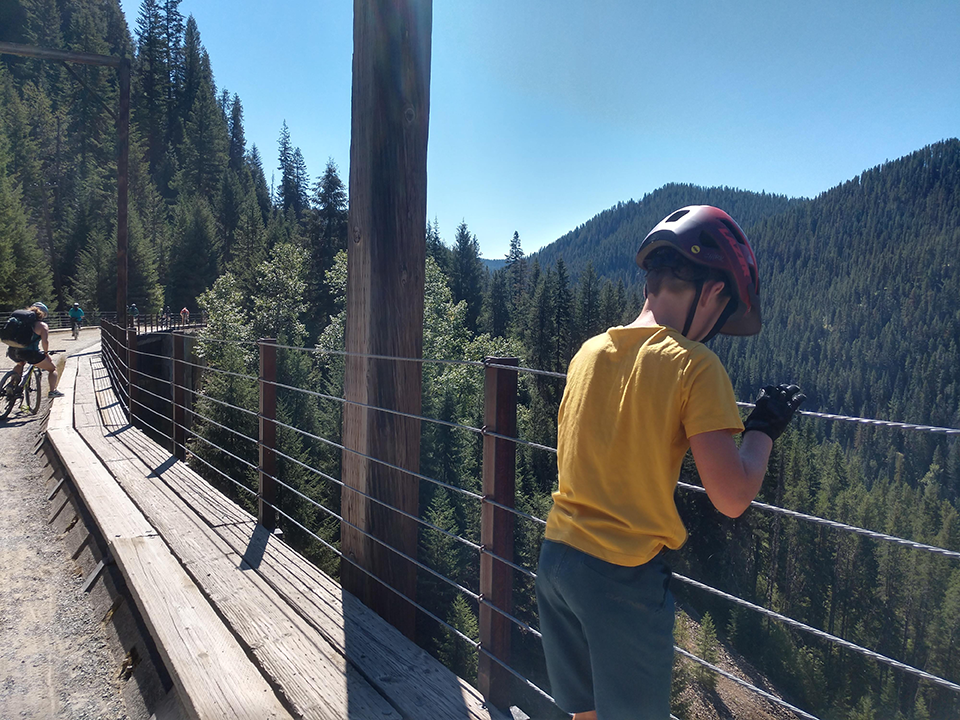 Go whitewater rafting for a day in Riggins, Idaho's "whitewater capital." Stay for a few days and bring your gravel or road bike for some awesome early morning rides up the canyons.
Go kayaking or boating on Lake Roosevelt and picnic on one of its many sandy, primitive beaches. Try to catch a walleye.
Go to one of the great events Schweitzer has planned this summer and make a weekend of it hiking and biking on the mountain.
Bike or walk downtown Spokane's Cork District to visit local wine tasting spots.
Tube the Touchet River at Lewis and Clark Trail State Park, near Dayton, Washington.
Explore Gardner Cave at Crawford State Park Heritage Site, near Metaline Falls, Wash., on a ranger-led tour.
Go swimming and play or nap in the sand at City Beach in Sandpoint.
Tube the North Fork of the Coeur d'Alene River.
Visit the Hobo Cedar Grove Botanical Area in North Idaho to see what Inland Northwest trees used to look like.
Hike or mountain bike the Sherman Peak Loop or Jungle Hill off Sherman Pass in Northeast Washington's Kettle Range.
Paddle around the Moses Lake Water Trail in Moses Lake, Wash. Stop for wine refreshments at the Camas Cove Cellars dock.
Take a hike in active wolf country and see if you can hear the haunting sound of wolves howling on an early morning or evening hike. Leave your fur friends at home for this one.
Swim across a bay at your favorite lake. Have a friend on a boat, kayak, or paddleboard go with you for safety and to make sure other boaters see you. If you're on your own, swim around a bay hugging the shoreline.
Take a hike along the Hells Canyon rim and score top-of-the-world views at Hat Point Overlook.
Bike the Sacagawea Heritage Trail, a 23-mile paved path along the Columbia River in the Tri-Cities. If you're on the hunt for singletrack, hit up the Badger Mountain trails in the area.
Drive through the Palouse, alive with color this time of year, to Palouse Falls viewpoint. Bring your own snacks, as there aren't many facilities along the way.
Volunteer at a local road race or trail running race. You can get in on the hype without the training and physical work. It's super rewarding to be part of the support crew.
Bike or walk to any number of our local farmers' markets and load up on the fresh produce spoils of the season. //