I am a long-time road biker, and I have an obsession for hills, which makes living in Spokane something akin to a kid in a candy store. Steep hills immediately prompt three questions for me:  1) Can I make it up this son-of-a-buck without stopping? 2) What is the slope/grade of this incline? 3) What top speed can I hit cruising down this baby?  (I should share my rule that I do not indulge the pleasure of a hill's descent unless I have earned the right by first climbing the bugger.)
Last summer I ordered a $25 Sky Mounti inclinometer from Adventure Cycling Association and launched into my "Top-Ten Hills Project."  My inclinometer obviously doesn't have the digital accuracy of a computer, but it's close enough for our purposes (plus or minus a percent or so). So, here is my "Top-Ten Spokane-Area Hills" list. In order to qualify as a "hill," it had to meet three conditions:  1) It obviously had to have a significant "steepness" factor; 2) It had to be paved; and 3) The challenge part had to be close to a mile in distance. The rankings are based on one criterion only: the degree of difficulty. You hill-climbers know exactly what this means. Your computer can't give you this reading, but your brain/heart/lungs/legs will give it to you loud and clear!  The "degree of difficulty" is simply how hard you have to work to make it to the top!
# 1:  White Road. No doubt about it, this is the ultimate gut-buster, and a lot of Spokane riders have never heard of it. From where Hatch Road meets Highway 195, head south just a quarter-mile and turn right and you're there. First-timers will utter an "OMG" at first glimpse (and then another "OMG" at the end – One Monster Grade!). You are immediately greeted with a 19%, which settles down a bit to between 14 and 17 %. Even though it's just 3/4 mile to the crest, it feels like an eternity. You'll hear words come out of your mouth that you didn't even know were in your vocabulary!  From the crest of the hill, continue half a mile to Cedar, a good connector road. (Warning: if you are tempted to reward yourself with a descent on White Road Hill, you could end up as a large grease spot on Highway 195. Not recommended!)
#2: Freya Hill. Freya is the Norse goddess of love and beauty, and this hill is definitely a beaut!  Everybody has driven up the South Hill on Freya, but pumping a bicycle up it gives you a whole new appreciation. From the bottom (11th) to the crown at 25th is exactly a mile. You will be greeted with a 19% challenge in two different stretches on this mother. One rather unique feature of the brutal section (half-mile) is that your legs get a brief respite when you cross 16th and 17th. Don't worry about the traffic. There is sufficient rider room, and drivers probably are in awe of your determination (or idiocy).
#3: Charles Road Hill. Charles Road is the main street of Nine Mile Falls. If you leave your car at Sontag Park (that's also where the Centennial Trail begins), you'll need to ride about five miles northwest before you meet Charles Road Hill. This is an unrelenting mile and a half pull at 8 to 12 % most of the way. Then turn around and treat yourself to one of the best "downhillers" around. (Caution: I can tell you from a terrifying out-of-control experience I had a number of years ago, this hill is deceptively fast. Don't even think about a no-brake coast!  I almost didn't live to tell about it.)
#4: Tower Mountain (a dead-ender). Just a stone's throw west from the intersections of Palouse Hwy and 57th, you'll find the beginning of Ben Burr Road. It's about three miles from there to the end of the climb at the KHQ gate. The last mile is the piece of work (between 11-15 %). Those hairpins will definitely warm up your brakes on the way down.
#5: Carnahan Hill. Carnahan, the dividing line between the South Hill and Spokane Valley, takes you up to Glenrose Prairie from 8th Ave. via Hartson. The half-mile steep section is in the 11-14 % range; there is not much shoulder, so you just have to hold your own. For whatever it's worth, it is pretty easy to hit 50 mph going down Carnahan.
#6: West 44th (another dead-ender). From the intersection of 37th and Glenrose, head east and follow the "dog-leg" which will become 44th. It's 1.75 miles to the ridge (Park Lane, which rewards you with a spectacular view of the Dishman-Mica valley to the east). The last ¾ mile is the grind, and there is one fairly short "wall" that will force you up on your pedals – an 18-19 percenter!  Heading down, you can hit 50 on this one, too, but that 90 degree bend comes real fast!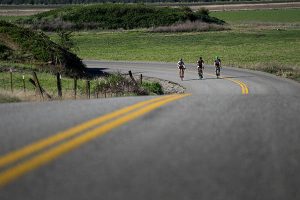 #7: Lehman Road. Another little-known but worthy challenge. From the intersection of Argonne and Wellesley, head east (less than half a mile) and the left bend of the road is the beginning of Lehman (and a good spot to leave your vehicle). The hill is just under a mile – my inclinometer topped out at 13% on the lower section (even though the sign at the top says 15%) and the upper portion calms down to 6-7%. (Suggestion: Turn right at the top and do the "Arbor Crest" loop back to your vehicle (4.5 miles, two of which are good gravel).
#8: Greenwood Road. Greenwood heads west from Government Way (the intersection is just south of the cemeteries). As you start cranking, stay to the right at the "Y."  This is a legitimate mile-long pull that moves up into the 12–14% range in a couple different places. Rimrock Drive signals the end of the climb, although Greenwood continues another half-mile to the intersection at Grove. If you prefer to coast back down, keep it slow so that you can enjoy a nice panoramic view of Spokane.
#9: Hatch Road. Hangman Valley Loop riders know this one well – the connector of Highway 195 and 57th. It's 1.3 miles from the Hangman turnoff to the top (7-8% on the lower end and down to 5% further up). Unfortunately, the real challenge isn't the incline; it's the frustration of no-shoulder. This is absolutely the most "unsafe" hill to climb. (City and County, please do something about this dangerous situation!)
#10: Four Mounds. Take Seven-Mile Road off of Highway 291 several miles west to the Four Mounds/Coulee Hite "Y." If you are still driving, you need to park there, head out on the right fork and you will soon encounter this mile-long hill (middle half is the work at 9-10 %). This is a fun down-hiller, but another option is to skip the thrill and keep going on a 20-mile loop (part of a Spokefest route). Continue to Wood, turn left, left again at Coulee Hite, and back down to your starting point at the "Y."
Runners Up: By the way, to all the runners-up – Greenbluff, Southeast Blvd, Five-Mile North, Big Sandy, Forker Road, Maple/Walnut/Cedar/High Drive, Eagleridge, Madison (off Dishman Mica), Valley Chapel grade, Bella Vista hills –sorry you didn't quite "make-the-grade," but you definitely contribute to the wonderful variety of riding experiences that our Spokane-area offers to cyclists. Please do not feel slighted; you should be proud that your inclines are more frequently ridden and actually enjoyed without "taxing to the max."
Do I hear, "What the heck happened to Mt. Spokane?"  Well, good question – and here is the simple answer. Mt. Spokane is more than a hill; it's a mountain, so it has to be in a different category. By all means, it needs to be recognized (and challenged). I had not ridden Mt. Spokane in years, so I included it on my "to-climb" list last summer. Here is the scoop: From Bear Creek Lodge (just outside the Mt. Spokane State Park entrance at elevation 3,110), it is about eight miles to the almost 6,000 foot top of the mountain. Unlike some of the killer hills in my "Top Ten," there are no stretches in the "brutal" category. The steepest range is 10 – 12%. Mt. Spokane's challenge is, simply put, a steady grind. (Stay hydrated!) And on the way down, you are in jeopardy if you don't use your feather-braking skills!
So, fellow cyclists, head for the hills. Maybe we should design a patch that one can only earn after having "conquered"** all 10 of these super grades. It could read, "I CLIMBED THE BIG 10; NOW I CAN DIE."  (If that doesn't make any sense, re-read the title above.)
**Defined as "without stopping." Sorry, but getting off the bike to catch one's breath is a DQ! // (Ed Merz)