New Spokane-Area Program Launched for Middle and High School Kids
Mountain biking is fun. It promotes a healthy lifestyle. It's a sport you can do your entire life. So doesn't it make sense to start when you're young so you can enjoy the fun for years? Now is an excellent time to get your middle or high schooler into mountain bike racing, thanks to the efforts of local volunteer coaches who got a program rolling in 2015.
Brad Hamby, Travis Coleman, and Alec Josephson were looking for a way to promote cycling and give back to the sport. Josephson coached the middle schoolers and Coleman coached the high school kids. Hamby was the glue that held them together and worked everything out with the Washington Student Cycling League. Interest has grown, so this year there will be two teams. Hamby and Coleman will coach the Spokane team. Chris Andreasen, a former pro downhill racer, and Josephson will head up a Spokane Valley team.
The Washington Student Cycling League (WSCL) is the governing league for the state. Because most of the Idaho high school mountain bike racing takes place in the southern part of the state, North Idaho kids can also participate in the Washington league.
The mountain bike-racing season begins with practices in March or when the snow melts, whichever happens first. Along with their twice-a-week practices, the teams will have the opportunity to participate in the Wednesday Night Mountain Bike Races that begin in May. Teams have only four league races to participate in between April and the end of the school year. They cap off the year with the state championship races, which will be held in Spokane at Camp Sekani/Beacon Hill.
Parents and adult volunteers can ride during practices as long as they are registered with the WSCL. Last year, after seeing how much fun it was and how mountain biking can be a family activity, some parents took up the sport themselves. The coaches found that having parents ride along at practices was especially helpful for the middle school kids because of the wide range of both skill level and equipment among them.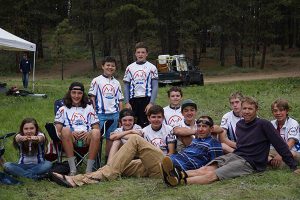 Practices are held twice a week. Wednesday is a skills day and Saturday focuses on endurance. Generally, the practice for the high school kids is faster and more technical, but they regroup often so nobody is left behind. A typical skills session involves demonstrating and discussing a trail section and then observing or following a rider and critiquing or advising them as they navigate it. For the endurance session, the coaches will have the riders do something fun. One rider is sent out and the rest of them catch her. Then a different rider is sent out and everyone chases that one down.
Five to 10 members on each middle and high school team is ideal. Hamby says the long-term goal is to grow large enough to create an Eastern Washington division, which would require 100-150 kids. A local division would allow the kids to race without having to travel to the west side, and it would provide an opportunity to compete in more than just the state championship. Races for the middle school and beginner high school kids last about 40 minutes. Intermediate and junior varsity go for 70-90 minutes. A varsity race can be two hours long.
As with any sport, there are financial and time demands for team members, volunteers and parents. Bikes, shoes, helmets, league fees, racing kits, and travel to practices and races can add up. There's an annual fee for WSCL membership and insurance for each rider, but the league offers scholarships for those who need financial assistance. Local sponsorship has been helpful as well. Last year the River City Red Cycling Team, along with The Bike Hub, Two Wheel Transit, and Wheel Sport bike shops, chipped in for fee support and subsidized the costs of racing kits.
Travel to the races requires parental involvement as coaches are not allowed to transport team members. To help reduce travel costs, races are usually held in places where camping is allowed, which in itself makes for a fun family outing.
Cool people ride mountain bikes. Kids want to be cool. Follow the logic. Sign your young person up and watch how big they smile while they're riding. For more information about joining a team, contact The Bike Hub, Wheel Sport, or Two Wheel Transit bike shops. You can find information about the league at www.washingtonleague.org/program. //