Picture snow. That snow is polka dotted with cross-country skiers laughing as they make their way across white clearings and curving trails to a warming hut for free cider and soup. Picture kids frantically racing to the finish line for a donut. Envision booths, vendors, prizes, and scavenger hunts. Picture yourself swooshing down quiet trails while pine boughs sprinkle snow dust in the spaces between trees. Imagine this and you have Spokane Nordic Ski Association's annual Winterfest.
This year's third annual Winterfest will be Saturday, January 24. Events run from 9 a.m. until 4 p.m. Winterfest is designed to introduce the community to cross-country skiing, but if you need extra motivation there's always the donuts. Morning features the Donut Dash relay race, where two-person teams ski in a 100-yard dash and the winners, you guessed it, get a donut. All ages are welcome. Race registration is preferred by January 20, but organizers are willing to work in warm and willing bodies the day of the event too.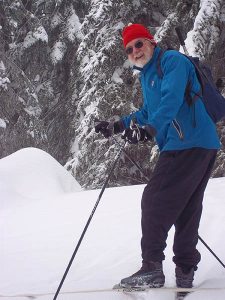 For those not inclined to sprint, or who want to brush up on their existent or emerging cross-country ski skills, the morning starts with 45-minute ski lessons by PSIA-certified instructors ($5/person), along with waxing and backcountry ski clinics (free). For those wanting to include their canine buddies in the powdery fun, there is a skijoring clinic at 1 p.m.
Lunch is also included. Winterfest offers several ways to ski to Nova Hut for cider and soup: the Moose Droppings scavenger hunt, the guided backcountry ski, a guided lesson on the marked trails, or venturing there on your own. A full day of friends and fun activities topped off by a warm lunch and cider at the end of the trail — who could ask for more?
Outside of the Selkirk Lodge, you'll find more of the good stuff. Tents and booths will be onsite with vendors and goodies. Fitness Fanatics is there that day (and every weekend throughout the season) with gear rentals. Inside Selkirk Lodge, organizers will hold a silent auction with vacation packages, gear, and other items. The proceeds benefit the Spokane Nordic Ski Association, which is responsible for maintaining the lodge and warming huts, grooming all those beautiful trails, and clearing brush and debris from trails year around. It provides maps, signs, and land lease costs for the 36 miles of trails in the Mt. Spokane Cross-Country Ski Park.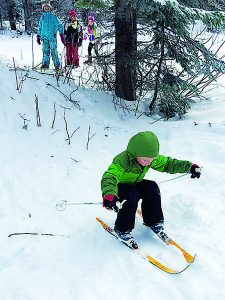 SNSA is also in charge of the Nordic Kids program, and the transition and race teams that compete throughout the region as part of the Pacific Northwest Ski Association. Last year Nordic Kids had more than 130 registered participants, and four members of the race team qualified for and raced at Nationals.
SNSA recently hired an Executive Director, Todd Dunfield, to head the non-profit. Todd hopes to expand SNSA in the next few years. Winterfest is just one of the organization's main events that gets kids, dogs, and adults of all ages outside and enjoying the wondrous white that the trails have to offer.
Sno-Park passes are required the day of the event ($80/year, $20/day) and need to be paired with a Discover Pass, so carpool if possible. Passes are available at a kiosk at Selkirk Lodge, at winter sports stores in Spokane, or at the state parks website. More info: Spokanenordic.org. // (Crystal Atamian)