Chris & Beccie White, Mt. Spokane
There are ski families, and then there are Ski Families. And one of the most hardcore ones in Spokane are Chris and Beccie White and their two teenage kids. Neither Chris, originally from Seattle, nor Beccie, from Colville, grew up as skiers. "I started skiing late—probably not until I was 20," says Chris, 41. Beccie, 36, says she was initially scared of skiing, and figured it would feel too cold and wet. But Chris persuaded her to try it, at age 24, with a 1-2-3 EZ lesson and rental package at Mt. Spokane. Their son and daughter, Damon and Ashley, would also learn to ski at Mt. Spokane at age 5.
It was Mt. Spokane's all-around friendly vibe that compelled them to make it their go-to destination. Beccie says, "We always felt welcomed when we went into the lodge and while we were skiing. The lifties, ski host, or anyone working at the mountain made people feel welcome—would ask how you're doing, [and] are you having fun."
It was during a family ski day that Chris, on a whim, decided to take the patrol ski test—while wearing his Carhartt hooded-jacket, Beccie recalls. The next ski season Chris was wearing his official red patrol jacket for the rigorous on-mountain portions of the National Ski Patrol Outdoor Emergency Care (OEC) training program. After his candidate training year, he was a certified ski patroller. Beccie, at that time still a beginner skier, says, "Once Chris was on patrol and the kids and I could get season passes, we were up there nearly every weekend and could ski with others who skied well, so I got better."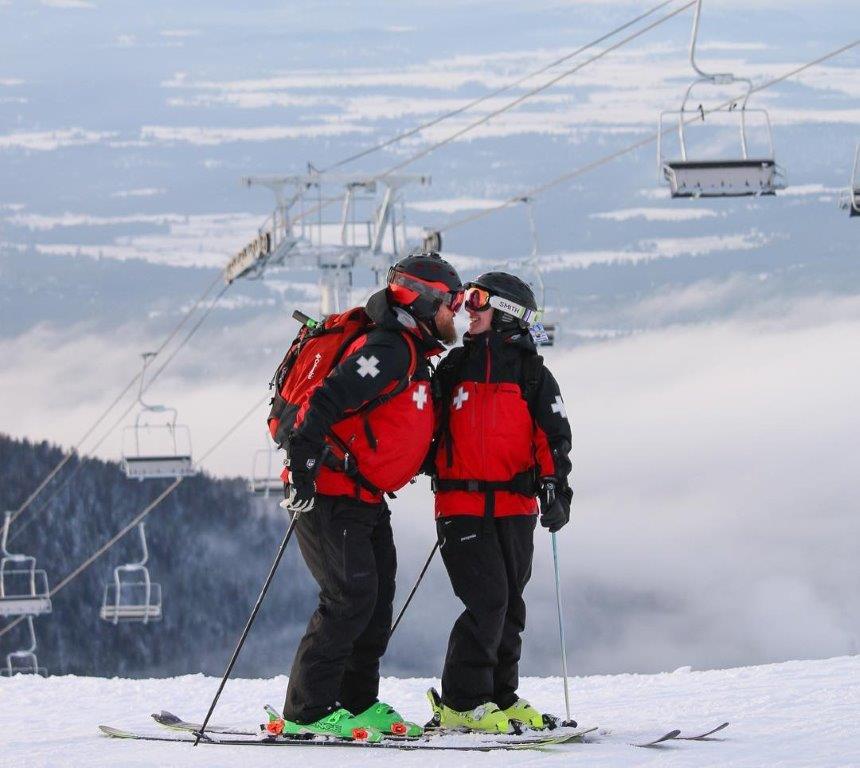 Now Chris and Beccie are both certified members of National Ski Patrol for Mt. Spokane's all-volunteer patrol organization. Chris is starting his ninth patrol season and Beccie her fourth, after completing her candidate training during the 2015-16 season. Mt. Spokane is an extension of home for the Whites. "It's nice to raise our kids in that environment. Because neither of us grew up in families who skied, to live close and be part of that kind of ski community" inspires their devotion, says Beccie.
"Our extended family is up there," says Chris—their "winter family" of fellow skiers and patrollers. "It's definitely because we became patrollers that we fell in love with Mt. Spokane…The skiing isn't the same as other mountains, but it feels like a home there. I'm drawn more to that than exotic destinations."
Beccie's favorite runs are off Chair 6, which opened last year, while Chris is usually dropping into the trees between runs, seeking untracked powder or a new challenge. And they love skiing with their kids. In fact, Damon, who's almost 16 and in 10th grade at Rogers High School, has joined them on patrol—completing his candidate training last season. "There's the definitive 'proud papa' moments seeing your son in his red coat," says Chris, who is also a certified OEC instructor. Damon is formally certified as a "Ski Patrol Youth," also known as a junior patroller, and completes patrol duties with an adult mentor.
The Whites also work in the outdoor recreation industry—Beccie works for REI and Chris is manager of the Wheel Sport store in north Spokane. He says, "I'm counting the days" until Mt. Spokane opens.
Mike & Janell Lukes, Silver Mountain
Ever since the gondola debuted in 1990, when Mike was 13, he has been a devoted fan of Silver Mountain. Along with his parents, Craig and Kim Lukes, and sister, they were season passholders and weekend regulars. "My dad's Suburban was the neighborhood ski bus—never an empty seat," says Mike, who grew up in Spokane Valley. His parents first taught him to ski at age 6 at Mt. Spokane. "There were a couple seasons where we had season passes at both Silver and Mt. Spokane," he says.
Young Mike loved flying down Silver's steep runs, which prepared him to be a youth ski racer at Mt. Spokane and then a member of the University of Idaho's alpine ski racing team. For the past 10 years, he's been a Silver passholder again. Now 38, Mike skis at Silver with his wife, Janell, and has been teaching their 6-year-old son to ski. Mike's parents are still dual passholders at Silver and Mt. Spokane.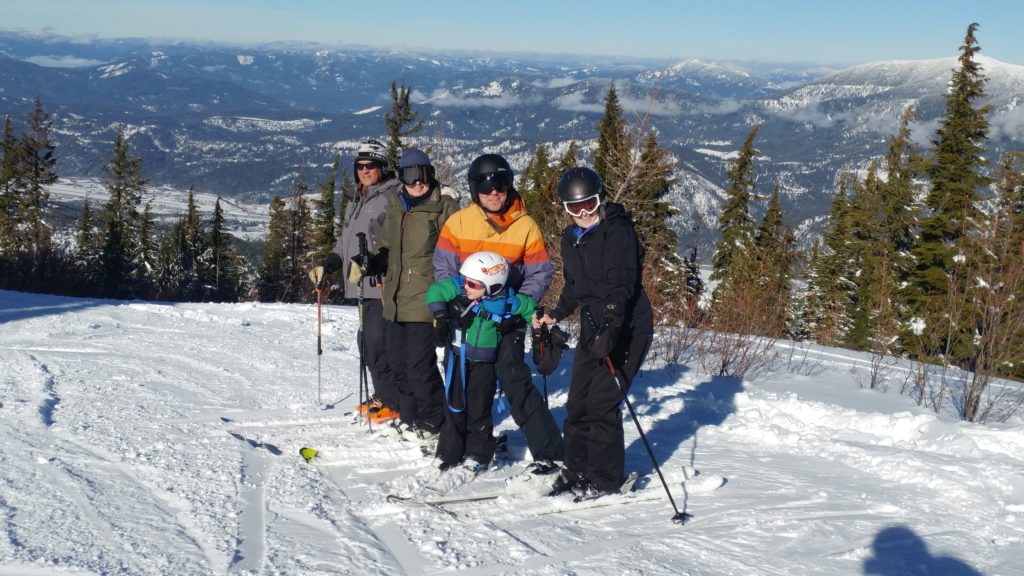 Mike and Janell rent a locker at Silver's lodge, making it easier to get ready as a family. They say the bunny hill and "moving carpet," conveniently located outside the lodge, make it the perfect place for teaching their son. Mike says, "Silver Mountain's 'magic carpet' is one of the best—it's almost as long as the bunny hill, with a good, gentle pitch. I think it's the best place to teach kids. You just get back on the conveyer belt to get back to the top [of the run], instead of trying to get your kid on and off a chairlift."
And Silver Mountain's varied terrain helps Mike get his adventure fix. "Silver Mountain has some really good backcountry that you can access from the gondola and some steeper runs that are fun to ski," he says. And he likes the culture there. "Silver has a unique crowd of locals. Tall boys of Coors Lights, mid-90s Subaru Loyales, and occasionally a pair of PRE skis will be what you see at Silver." The loyal following of season passholders who are Silver Valley locals helps to maintain a casual yet lively vibe, according to Mike—it's a ski mountain for everyone, of all abilities. "It's a lot of fun staying in Kellogg…skiing up top and doing the [resort] waterpark in the evening," Mike says. "People who haven't skied Silver in the past five years would be surprised at how much it has improved."