While searching for a little snow adventure inspiration early last winter, I stumbled upon an old trip report on the Washington Trails Association website for the Wenatchee Guard Station. The trip reporter's photos showed a quaint cabin perched on a high ridge overlooking the Blue Mountains in southeast Washington. I had to go see it for myself, and a mid-February penumbral lunar eclipse and comet combo provided the perfect travel window.
I couldn't believe my luck when my preferred dates were available, so I booked a two-night stay and started planning a trip with three friends from the Spokane Mountaineers. When each of my friends had to cancel for various reasons, I simply packed a couple extra books to make up for the lack of conversation and headed out.
There was one surprise in store for me: a wind and snow event in the days leading up to my trip created a massive snowdrift on the road to the SnoPark where the trip starts. I found my approach to the cabin lengthened by nearly two miles. The big snowstorm had been followed by a few days of warm weather before a return to freezing temperatures, so I had a layer of ice to contend with while gaining the nearly 1,500 feet of elevation over almost six miles to the cabin.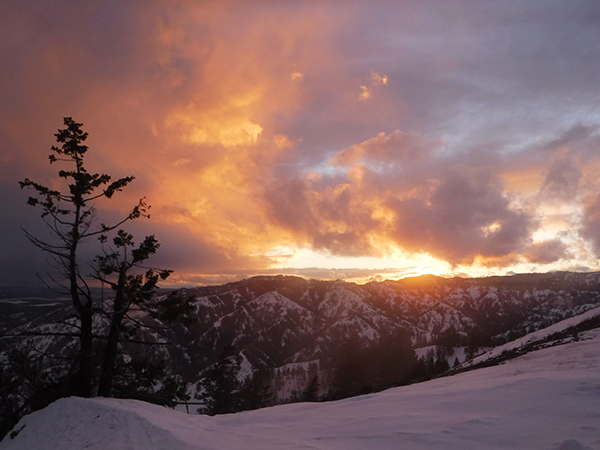 I'm no ultra-light enthusiast, and I hate to leave things at home if they might be fun to have along. I had Nordic skis for the trip in, snowshoes and microspikes for just in case, and Hok skis to play with once I gained the ridge. This resulted in a comically overburdened gear sled, and it was slow progress as I was forced to rearrange my equipment after each topple on the ice. Despite leaving home mid-morning, I didn't crest the final hill until sunset, just in time for a spectacular view accompanied by fierce gusts of wind and snow flurries.
Over the next few hours, the wind reached blizzard proportions. Thoughts of nocturnal eclipse and comet photography fizzled, but I was content to read a book as close to the fireplace as I could get without catching on fire. I love winter tent camping, but nights like that one teach me to appreciate rental cabins with their propane heat and light.
Although I had the entire forest to myself Friday night, on Saturday I learned to share. The Wenatchee Guard Station sits perched on the edge of the Wenaha-Tucannon Wilderness, but it's outside the wilderness boundary on a groomed snowmobile trail. I found everyone friendly and considerate as I shared the trails while out on snowshoe jaunts and ski tours around the cabin. All of the motorized users slowed down and waved as they passed, and I found their tracks the easiest place to ski given the icy conditions.
All the same, next time I hope to find some fresh powder to play in, and I'll plan a mid-week visit to avoid the crowds. //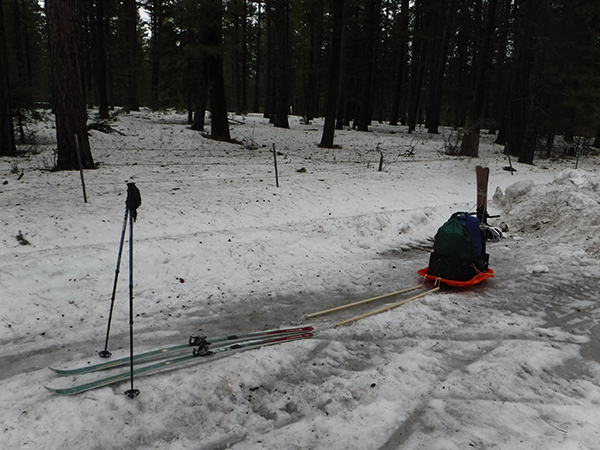 4 Winter Cabin Trips
Try "winter camping" in comfort with one of these rentals. Each of these Forest Service cabins can be reserved at recreation.gov.
Replicate my trip by booking the Wenatchee Guard Station on the Pomeroy Ranger District. It's a bargain at only $50 per night for up to four guests. This one requires ski, snowshoe, or snowmobile access in the winter, and a SnoPark permit is required at the Cloverland SnoPark trailhead.
Want to travel with a larger group? The Clearwater Big House has a similar winter approach via a groomed snowmobile trail and can accommodate up to 10 guests. It's $75 per night and a SnoPark permit is required at the Rose Spring SnoPark—the winter access location for this cabin.
Prefer a place with running water? The Tucannon Guard Station has room for six guests, electric lights, running water, and even boasts a bathtub with shower. Winter access on the Tucannon River Road is generally maintained, but call ahead to check current road conditions.
Looking for something out of state? Try the Bull River Guard Station in Montana. It's a relatively short ski or snowshoe to the cabin, but there are additional trails nearby, including the Ross Creek Cedars Scenic Area, where trails are occasionally groomed for Nordic skiing. The cabin sleeps up to eight guests and is $55 per night. //
Holly Weiler is a cross-county coach and the Eastern Region Coordinator for Washington Trails Association. She writes the Hike of the Month column in every issue of Out There.