Last week, I spent 12-13 hours completely soaked at a gravel race out of Olympia, Wash. As of this writing, I have feeling back in eight of my fingers and zero toes.
It occurred to me that day, as it does every time I ride in 36-degree rain, that it's much easier to stay warm and dry in a single digit blizzard. And that's just how the idea of a 200 K ultra fatbike race became interesting to me.
Most everyone in the Inland Northwest has seen a fatbike, but those who have ridden one know that it's like riding a cartoon mountain bike and, therefore, absurdly fun.
Every winter, I turn snowy pedals for a few hours around Riverside and hit the occasional race at 49° North on a fatbike I call Wheelie Nelson. But as Mick Jagger once said, "Anything worth doing is worth overdoing." So the JayP Fat Pursuit (JPFP) is the next logical conclusion.
The JPFP is an ultra fatbike race in eastern Idaho just a snowball's toss from Yellowstone National Park. It has 60 and 200 kilometer options that follow a network of immensely scenic snowmobile trails west of Yellowstone that may include eye-popping views of the Tetons, but very likely fog, snow, and a lot of darkness.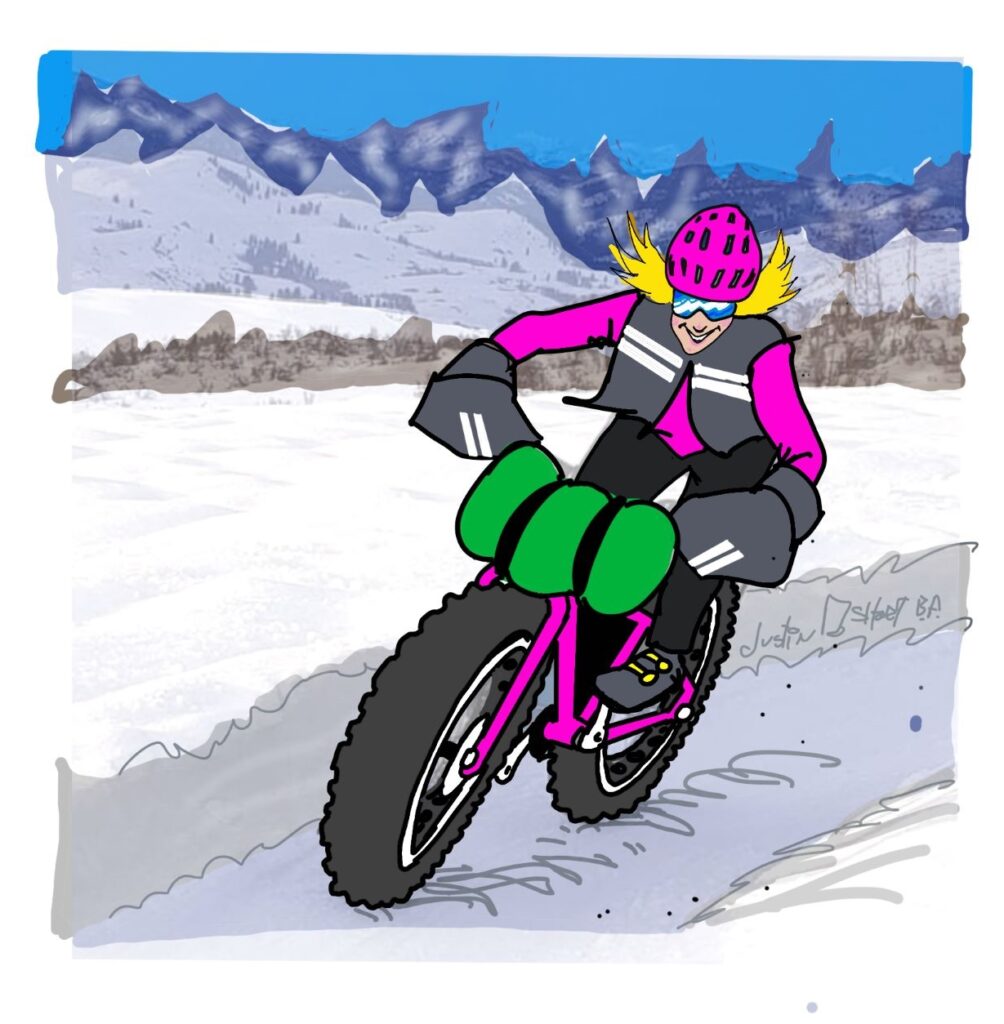 Riders must demonstrate that they have the proper equipment to survive winter in the backcountry and know how to use it. At the first checkpoint, riders must break out their camp stove and bring a pot of water to a boil before continuing.
Event Organizer Jay Petervary will tell you very matter-of-factly that you've got to have the gear to survive, as support is not an option. Sure, there's that button on the side of your GPS tracker that will send out a very expensive rescue squad, but it's best to know going into this thing that you may be pushing your bike through waist-deep snow for four days, or you may have to bed down and wait out a blizzard in your bivy for 24 hours.
Spokane winter fat bike rider Ryan Griffith entered JPFP in 2019, the last year they offered a 200-mile route. That year only one rider actually finished.
"You never really know what you're going to get out there," says Griffith. "All you can do is train, bring the right gear, and push. Maybe you'll finish, very few people do."
Hammer Nutrition-sponsored athlete Patty Jo Struve caught pneumonia preparing for 2019, and in 2020 the conditions were so bad she DNF'd early into the 200K.
PJ is tough as nails and does overnight winter bikepacking trips around our area more than anyone I know, so those conditions must have been something.
Former Spokane rider Leigh Bowe rode the 200K route with some friends for the Virtual JPFP in 2021, the actual race being cancelled on account of the pandemic.
"This race is notorious for dishing out incredibly trying conditions. It's usually either bitter cold or dumping buckets of snow or both. I decided this sounded like a great way to spend the weekend," she posted. "We had arguably the best conditions possible and a glorious time exploring pristine trails."
I can hope for no such luck for 2023; I'm anticipating I will spend my entire attempt gathering a glacier of frozen snot in my beard that won't melt off till July.
Until then, I will have to spend countless hours picking my friends' brains during on fair-weather rides or while sipping fizzy beverages in front of a roaring fire. And of course gathering equipment from local shops.
Check out FatPursuit.com to geek out on this grueling event. Follow the action January 7-9, 2022, on Trackleaders.com.
Justin M. Short will be testing his backcountry winter adventure skills this February by tackling the Huracan 300 Bikepacking Race in central Florida. Hopefully, he won't get eaten by an alligator.
Read more of Justin Short's Everyday Cyclist stories in the column archives or find more stories about fatbiking in the OTO archives.